With all the shiny toys in the Detroit Red Wings' prospect pool, it's easy to forget how it all began. Back in 2017, the Red Wings were poised to make their highest draft selection in over two decades with the ninth overall selection. For a lot of Red Wings and hockey fans (myself included), it was their first time ever seeing the team from Detroit make a selection in the top 10. Former director of amateur scouting Tyler Wright took to the podium and made the selection:
That night, the addition of forward Michael Rasmussen marked the beginning of a rebuild that is entering its fourth season. While he doesn't have the same upside as some of the players the Red Wings have drafted in the years since, this is still a player that could play a huge role for Detroit, hopefully beginning with the 2020-21 season. After beginning this season in Austria, he should be ready and hungry as training camp begins.
But what can we expect from a 21-year-old who has already gotten a taste of the peaks and valleys that come with being a professional hockey player? After all, Rasmussen's rookie season during the 2018-19 season was promising, but left a lot to be desired. Heading into a new season with plenty of opportunity to be had, this could – and should – be the year that he starts realizing the potential that made him such a monumental pick for the Red Wings.
Last Season
Rasmussen spent all of last season down in the AHL with the Red Wings' affiliate, the Grand Rapids Griffins. After a solid start to the season where he posted 14 points through 18 games, he suffered an injury that kept him out of the lineup until mid-January. It appeared that he lost a step upon returning, and he finished the truncated AHL season with 22 points through 35 games. While still a solid scoring rate, it was nowhere near the pace he had to begin the season.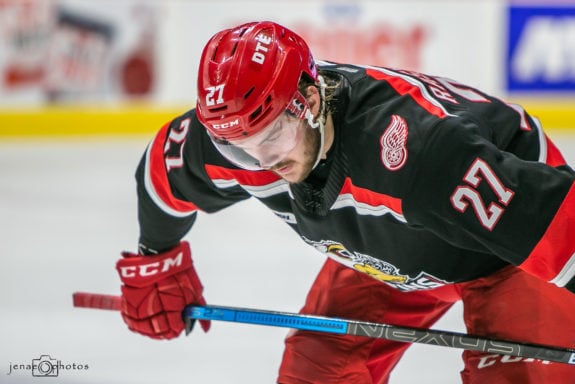 Rasmussen saw the biggest development in his game at the faceoff circle. While he was drafted as a center, and primarily played that position in the WHL with the Tri-City Americans, he mostly played on the wing during his rookie season with the Red Wings. That decision was out of caution, and they decided to assign him to the Griffins last season so that he could receive top-six minutes while at the center position.
This is important as the Red Wings view Rasmussen as a center at the NHL level, and so showing the ability to perform in that role is crucial for him. This means not only winning face-offs, but also handling responsibilities at both ends of the ice, as well as playing a role in facilitating offense. He showed that he could do this in spurts over last season with the Griffins; this season's challenge is carrying it over to the Red Wings.
NHL Role
At this point, Rasmussen projects to be anywhere from a second-line center (best-case scenario) to a fourth-line center for the Red Wings. Realistically, he makes the most sense as an imposing third-line center that can chip-in 40 points a season while also seeing some power-play time. This is, of course, a projection for a few years down the road when he's in his prime and the Red Wings have built up the talent on their roster – so what about the 2020-21 season?
Entering this season, a unique set of circumstances have paved the way for Rasmussen to stick with Detroit while maybe not initially being on the roster. Due to the pandemic and all that it entails, NHL teams will carry a "taxi squad" with them – a group of players that travel and practice with the team that are designated call-ups in the event of injury, sickness, etc. We covered this in greater depth here.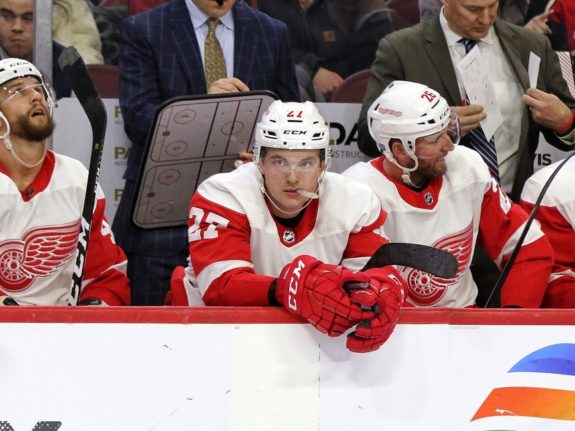 The "taxi squad" could be the thing that allows Rasmussen to eventually play his way onto the Red Wings' roster and stick there. Given his draft pedigree, general manager Steve Yzerman is likely interested in seeing where the forward's game is at in regards to his NHL-readiness. Furthermore, since he has been playing over in Austria, he should have a bit of a leg-up on other players that haven't had that luxury. If/when a center is injured during the season, expect Rasmussen to receive his first shot at impressing Yzerman and head coach Jeff Blashill.
How will you know if Rasmussen is having success? The easiest answer is production; after scoring just 18 points during his rookie season in 2018-19, you'd like to see him improve on that scoring pace nearly two seasons later. But it's not all about numbers when it comes to "Ras", as his physical tools are part of what makes him an enticing package. His size (6-foot-6, 230 pounds) makes him literally stand-out on the ice, and you would like to see him use it to his advantage against NHL competition. If he's getting knocked off his feet a lot, that's a problem.
When he's at his best, Rasmussen is a smart player that can put the puck and himself in the areas of the ice that you want them to be in. Blashill and Yzerman will most-likely want him to set-up camp in front of the opposing goaltender, especially on the power-play. He's got sneaky-good hands in-close and hand-eye coordination that should allow him to tip shots the same way that Tomas Holmstrom did back in the day. It's a bit of a niche role, but you could argue that nobody in the Red Wings' system is better equipped to fill that role than the towering forward.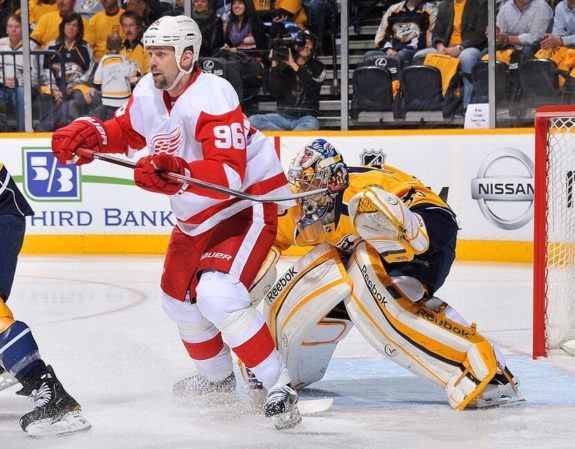 If Rasmussen can seize an opportunity and have a positive influence on the Red Wings' lineup, he'll provide size, skill and upside to a roster that definitely could use more of all three.
Ideal Placement
As previously mentioned, Rasmussen fits in long-term as a third-line center that can produce at both ends of the ice. Should he work his way into that role this season, he will undoubtedly need the right combination of forwards alongside him. After all, for as many gifts and talents as he has, this isn't a player that you should expect to carry his own line – at least not yet.
Ideally, you'd like to pair Rasmussen with a playmaker not unlike the Red Wings' top pick in the 2020 draft, Lucas Raymond. Another long-term option would be Jonatan Berggren, the 33rd pick of the 2018 draft. As for this season, newcomer Vladislav Namestnikov isn't a bad option, and he can sub-in for "Ras" down the middle if need-be. Heck, even Filip Zadina – poised to begin his first full-season with the Red Wings – could become an option depending on how the lines fall into place.
Rasmussen isn't necessarily the guy Blashill will want hauling the puck up the ice, or even the guy to take the first shot on an offensive sequence. Instead, he's the guy that should help move the puck around on the cycle, and then put home any rebounds that may bounce off the opposing goaltender. If he's put in the right situation and proves that he can utilize his size to his advantage, this season should mark the beginning of a long and fruitful NHL career for the native of Surrey, British Columbia.
Slow & Steady
With all of that being said, it is important to note that it is highly unlikely that any of this will happen overnight. Again, perhaps the most-likely outcome is that Rasmussen begins this season on the Red Wings' "taxi squad" and will have to earn his spot while starting from the outside looking-in. The former ninth-overall selection should be up to the challenge.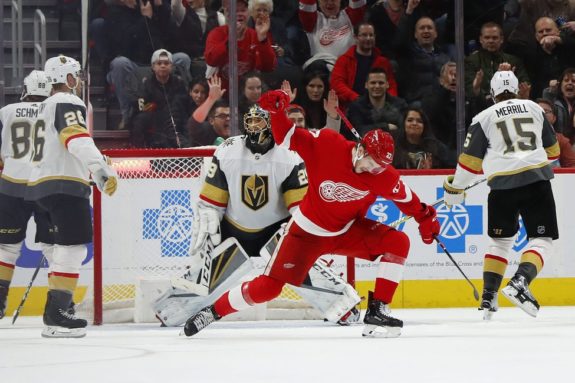 If/when he does make the jump from prospect to full-time Red Wing, another piece of the team's ongoing rebuild will fall into place. While it's sometimes easy to overlook him on paper, it should be Rasmussen's goal for this season to make it impossible to overlook him on the ice – and not just because of his size. He showed flashes of it two seasons ago; now it's time to do it on a more regular basis.
As the Red Wings' roster starts to be taken over by the organization's young players, it's their "older kids" like Rasmussen that need to lead the charge. As a former captain during his final season in the WHL, it's time for him to show the skill and determination it takes to carve out a meaningful role in the NHL.
It's time because, if he doesn't, someone else will.
---
---