It seems like Detroit Red Wings fans have been waiting for general manager Steve Yzerman to make a big trade for a while now. I'm talking about the kind of trade that puts all other hockey discourse on hold while everyone debates who won the massive deal.
To his credit, Yzerman has been active in the trade market over the last year, aside from the deals he made before this year's trade deadline. He was reportedly in on Kirby Dach before the Montreal Canadiens acquired Dach from the Chicago Blackhawks. Yzerman and the Red Wings were also reportedly in on Bo Horvat before the Vancouver Canucks moved him to the New York Islanders. Meanwhile, the Red Wings have made far more moves to subtract from their roster than to add to it.
---
---
But that could change this offseason. The Red Wings have five picks within the top-50 of this year's draft, and they hold an additional first round pick in next year's draft as well. Their rebuild is starting to yield legitimate NHL talent, their prospect pool is deep, and they have a handful of young players on their roster that are set to either take a big step forward or become trade bait in future deals. After hanging around the playoff picture for most of this season, the Red Wings finally seem ready to do what it takes to acquire a hired gun from the trade market.
Related: Red Wings' 3 Biggest Needs in 2023 Offseason
---
Latest News & Highlights
---
One team in particular – the Winnipeg Jets – seems ready to blow up their roster, and the Red Wings should be ready to capitalize on a fire sale if the Jets go that route. Winnipeg has a few players that should be of interest to the Red Wings, but buyer beware: there's a reason why the Jets could be exploring the nuclear option with their roster.
Jets Encounter Turbulence
"I'm so disappointed and disgusted right now," Jets head coach Rick Bowness said following the team's series-clinching defeat against the Vegas Golden Knights on Apr. 27. "No pushback."
The Jets have been an interesting team over the last couple of seasons. Last season they put together a 39-32-11 record amidst a turbulent season that saw longtime head coach Paul Maurice step down partway through his ninth season with the team. At the time, he mentioned the team needing "a new voice" and that "they need somebody to help them get to that next place."
Bowness was brought in during the offseason to be that somebody. Through the end of January, the Jets were 32-19-1 and in the thick of the battle for the top spot in the Central Division. But then February came, a month that saw the team go 3-5-1 as bad habits began to creep into their game. Sure enough, those bad habits came back to bite them in their playoff series against the Golden Knights.
"It's the same crap we saw in February," Bowness said. "As soon as we were challenging for first place and teams were coming after us, we had no pushback. This series, we had no pushback.
[The Golden Knights'] better players are so much better than ours, it's not even close."
But this isn't the first time we've heard about problems in the Jets' locker room. There was the Evander Kane tracksuit standoff. At the end of last season, veteran forward Paul Stastny told reporters, "…when you don't care about the teammate next to you, potentially, and you just care about what you're doing or certain individual things, that starts bleeding into the game," when discussing the team's downfall (from "Jets culture issues? Trading veterans? Promoting prospects? Mailbag", The Athletic, 5/25/22.) Winger Blake Wheeler had the 'C' removed from his sweater before the beginning of this season after six seasons as the team's captain.
And when the Jets needed somebody to step up and provide a spark for his team, on the ice or in the locker room, nobody answered the call.
Jets GM Kevin Cheveldayoff has a pivotal offseason ahead of him. He already confirmed that Bowness will return next season, even after Wheeler told reporters, "[Bowness] could have been honest with us, we could've had those discussions behind closed doors…so I didn't agree with how he handled himself after that game." It's clear that change is needed in the Jets' locker room, and Chelveldayoff will be eager to find takers for the individuals that aren't helping the situation.
The Jets will be keen on holding onto the players that do show the pride and pushback Bowness desires. But for a team that hasn't been out of the second round of the playoffs since 2018, does it make sense to move forward with their current core? Wheeler is 36 years old. Mark Scheifele, the team's longtime top centerman, just entered his 30s. Meanwhile, 21-year-old Cole Perfetti emerged as a full-time NHLer this season, and the Jets' prospect pool contains a handful of strong prospects that could one day become a part of the team's new core.
The key questions for the Jets to answer are which pieces are the comfortable moving on from, and how much turnover is too much turnover?
Jets Could Fill Red Wings' Needs
If this is the offseason that Yzerman swings for the fences and makes a huge trade to propel the team forward, the Jets are a sensible trading partner. They have a couple wingers, Nikolaj Ehlers and Kyle Connor, that would increase the skill and scoring ability of the Red Wings' offense. Connor is a particularly interesting option because of where he was born: Shelby Township, Michigan.
The Michigan-native is a bona fide goal-scorer. He scored 30 goals or more in five of his seven seasons in the NHL, and was awarded the Lady Byng Trophy as the league's most gentlemanly player last season. The Jets clearly know what they have in Connor; he still has three seasons left on the seven-year pact he signed with the Jets in 2019.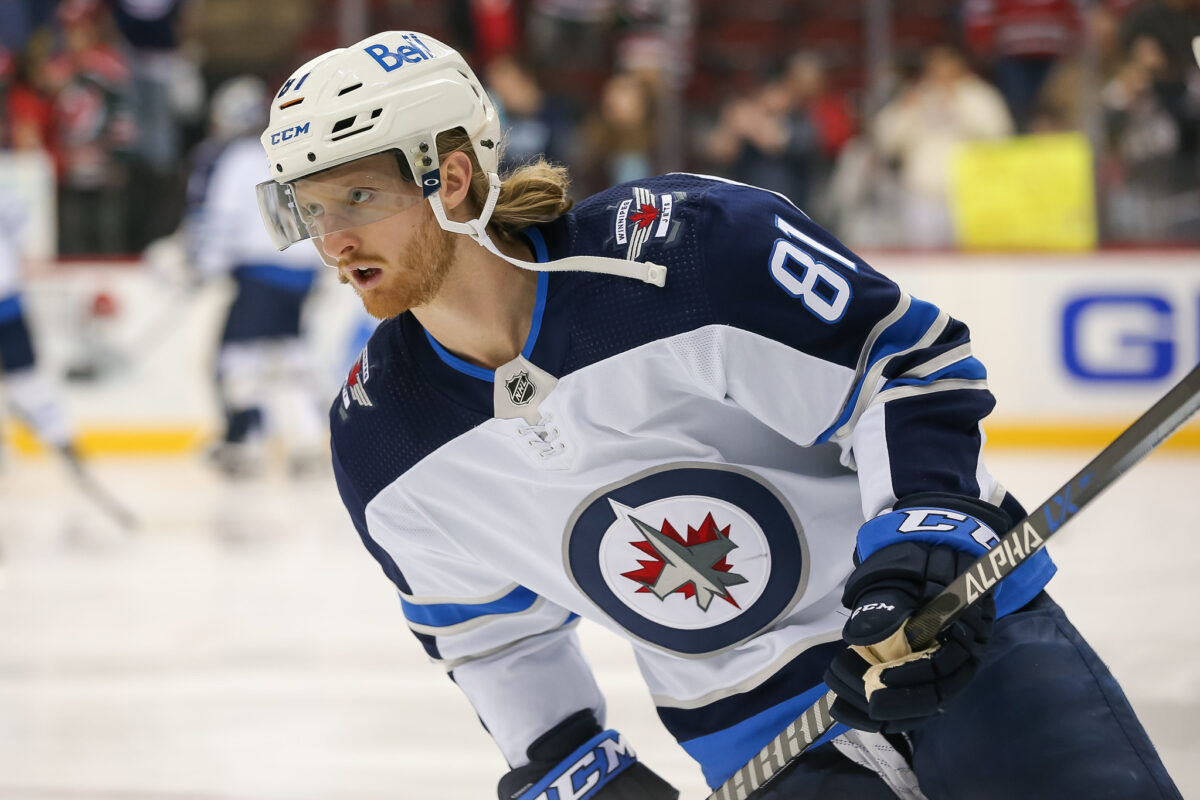 But is Connor part of the solution in Winnipeg, or is he part of the problem? He has been a core member of the Jets' roster since 2018 – he's as entrenched in that locker room as anybody else. If he's part of the solution, the Jets likely won't entertain offers for him, not right now at least. If he is part of the problem, would a fresh start in a new locker room help?
As for Ehlers, the Danish winger averaged a career low in ice-time (15:39) under Bowness. His analytics will tell you that he's an elite possession player that pushes play in the right direction using his speed and playmaking abilities. His stats will tell you that he's never had a 30-goal season (he has one season at 29) and last season was the only season he was relied upon to play 18 minutes a night.
Ehlers is an underappreciated forward leaguewide, but he does not possess the same ability to score that Connor does. Of the two, Ehlers is the player Cheveldayoff is most likely to be shopping, and it's possible his value could be unexpectedly low given how his first season under Bowness played out. For what it's worth, Ehlers has two years left on his contract, a deal that carries a cap hit of $6 million.
There are other players the Jets and the Red Wings could discuss – and Connor isn't exactly the most-likely to move from their roster in the first place – but if the Jets do decide to overhaul their roster, don't be surprised if Detroit is connected to either of these players. With the offseason still in its infancy, there is still much to figure out between now and the frenzy of activity that the summer brings. Yzerman can't trade for players that aren't available.
Red Wings Need Solutions
The Jets are not the only team that could be looking to sell off some surprising names. Alex DeBrincat may not be interested in re-signing with the Ottawa Senators, but a trade for him would require the Red Wings to make a deal with a divisional rival that is, more or less, on the same competitive timeline as them. The Boston Bruins could look to move Taylor Hall as a way to make room to re-sign Tyler Bertuzzi. The San Jose Sharks will be looking to rehome Erik Karlsson, and the Red Wings have a need on the right side of their defense. The process Yzerman and the Red Wings' front office has to go through is identifying which players would make sense for their team and could be acquired at a reasonable cost.
For Yzerman, character has always been at the forefront of how he wants to build this Red Wings roster. He has mentioned wanting to add players and prospects that don't shy away from hard work on numerous occasions, while also stating the desire to add "good people" to their mix. When Bowness talks about "pushback", he's talking about the character of his players as individuals and as a team – the willingness and desire to overcome adversity and put in the work to secure a victory. It's worth noting, too, that Bowness as an associate coach on Jon Cooper's staff from 2013-18, right in the thick of Yzerman's tenure as GM of the Lightning.
Yzerman probably heard Bowness loud and clear on the night of Apr. 27. The Red Wings do have holes to fill, but that doesn't mean they should start sifting through garbage to try to find some gold. There will be other options out there, and those options won't necessarily have the same dark cloud hovering over them that currently hovers over the Jets' locker room. Despite their shortcomings, the Red Wings' locker room is a strength of their team. They must be careful to protect that strength, even if it means looking elsewhere to satisfy their needs.
Fool's gold can be very convincing – until you get a closer look.
---