With the NHL's GMs wrapping up their meeting in Florida, a look at the proposed rule changes leads off this week's Ref Roundup:
 
While there's always concerns about the consistency of officiating, there's something to be said for consistency in the rulebook as well. While no major changes may be in store for the 2015-16 NHL season, the league is considering a number of smaller tweaks to gameplay.
3-on-3 Overtime
The league is moving toward 3-on-3 overtime, but it's not clear exactly how it will be executed.  There's thoughts of using the AHL format – four minutes 4-on-4 followed by three minutes 3-on-3 – or just going right to a five-minute 3-on-3 overtime period, which is currently done in the Swedish Hockey League. There are concerns that the AHL's approach puts more of a workload on each team's top guys.  In either case, it's closer to a game situation than the shootout, even though there have been no goals scored 3-on-3 through 1,052 games this season. This change, however it's implemented, will hopefully appease the many detractors of the tie-breaking skills competition.
"I think it intrigues the guys, to see what the effects are going to be like playing three-on-three," said NHLPA representative Steve Webb. "I think the offensive guys like the opportunity to add more ice to showcase their abilities."
Coach's Challenge
The league is considering taking a page from the NHL and instituting a coach's challenge for certain plays, including goaltender interference and the dreaded puck-over-glass delay of game call.  The on-ice officials, with assistance from Toronto, would help review goaltender interference calls after viewing the challenged play via tablet or monitor.  Pucks shot over the glass resulting in a delay of game would be reviewed solely by the NHL's Situation Room in Toronto.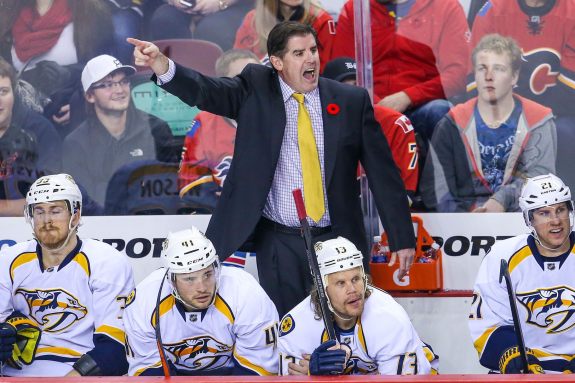 Coaches would only be able to initiate a challenge if they'd not yet used their timeout. A failed challenge would cost the team its timeout. Teams would retain their timeout if successful in challenging the play.
"The purpose of this is we don't want everything being reviewed," said NHL commissioner Gary Bettman. "Overwhelmingly, the calls are right. We only want it done in an egregious case."
Faceoff Protocol
Currently, the visiting team's center must put his stick down first prior to each puck drop. Under the new recommendation proposed by long-time center Ron Francis, it would now be the defensive forward who would have to go first. The idea is that the advantage would go to the offensive centerman. This change makes defensive zone draws even more critical, especially when they come after an icing.
"Ron Francis has felt strongly, having been a center and one of the better faceoff guys," said NHL Senior VP of Hockey Operations Colin Campbell, "that the defensive player should put his stick down first to add a little more to the offensive part of the game because coaches are always beating up the game defensively. They can prevent goals; it's hard for them to produce goals."
Nashville Predators GM David Poile also supports the change:
"It sounded like a very sound idea. As you know just about everything we've done in the last few years has been to try to give the advantage to the offense and this makes sense, the logical thing. You have some good center men in the room like Joe Sakic and Ron Francis, who presented it – and when he speaks, I listen."
"It will count for a few more goals for sure," said Edmonton Oilers general manager Craig MacTavish.
All changes need to be approved by the NHLPA, which meets in June, and the NHL/NHLPA's Competition Committee before going in front of the NHL's Board of Governors for ratification.  Then, of course, they'll need to get the referees and linesmen up to speed.
Ref Roundup:
For more on officials, visit Scouting the Refs.