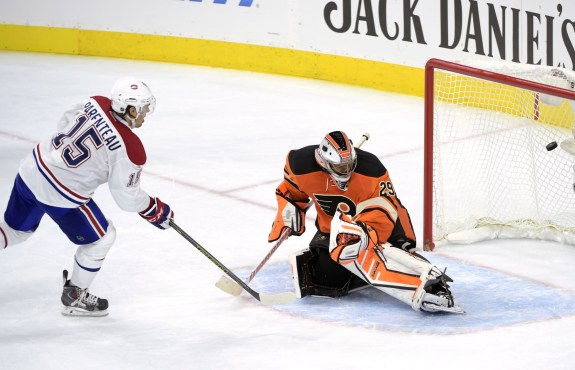 A big step was made Tuesday to minimize the amount of NHL games decided by a shootout. The general managers recommended the NHL implementing some form of three on three overtime for regular season games starting in the 2015-16 season.
The two methods discussed were:
AHL rules: Four on Four play for the first three minutes of a seven-minute overtime followed by three on three play beginning after the first whistle after the three-minute mark.
Five minutes of three on three play.
Of course, before either of these options are implemented, the changes must be approved by the league's board of governors and the NHL-NHLPA competition committee, according to MLive.com's Ansar Khan.
NHL commissioner Gary Bettman said the league will not be getting rid of the shootout completely, but is trying to reduce the number of games that are decided by a shootout.
He told media members covering the meetings in Boca Raton, Florida:
"The consensus in the room, overwhelmingly, is we're not getting rid of the shootout, it was, how do you reduce the number of games that go to the shootout, keep the shootout special?"

"We're going to look at both variables and figure out which one, collectively with the competition committee, we think makes the most sense."
Let's take a look at the pros and cons of each format.
AHL Rules
The AHL rules give the league a good mix of four on four hockey and three on three hockey. I've managed to see a couple of overtimes played at the AHL while covering the Grand Rapids Griffins. One of those overtimes ended with less than a second left at three on three, and the other ended after the first three minutes, but there had been no stoppage of play, so it still was four on four when the goal was scored.
As you can see from the tweet below, the number of games being decided by a shootout has dramatically decreased since the AHL implemented the new overtime rules this season.
#ICYMI: A closer look at how 3-on-3 overtime has changed the landscape of #AHLOT → http://t.co/55pjYNV451. pic.twitter.com/4fnGsjFeiA

— American Hockey League (@TheAHL) March 17, 2015
From a fan's perspective, the three on three overtime is exciting. It's constant rushes from end to end, which results in numerous opportunities for the game to end before the shootout. But, the AHL format eases teams into three on three play with three minutes of four on four play.
I like this option, because not only do you get seven minutes of overtime play compared to five with the other option, but you start the overtime with four on four play, which allows teams to play defense before going to the open play of three on three.
Of course, the reason for not implementing this format is there could be limited three on three time. There are no guarantees there will be a stoppage of play in seven minutes, and we could just end up seeing two more minutes of four on four hockey.
Five Minutes of Three on Three
This option seems almost too gimmicky to me. Granted, it is less gimmicky than the shootout. Basically, five minutes of three on three equates to pond hockey. With just six total skaters on the ice, the ice is wide open, which would guarantee more often than not the game would not be decided in a shootout.
Obviously, if I had to choose between this option and the current five minutes of four on four option the NHL uses, I would choose this one in a heartbeat. I'm all for limiting the number of games that reach shootouts. However, I think five minutes of three on three opens up the game too much.
However, we have to remember we are dealing with AHL players as opposed to NHL players. Are we seeing more goals in overtime at the AHL level because players don't play as smart positionally? Would we see more conservative play from NHL players and coaches as a result of going to three on three, or would the players and coaches embrace the open ice and go for the win?
3-Point System Should Be Implemented
In order to combat coaches playing conservatively during three on three play, the NHL should also implement the three-point system that college hockey uses. That structure is as follows:
3 points for a regulation or overtime win
2 points for a shootout win
1 point for a shootout loss
0 points for a regulation or overtime loss
This would prohibit teams from playing for the shootout by making overtime wins worth more points than shootout wins.
In addition to the three-point system, I think changing sides for the overtime period would be ideal as well. Make the teams attack the same way as in the second period, which will result in longer line changes and more chances to score.
Whatever format the NHL decides to use, it'll be great to see more games decided in overtime rather than the skills competition.
Subscribe to our Red Wings stories to get email updates every time a new story is published.
Tom Mitsos is a Detroit Red Wings and Grand Rapids Griffins staff writer for The Hockey Writers. You can follow him on Twitter @tom_mitsos.