"It's going to be weird. I guess now I start thinking about it. I'm just trying to stay focused on helping my team and trying to get two points for us. It's definitely going to be weird and I'm not going to downplay that. It's going to be a super strange atmosphere for me." [NHL]
Those were the words of Taylor Hall, as he gets set to face his former team for the first time. The game is in New Jersey, which will be a nice way to ease into the situation rather than having to play in Edmonton first. Even still, the situation still lingers for the former first overall pick.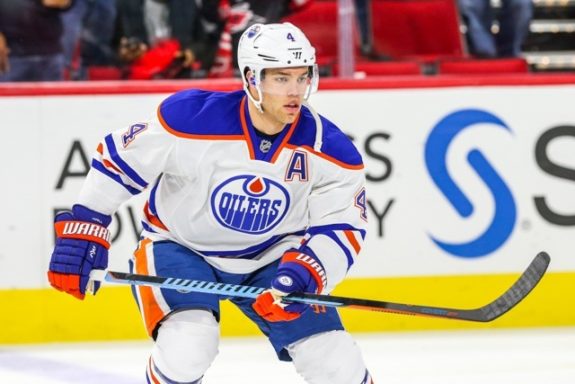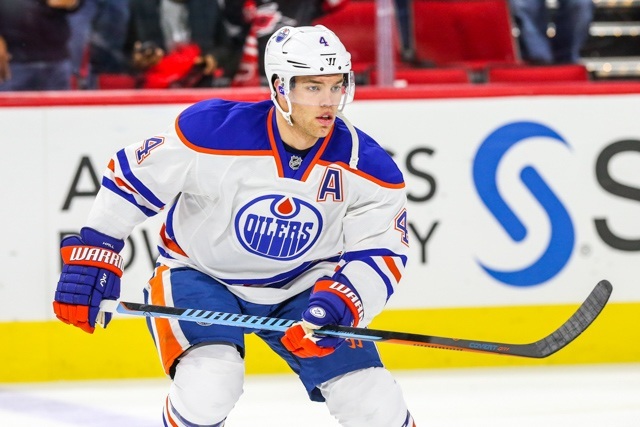 Hall Didn't Want to Leave Edmonton
Unlike fellow first overall pick Nail Yakupov, who requested a trade out of Edmonton, Taylor Hall was intent on staying for the long haul. He was shocked and dismayed when the trade news came down, as was most of Oilers nation when they heard about the return.
'I think that's the part where you want to see it through,' said Hall. 'You've been through some tough times and you think better times are around the corner and you want to be a part of that. I had a lot of stuff invested into the city of Edmonton and that organisation. To get traded was a tough pill to swallow. But like I said, hockey's a business and I understand where they're coming from and what they have to do.' [National Post]
Whether you liked Hall or not, you can't question his commitment. He wanted to be part of the solution. The Oilers are playing much better this season (the first without Hall since he was drafted), but it's hard to necessarily pinpoint that on the trade. Adam Larsson, who came back in the deal, hasn't been a Norris Trophy defenceman by any means, but he's been solid and as advertised.
The Devils, on the other hand, aren't having such a good season, though you can't equate that with the trade either. Hall has 25 points so far, nine of them being goals. The Devils weren't exactly pegged as playoff contenders, but it's certainly a bitter pill to swallow to be out of contention while your former team is succeeding.
'I wanted to prove them wrong in more of a team sense than anything, more of, "How much can I do to help my team?"' Hall said. 'I'm obviously disappointed in that factor. We're one game below .500. We're not in a playoff spot and Edmonton is. I don't think that falls all on my shoulders, but certainly, I think I have another level to get to and I think I will.'
Hall's Tenure as an Oiler
There will definitely be detractors who wonder if Hall does indeed have another level to go to. After all, his market value was much lower than many expected, and he was passed over four times by Team Canada's World Cup management team. He's been one of the highest-scoring left wingers in the NHL since he broke into the league. But there have also been questions about his leadership and his influence in the locker room.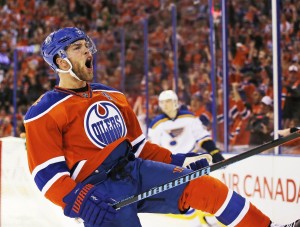 Unfortunately, other than hearsay, we don't know what he's like as a person. Connor McDavid was very disappointed to see him go, and it appeared he had a good bond with guys like Jordan Eberle and Ryan Nugent-Hopkins. The problem for Hall was that he came to the Oilers at a time where the organisation was a mess. It was going to hard for any one player to come in and magically fix things.
Look at Jordan Eberle, for example. He's quickly become the fan's whipping boy because of his low goal production. He wasn't the reason they were losing, but he certainly isn't the reason they're winning. The question, have the subsequent moves in the wake of the Hall trade been the catalyst to their success?
Larsson has brought stability on the blueline. The freed cap space enabled the team to bring in Milan Lucic. So was it addition by subtraction in the case of Hall? He could always be counted on for offence when he was healthy, there's no doubt about that. He hovered around the 50 point mark throughout his Oilers career. Was that good enough for a first overall pick?
Hall only played one full 82 game season, but it wasn't even his most productive year statistically. Hall's tenure as an Oiler was sadly marred by various injuries and overall team disappointment. Not at all he would have liked to be remembered there, but that's how it happened.
The Future Without Hall
Although there are some fans who still lament the trade, if the Oilers make the playoffs, Taylor Hall will be the last person they're thinking of. This article by Adam Gretz of NBC Sports sums up the situation quite succinctly.
'Larsson is a good player, and the Oilers are no doubt happy to have him. But do you know who else is a really good player? Taylor Hall. A possession-driving forward that is still among one of the top-30 most productive players in the NHL. So why have the Oilers been able to turn it around this season with Larsson while the Devils remain stuck in mediocrity? It basically comes down to this: The Oilers have Connor McDavid, and the New Jersey Devils do not.'
So in other words, even if Hall had stayed, a healthy McDavid means success no matter what? Let's put it this way. Eberle has eight goals on the season. Lucic has 10. Nugent-Hopkins has 11. You could argue that the Oilers winning is a combination of Cam Talbot playing well, Kris Russell, Andrej Sekera and Oscar Klefbom contributing on the blueline, Leon Draisaitl coming into his own, and of course, the McDavid factor, and the wingers are really inconsequential.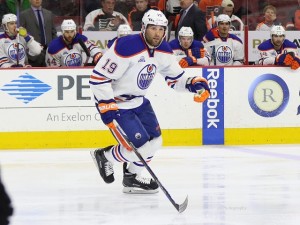 (Can't forget about Patrick Maroon, who has been a multi-faceted contributor this season). We'll never know if the Oilers would still be in a playoff position with Hall in the lineup. In any case, he's not there, he's not part of the future, and other than the fact that his Devils are playing the Oilers tonight, he probably is somewhat irrelevant now.
Interestingly, both Maroon and Lucic currently have more goals than Hall. So for a lot of fans, that's a win in of itself. There is certainly still somewhat of a divide in Oilers nation. Bottom line, playoffs fix everything. Hall is not an Oiler, and likely never will be again. Coincidence or not, the Oilers are better now than they've ever been. Probably more to do with the rest of the team getting fixed up, but nevertheless.