The Adirondack Phantoms suffered a big blow this weekend, losing their captain, Ben Holmstom to a knee injury. The Flyers announced that their 25 year old forward prospect is out indefinitely. A source told The Hockey Writers that Holmstrom "Should be back this season," but it's unclear when his return would be. Holmstrom was set to undergo tests, but no announcement has been made by the Flyers on his next move.
Tough break for the #Flyers: #ADKPhantoms captain Ben Holmstrom is out indefinitely with a knee injury. Awaiting test results for severity.

— Anthony SanFilippo (@AntSanPhilly) December 10, 2012
Holmstrom's injury could also hurt the Flyers, but the effect on Philadelphia's roster all depends on the resolution of the NHL lockout. The former UMass-Lowell hockey player could compete for a job as a fourth line center, along with time on the Flyers penalty kill. Holmstrom is also currently the captain for the Adirondack Phantoms, providing leadership to a considerably young team. Through 22 games this season, the 6'1″ 197 pound forward posted two goals and six assists along with 22 penalty minutes.
He's played a total of seven NHL games for the Flyers, mostly filling in on the fourth line when other players are injured. Along with his face-off winning ability, Holmstrom played on the penalty kill, proving his versatility.
Prior to his four year stint for UMass-Lowell in college, Holmstrom spent three seasons with the Sioux Falls Stampede of the USHL. His best year was the 2005-2006 season, where he recorded 10 goals, nine assists and 115 penalty minutes in 56 regular season contests. He added six points in 14 playoff games in that same year.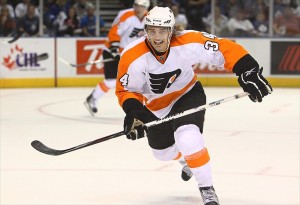 Holmstrom entered began his entry level contract with the Flyers in the 2010-2011 season, recording 38 points in 79 regular season games. He followed his first full professional hockey season with a strong sophomore season, contributing 15 goals and 26 assists in 67 games during the 2011-2012 season. His durability has been great in his two full season with Adirondack, proving his focus on keeping his body healthy.
He signed a one year deal with the Flyers this summer, following his first experience as a restricted free agent. He will likely remain Flyers' property until he hits unrestricted free agency two years down the road, but could change following new terms in the next collective bargaining agreement.
You can follow Matthew on twitter @m_speck and email him at mspeck21@yahoo.com with any questions or comments.