The Calgary Flames added six prospects and a roster player during a fairly positive, albeit uneventful 2014 NHL Entry Draft.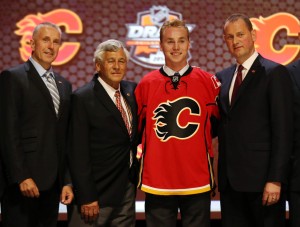 THE RUNDOWN
In the first round, the Flames addressed what was once a huge weakness for the club – skilled forwards – by selecting Kingston Frontenacs center Sam Bennett. Bennett, an Ontario native, had 91 points and 118 penalty minutes for Kingston and has earned comparisons to former Flames great Doug Gilmour. Bennett plays like a buzz-saw, and has been described by Flames VP of hockey operations Brian Burke as "a mean little bastard." He was the top-ranked North American forward heading into the draft by NHL Central Scouting. He joins a replenished forward prospect group that includes Sven Baertschi, Johnny Gaudreau, Sean Monahan, Markus Granlund, Emile Poirier and Morgan Klimchuk. The pick (4th overall) is the highest draft choice in Calgary Flames history.
Of course, Bennett's "only" 6-feet and 180 pounds (and that makes him one of the most physically imposing of that group), so the remainder of the draft may as well have been subtitled The Bodyguard.
In the second round, Calgary selected goaltender Mason McDonald of the Charlottetown Islanders of the QMJHL. McDonald was excellent at the Top Prospect Game in January, allowing just a single goal during a veritable shooting gallery on his net during the first half of the game. Like fellow Flames goalie prospect Jon Gillies, McDonald is a tall kid – he stands 6'4″. The Flames brass viewed McDonald at Hockey Canada's goalie camp earlier in the spring and reportedly fell in love with him. McDonald was the first goalie taken in the draft.
Calgary then began a beefing-up process that lasted the remainder of the draft.
Calgary's other second rounder (acquired from Colorado for Reto Berra) was used to select the towering 6'6″, Hunter Smith. The Oshawa Generals forward was heavily scouted by the Flames and is big, mean and really upped his offensive production this year – putting up 40 points after having just one last year. Smith was in his second year of draft eligibility, but with a September 11, 1995 birthday is only a month older than Edmonton Oilers first rounder Leon Draisaitl (for an example). He was a young draft eligible player last season, and time will tell if the 40-point campaign is more representative of the "real" Hunter Smith.
In the third, Calgary went for AJHL defenseman Brandon Hickey of the Spruce Grove Saints. Committed to Boston University for next season, he's pegged as a smooth-skating positional blueliner with some offensive upside. He's got decent size (6'2″, 180) and is a bit of a project, but the NCAA is a great place to have projects.
Calgary opted not to use their other third rounder, acquired from the Pittsburgh Penguins for Lee Stempniak. Instead, they flipped the pick to the salary-cap-ailed Chicago Blackhawks for winger Brandon Bollig. Bollig is 27, has a Stanley Cup ring, is big (6'2″, 220), mean and is signed to a cheap $1.25 million deal through the 2016-17 season. In short: he fills a need, but if he doesn't perform, he's not a player anybody's gonna be too sad about sitting in the press box. With Brian McGrattan also signed for this season, this move probably spells the end of Kevin Westgarth's tenure in Calgary.
After cooling their heels for 111 picks, the Flames scouts were roused from their afternoon naps and made two more selections. They grabbed towering Swedish defender Adam Ollas-Mattsson of Djurgarden in the late sixth round (with Anaheim's pick). Ollas-Mattsson is 6'4″, 215 pounds and a solid defensive defender in Sweden. He'll reportedly need to improve his skating to be more than that, and he's 17, so maybe he will. Calgary grabbed 20-year-old Victoria Royals forward Austin Carroll with their seventh round selection. He attended their development camp last summer and they apparently liked him enough to use a late pick to hold onto his rights. He's physically large and scored 34 goals. But he's also 20, so he was basically expected to put up decent numbers on some level.
THE VERDICT
Overall, a pretty good draft for the Flames. Sam Bennett adds to their scoring depth. McDonald gives them another goalie to develop, though taking a goalie that early makes me nervous given Calgary's history (Jason Muzzatti, Leland Irving, Brent Krahn, Craig Anderson…) with taking goalies in early rounds. Smith is an impressive physical specimen who seemed to figure out the offensive game last year. Hickey is a project with some promise. Ollas-Mattsson has a pretty impressive European junior resume and is one of the younger players in the draft.
Heck, even Bollig serves a purpose and was gotten for a relatively minor cost.
Austin Carroll's the only real head-scratcher, as he likely could've been obtained as a free agent and taking a younger player could've given the Flames a longer-term project. When a seventh-rounder is the most contentious pick, though, you're probably looking at a good draft class.