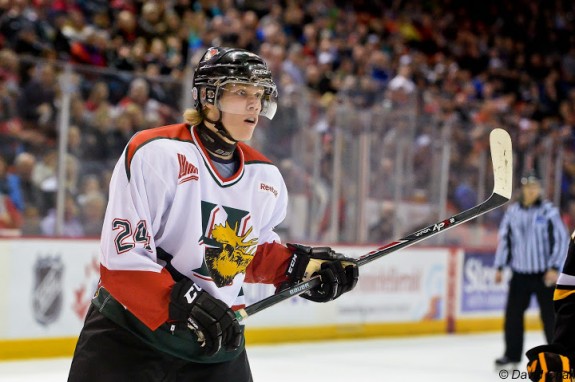 Winnipeg Jets fans should be excited, but also prepared to be patient, with the team's top 2014 draft picks. General manager Kevin Cheveldayoff and his team selected forward 
Nikolaj
Ehlers ninth overall and defenseman Jack Glover 69th overall. Both players have plenty of potential, but won't be ready to make the jump to the NHL for a year or more. 
Nikolaj
Ehlers
Born in Denmark, the left winger suited up for the Halifax Moosheads for his rookie campaign in the QMJHL in 2013-14 and he didn't disappoint. There is no shortage of skill and creativity in his game. Ehlers has great speed, quick hands, a good shot and many have raved about his hockey sense.
In 63 games with the Mooseheads he racked up an incredible 49 goals and 55 assists for 104 points. His production didn't waver in the postseason as he notched 11 goals and 17 assists for 28 points in 16 games. He was the QMHJL's rooke of the year and won the Michael Bossy Trophy as the league's top professional prospect.
There is no question he has the ability to be a top-six forward at the NHL level, but he needs to bulk up a bit. He stands 6'2″ and weighs just 162 pounds.
TSN's Craig Button had high praise for Ehlers prior to the draft.
"A dynamic player who plays big and is elusive. Fast and quick, he is able to see opportunity and take advantage. Equally adept finishing plays as he at making them. Rises to the challenges and overcomes obstacles in his way."
On top of all that, Ehlers could be considered a steal at No. 9 overall, as many scouts and outlets such as Button, The Hockey News and Hockeyprospects.com had him ranked in the top seven.
Ehlers will likely spend all of next season in Halifax, but a year or two from now he will bring speed the Jets need up front and add immediate scoring depth on the second or third line.
Jack Glover
Jack Glover is a 6'3″, 192-pound defenseman from Golden Valley, Minnesota. After spending the last few years with the U.S. Development Team, Glover committed to the University of Minnesota. It is there where he will spend at least a season developing before making his NHL debut.
Glover has a lot to offer in all three zones. He an excellent skater and can carry the puck up ice with ease and facilitate off the rush. Defensively he plays a mature game, he is patient and has good positioning. He won't try to make a big hit just for the sake of doing so. He has good hockey sense and understands when to attack and when to hang back.
The two areas he needs to work on are his shot, as he doesn't have a booming slap shot from the point and his physical play, which can be improved by adding a few pounds.
He had a goal and nine assists for 10 points in 24 games with the U.S. Development Team in 2013-14 and Craig Button described him as follows.
"Plays with a lot of confidence and has a settled approach to his game. Effective with body and while not overly physical, he has very good positioning and is hard to break down defensively. Good sense of what he is capable of doing."
Glover could eventually establish himself as a second pairing defenseman with the Jets. Tobias Enstrom, Zach Bogosian and Mark Stuart are locked up long-term and Jacob Trouba should be as well in the next year or two. Glover will add depth and could work well alongside a shutdown defenseman like Stuart.