It's been almost two years (June 30, 2013) since the Vancouver Canucks traded goaltender Cory Schneider at the NHL Draft in New Jersey to the New Jersey Devils for the ninth overall pick in the first round; the Canucks selected forward Bo Horvat with the pick. Since then Vancouver also traded away another goaltender, Roberto Luongo, and then last summer signed unrestricted free agent Ryan Miller to compliment a still developing Eddie Lack in the Canucks crease.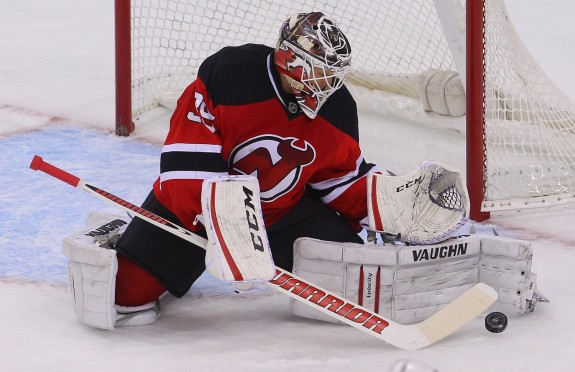 For the Devils, they solidified what had to be an issue that then-GM Lou Lamoriello likely thought about daily as Martin Brodeur entered the twilight of his Hall-of-Fame career. Despite what has recently transpired in the NHL as far as teams winning the Stanley Cup without an elite goalie, many still believe (including New Jersey) that building a championship team starts from the net out. Obviously things could work the other way around if you drafted, I don't know, say Jonathan Toews and Patrick Kane in back-to-back years.
Back on track here, Schneider — who signed a 7-year/$42 million extension (which begins July 1) prior to this past season — now gives the Devils a legitimate no. 1 goalie for years to come while new GM Ray Shero can focus on improving the team in it's true area of need — goal scoring.
Cory Schneider stops Public Enemy No. 1 in New Jersey on a breakaway:
The 29-year-old netminder just finished his second season with New Jersey, this past season as the clear-cut starter; in 114 games his record is 42-46-21 (for an anemic offensive team) 2.14 GAA, .924 save %. As he told The Hockey Writers during training camp last September, he's ready to be the backbone of and carry this team into the next era of hopefully championship hockey.
As for the just turned 20-year-old Horvat, he made his NHL debut this past season after being one of the last cuts from the team in training camp for the 2013-14 season. His debut was a bit delayed (November 4) following a preseason injury but he skated in 68 regular season games (13g-12a) and all six of the Canucks playoff games (1g-3a). As my colleague Trevor Beggs wrote following Vancouver's elimination, Horvat grew as a player and played well enough to at least earn a look starting in training camp as the Canucks second line center.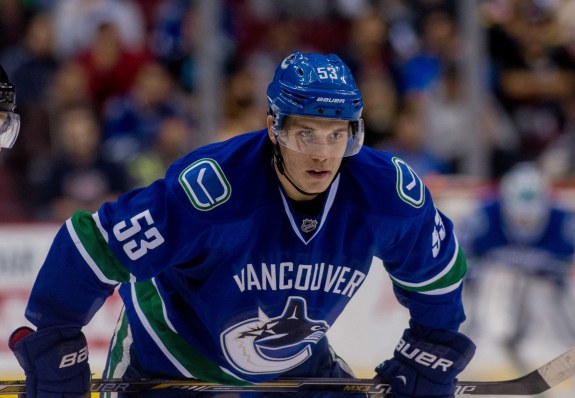 So now here we are, almost two full calendar years later, with still no real clear cut winner of the trade in this writer's opinion. As of this moment that this is being typed it's a win-win situation. The Devils got what they desperately needed in a significant, heir apparent to Martin Brodeur's crease and the Canucks found a possible second line center in one of the biggest crapshoots in sports — the draft.
Every goal from Bo Horvat's rookie season:
In his two seasons with New Jersey Schneider hasn't played a playoff game yet, which is ultimately will be where his legacy in the Garden State will be determined; the team is in transition, but we've seen quick turnarounds before haven't we? The Canucks got rid of Schneider, then Luongo, then added Ryan Miller and finished in second place in the ultra competitive Pacific Division in the rookie's first season as a pro. With so many big centers in that division it will be imperative for Horvat to continue his progression so that Vancouver will be able to keep pace.
Dan Rice can be reached via Twitter: @DRdiabloTHW or via Email: drdiablo321@yahoo.com
Dan Rice is in his 9th year of reporting for THW & has covered NJ Devils home games for 15+ years at various websites. He began his journey working for legendary broadcaster/writer Stan Fischler from 2002-04 & completed an internship at the ECHL; he also has been writing features for the NWHL (nwhl.zone) website since 2016.