A little more than two years and three months ago, the Boston Bruins and Dallas Stars drastically altered the landscape of the entire league.
The Bruins sent a 21-year-old Tyler Seguin, who was three years removed from being the second overall pick, to the Stars for Loui Eriksson and three prospects.
At the time, Tyler Seguin looked like a troubled youngster who was struggling to find the path to success in the NHL lifestyle. Under constantly watching eyes, Seguin's party life was brought to surface, where critics ripped him on his dedication to the game.
On the other side of the trade was a ridiculously underrated forward in Eriksson. His last four full seasons included three 70-plus point campaigns, and a 36-goal effort, as well. The Bruins were getting one of the top point producers in the NHL, and in his prime too, at the age of 27.
What Did Boston Acquire?
Loui Eriksson –
The Boston Bruins acquired the Stars top point producer with the 27-year old. He was a consistent near 30-goal and 70-point player. However, playing down south, his talents often went unnoticed around the league, which gave Eriksson the label as one of the most underrated players at the time. Eriksson was expected to come into Boston and become one of the premier players in the NHL, alongside their rising star in David Krejci.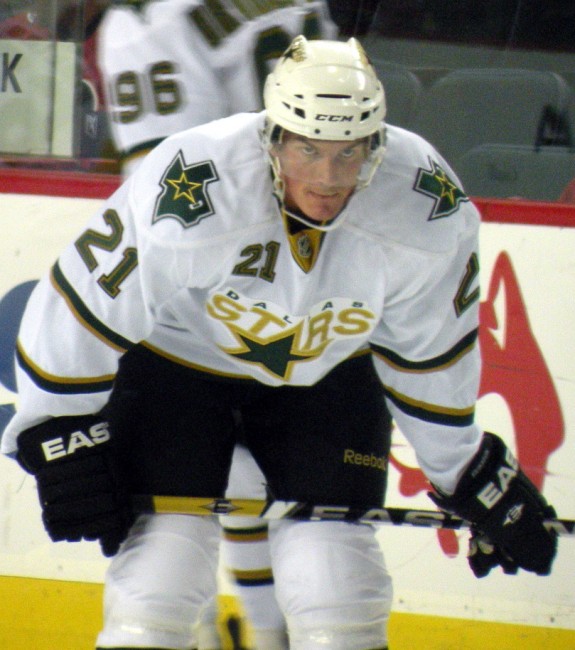 Reilly Smith –
The Stars had high hopes for their third round pick in 2009, but so did the Bruins. He was extremely successful in the NCAA for Miami University, scoring 58 goals and 102 points in 77 games over his final two years. He was also coming off of a great first professional year in the AHL, putting up 35 points in 45 games for the Texas Stars.
Joe Morrow –
Morrow was the 23rd overall pick in the 2011 NHL Draft by the Pittsburgh Penguins, but was traded twice in two months in 2013. He became a near 20-goal scorer and over a point-per-game player for the Brandon Wheat Kings of the WHL. He was projected to become a very solid two-way defenceman in the NHL.
Matt Fraser –
Fraser was a 23-year-old, underrated right-winger who had come in and surprised the Stars management, posting back-to-back 30-goal seasons in his first two professional seasons in the AHL. He had shown tremendous goal-scoring potential, which the Bruins thought was on pace to transition into the NHL in the near future.
What Did Dallas Acquire?
Tyler Seguin –
The key piece of the blockbuster trade. Seguin's potential was limitless, but so seemed his antics off the ice. He had an excellent sophomore season, scoring 29 goals and 67 points for the Bruins. However, the 2013 playoffs seemed to be the tipping point in their relationship. Despite recording 70 shots on goal, Seguin managed just one goal in 22 games. Seeing this as a once-in-a-lifetime opportunity, Dallas' general manager, Jim Nill, decided to pull the trigger on acquiring a potential hot-shot superstar.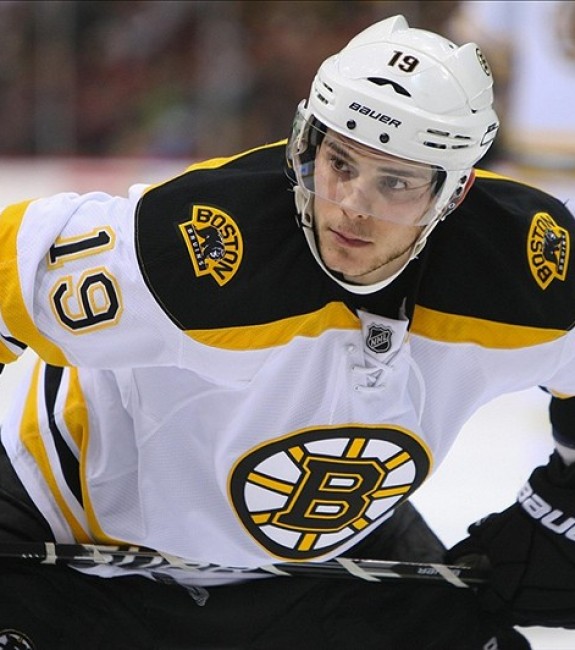 Rich Peverley –
A quiet, yet key component of the trade for the Stars was Rich Peverley. A leader both on and off the ice, Peverley looked like the perfect third-line center for the Stars. He was one of the best in the league on faceoffs. In 2012-13, Peverley was fifth in the NHL in face-off percentage (minimum 200 face-offs) at 58.4%. He also has an ability to produce offensively. He had a career high, 22 goals and 55 points just three years earlier.
Ryan Button –
Like Smith, Button was a third round pick in the 2009 NHL Draft. Coming out of the WHL, where he played with the Prince Albert Raiders, Button projected to be a decent defenceman, with a potential NHL future. For giving up what was one of their best defensive prospects, the Stars were happy to get one back to take Morrow's place.
How Did It Turn Out For the Bruins?
Loui Eriksson:
Eriksson has definitely been good for the Bruins, now into their third season together, but he hasn't been great necessarily. Over the first two years, he totaled 32 goals and 84 points in 142 games. Contrast that 0.59 points per game to his 0.72 rate over his course prior to being a Bruin. Unfortunately, he hasn't had the opportunity to make a drastic difference in the postseason either, scoring five points in just 12 games as Boston missed the playoffs in 2015. All in all, Eriksson hasn't been bad at all, but I'm sure the Bruins expected a much larger impact by the former Star.
The Prospects: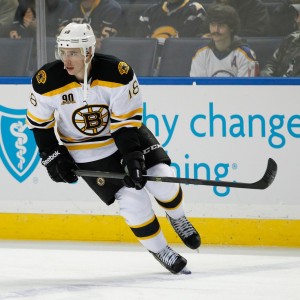 Reilly Smith had a fantastic first year in Boston, scoring 20 goals and 51 points as a 22-year old. He would slump a little bit in his second year, but still put up half a point per game. He looked like an excellent second-line winger for the foreseeable future … until he was traded again. The Bruins traded Smith to the Florida Panthers this past offseason, with Marc Savard, for Jimmy Hayes. Smith promptly scored two goals in his first game this year.
Morrow is just now coming into his own, finally cracking an NHL roster, after splitting time between Providence and Boston last season. Although he's failed to put up a point in this short season, he's been reliable on the Bruins' weak back-end. Still just 22-years old, Morrow looks like he could be a very solid NHL defenceman for the Bruins for a while to come.
Meanwhile, Fraser never really stuck in Boston. He played 38 games over two years, scoring five goals, before being claimed off of waivers by the Edmonton Oilers. After having a decent second half of last season with the Oilers, Fraser is now representing the Manitoba Moose of the AHL, the Winnipeg Jets affiliate. It doesn't seem likely that Fraser will have a long NHL career at this point.
How Did It Turn Out For the Stars?
Tyler Seguin:
Of course, Seguin has now become one of the top goal scorers in the NHL. Putting his past behind him, Seguin seemed to become a new man off the ice during a smooth transition into Dallas. He scored a career-high 37 goals in each of the past two seasons and has put up 161 points over 151 games. Knowing how rare point-per-game players are in today's hockey, that makes Seguin one of the most consistent and dangerous threats in the league. Dallas could not be any happier with Seguin's progression since his arrival.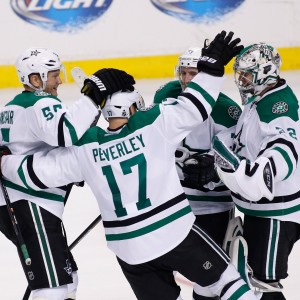 Rich Peverley:
Peverely had a great first year in Dallas, scoring seven goals and 30 points in 62 games. He also had a fantastic 60.1 win rate on faceoffs. Not to mention, he severely had an extremely positive impact in the Stars' locker room, bringing a winning presence into his teammates' surroundings. Unfortunately, on March 10, 2014, Peverley went into cardiac arrest and collapsed on the Stars bench. He would soon after have surgery to correct an irregular heartbeat. After becoming a free agent in July of 2014, Peverley decided in September of 2015 to take a position with the Dallas Stars as a scout of the OHL.
Who Won the Trade?
Dallas Stars
I believe it would be unanimous that Dallas won the Tyler Seguin-Loui Eriksson trade. Eriksson hasn't become the superstar he was expected to be in Boston, during which he is spending the prime age of his career. Also, none of the prospects acquired have become game-changers. Smith was a very valuable piece, but has already been traded away. Morrow may be the only one who has a lasting impact, as he is currently playing his first full NHL season, at the age of 22.
As for Dallas, Seguin is now admired as one of the premier goal scorers in the league. He is a consistent threat on the ice to produce scoring chances and makes Dallas one of the best offensive teams out there. He's also come together to form a dynamic duo alongside the reigning Art Ross Trophy winner, Jamie Benn. Peverley was also an excellent addition, who unfortunately had his career cut short.
All in all, neither team has had the chance to make a push for the Stanley Cup since this blockbuster trade, both missing the playoffs last season. However, the way it stands now, they may be headed in opposite directions. Dallas appears to be getting better each year, with many predicting a possible division championship in 2015-16. Meanwhile, the Bruins are no longer big and bad after trading away much of their core over the summer. So, for now, we give Dallas the advantage from this blockbuster.
Who do you think won this trade? Let us know in the comments below!
Contributor for the Toronto Maple Leafs and Prospects. Scout with the Oakville Blades of the OJHL. For questions, concerns, or comments, contact me at devinslawson123@hotmail.com or on twitter @SlawsonTHW.