Not so many years ago, the thought of a 5'9, 165lb, everyday NHLer was a rarity. It was a big mans game, and you could count the small guys on a hand or two. A player this size playing on the fourth line was completely unheard of. The best thing that ever happened to shorter players was the 2004 NHL lockout. The game changed at that point, emphasis was moved from strategy and structure, to speed and skill. It is in this new NHL that a player like the Winnipeg Jets Nic Petan can succeed.
Heading into the training camp and the preseason, the Jets were flooded with young talent. Spots were up for grabs after General Manager Kevin Cheveldayoff chose to let many veteran players walk away in the summer. One of the players in the running was the Jets 2013 2nd round pick Nic Petan. Conventional wisdom had Petan missing the cut. Petan is a top-level offensive player, and it appeared the Jets were pretty set on their top lines. There were also already two rookies pencilled into the opening night roster, and for a team looking to improve on a playoff berth last year, three rookies seemed improbable.
---
Nic Petan was drafted 43rd overall in 2013. Playing his junior hockey in Portland, the B.C. native scored points in mass for the Winterhawks, finishing his career in the franchise top five all time in many offensive categories. Petan is a pass first player whose vision and ability is far beyond his years. He has racked up 248 assists in 255 games. He put his talents on full display last season during the World Junior Championships when he was one of the key assets to a gold medal winning team Canada. He proved to the country then, that he had the skill necessary to be a force in the NHL.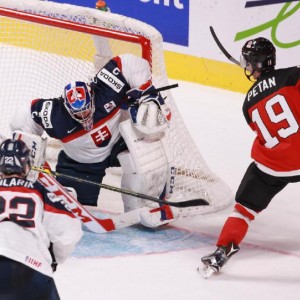 Though it was clear he had the skill to one day be in the NHL, no one expected that to be this season. Petan's versatility and skill ended up being too much to ignore. Petan represents a shift in NHL thinking. The days of the fourth line getting two or three minutes a game, dropping the gloves and then finding themselves at the end of the bench is over. If you do not have four contributing lines in the NHL today you will not be successful.
---
Nic Petan doing everything with speed, skill and confidence at Jets Development Camp. #NHLJets

— 680 CJOB Sports (@CJOBSports) July 3, 2015
Petan started his climb among the Jets ranks this summer. He was clearly the best player at the Jets development camp, besides his size, he was a man among boys. Once training camp rolled around Petan was a long-shot. Yet everyday, Petan came onto the ice and impressed onlookers, media, and of course coaching staff. Once the preseason games started Petan really began to turn some heads. In the first game against Minnesota, on limited minutes, Petan created chances, and was turning heads with his passing. His play never dipped during camp, and while player got trimmed, Petan stuck around. He continued his strong play. He began seeing more minutes, while still playing with the bottom six, he now was getting a chance on the power play. He also became a go to for Winnipeg in the 3-on-3 extra sessions.
Petan was gaining traction and was becoming a real threat to make the team. With only a few days left in camp he found himself among the last few forwards. Fighting with two or three other guys for the last couple spots, Petan really came to play.
Petan was the Jets best player in a 4-3 win against Ottawa, the Jets first win of the preseason. He then played a bigger role against the Flames and got a highlight real assist on a beautiful Mark Scheifele goal (above). Petan was also on the ice for the extra overtime period they played in that game and got an assist on Tyler Myers overtime goal. Petan not only was accepting his role, but embracing it. For a guy who has always been a first liner, a top option for any coach, playing on the fourth line can come as a bit of a stomach punch. Petan has shown poise beyond his years however. He came in, did his job, and excelled with what the coaches gave him. He earned his power play time, his overtime shifts, and made the most of them. In the last preseason game Petan was once again one of the best players on the ice. He was playing on a top line that night and proved he could probably fill in there if he was needed. Everyone knew at this point, Petan had made the team.
---
Just a few games into the season, no one is doubting the decision made to keep Petan with the big club. Though he has not seen a ton of minutes, largely due to the Jets not earning much power play time, Petan has made the most of time on the ice. He has continued to show that he is an excellent playmaker and along with fellow rookie Andrew Copp, Petan has helped make the Jets a four line team. It did not take him long to get on the score sheet either. Petan scored his first NHL goal in his first game, and although it was no masterpiece, you can bet there will be many more for the young Jets forward.