Injuries rocked the Golden Knight's crease early in the season. First, it was Marc-Andre Fleury going down in the fourth game of the season with a concussion. Enter 'the other Subban' – Malcolm Subban, claimed on waivers three days before the team's first game, was supposed to serve as the primary back-up, playing only when Marc-Andre needed a breather. Now, he was tasked with carrying the load with no assurances of when Fleury may return. Eager to show what the Bruins' gave up on, Subban won his first three starts, while posting a sizzling .937 save percentage. However, in the third period of his third game, Subban suffered a lower-body injury while making a save on Blues' forward Jaden Schwartz. Subban, like his predecessor, would wind up on injured reserve.
Injuries notwithstanding, many predicted the Knights' season would be a one highlighted by gloom and doom. Now, they had to do it without their best player (Fleury) and their backup goalie, Malcolm Subban.
Let's Dansk
Drafted by the Columbus Blue Jackets, in the second round of the 2012 draft (31st overall), Oscar Dansk took over for the injured Subban. Called up from Vegas' AHL affiliate, the Chicago Wolves, the Swedish netminder had never before played an NHL game prior to being thrust into third-period action. Backup duties are one thing, but preparing to carry the load as an NHL starter is a whole other story. Unwelcomed reality notwithstanding, it was time to Dansk on the neon-soaked Strip.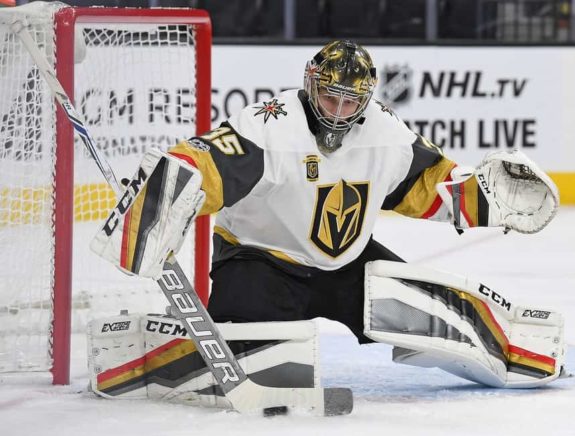 Before winding up with the Knights, Dansk had quite the journey. In 2014-15, his first professional season, Dansk split time between the AHL & ECHL affiliates of the Blue Jackets. In the second year of his entry-level deal, Dansk was loaned to Rogle BK of the Swedish Hockey League (SHL) – Warning: Browser translator required (unless one is fluent in Swedish). 
Following two seasons and 60 games overseas, he returned to the NHL, signing a one-year, two-way deal with Vegas (after the Blue Jackets elected not to tender him). Entering the fray as an unheralded goalie, little could be expected from Dansk. However he, much like his team, was determined to defy the odds. Dansk would start the next two games following Subban's injury, both wins. In just his second career start, he posted his first NHL shutout. Albeit a small sample size, Dansk would go 2-0 with a .968 SV% (yielding 2 goals on 61 shots over those two starts). His third start would see him leave with a lower-body injury.
Only 10 games into their first season, the Knights were about to start their fourth goaltender.
Next Man Up – Maxime Lagace
Maxime Lagace signed with the Golden Knights before the start of the 2017-18 season. Prepared for life in the AHL, it's hard to imagine him ever expecting to feature prominently in the Knight's crease. No team is built to withstand the loss of their two top goalies. Certainly not their top three – that's just cruel and unusual punishment.
Making his debut much the same way Dansk did – in relief due to an injury suffered mid-game – Lagace yielded four goals on 11 shots. Coming off a forgetful debut, it appeared the injury bug had pushed Vegas to its breaking point. Lagace would lose his first three starts but would score his first career win in the fourth.
While his Vegas stint only lasted 14 games, Lagace held his own throughout, posting a 6-6-1 record. Allegedly void of talent, the Knights somehow managed to provide Lagace with solid goal-support during his stint. Having performed his job adequately, Lagace would be sent back to the AHL once Subban and Fleury were cleared to return.
The Knights, having been backstopped by their fourth goalie for over a month, had managed to weather a storm many thought would be their demise.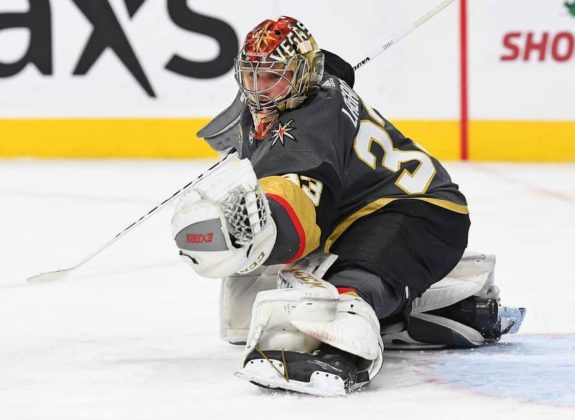 It's hard to put into words, just how impressive and unprecedented the Knights' season has been up to this point. An expansion team playing with supposed league cast-offs, down their top three goalies before one could even blink. Remember Carey Price's 2015-16 season was cut short, limiting him to only 12 games. That alone was enough to torpedo the Montreal Canadiens' playoff hopes. Losing Fleury to sports' most enigmatic injury should've sent the Knights down a similar path…
(Remember, Fleury, like Price, is his team's undisputed best player).
…But it didn't. Now Fleury (and Subban) are healthy again and both playing at an exceptionally high level.
And so, as we get set to usher in 2018, let's all take a second to imagine what a Cup Parade down the Vegas Strip could possibly look like.