Jack Eichel is back. He's playing like a superstar, raising his teammates' games, and talking like a captain.
Since Dec. 15, Eichel has seven goals and four assists for 11 points in six games. He has eight goals and eight assists for 16 points in his last 12 games. For the season, he now has 15 goals and 20 assists for 35 points in 38 games. In Friday night's overtime win against the New Jersey Devils, he passed Evander Kane (15 goals, 19 assists for 34 points) to become the team's point leader.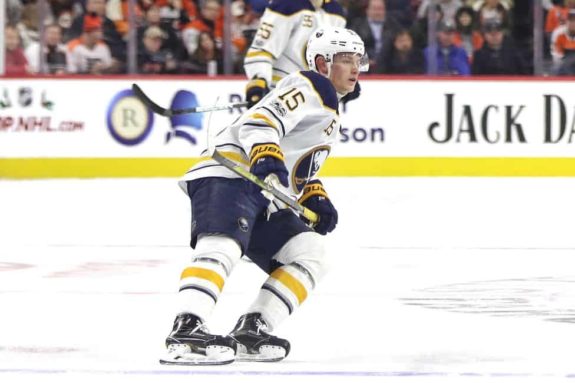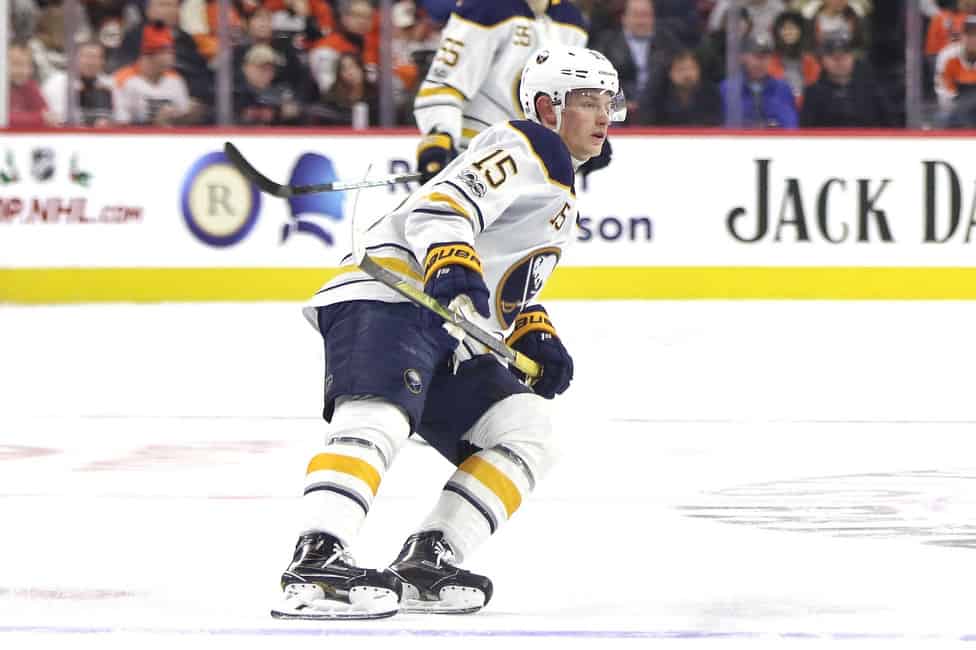 Eichel has climbed into 26th place in the league in scoring after not being in the top 75 a month ago. He's also jumped up to 34th place in points-per-game (.92) among players appearing in a minimum of 25 games. And his production is coming at even strength – every player above Eichel has more power play points (4), except Leon Draisaitl (3) of Edmonton.
As Jack Goes, So Go the Sabres
Jack's uptick in offense is translating to team success. The Sabres have picked up 12 points in their last 12 games, including nearly half of their wins. It's clearly their best stretch this season. Jack had 16 points in those 12 games. Contrast those 12 points to the previous 12 games in which the Sabres only accumulated 6 points. As Jack goes, so do the Sabres.
Eichel's points are coming in bunches. He has 10 multi-point games already, including the first hat trick of his career which came against the Carolina Hurricanes on Dec. 15.
Leading the Charge in New Jersey
After defeating the New Jersey Devils in overtime on Friday and losing in overtime to the New York Islanders, they've now collected three out of a possible four points.
In the locker room after the game, the 21-year-old Eichel was feeling good. "I think we did a great job. That's a really good hockey team, they have a lot of speed, they have skilled forwards, credit to us with sticking with our game plan, it's nice to be on the other end of it."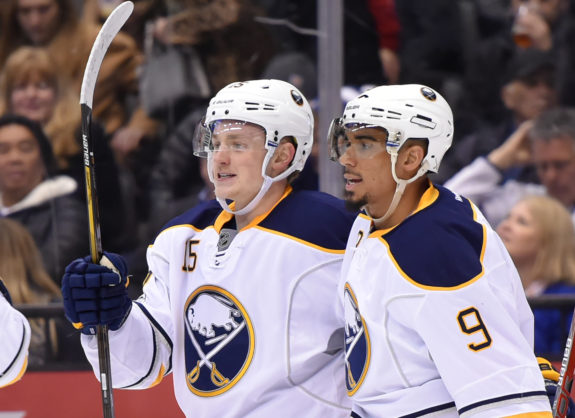 Eichel's first tally of the night was a huge, momentum-changing goal. After Jake McCabe ripped a laser from the point, Eichel spun to tip it out of the air past Devils' goalie Cory Schneider. It brought the Sabres to within a goal and energized the team heading into the third period.
When Jack is on, he's a difference maker. "Jack's been playing a lot of great hockey and it's showing," said head coach Phil Housley. "Tonight was another great example of it."
Eichel scored again in the third period to tie the game, courtesy of a brilliant no-look, cross-ice pass from Kyle Okposo during a power play. He one-timed the blast into an open net to tie the score, 3-3.
All day. pic.twitter.com/fvZlyW5w2k

— Buffalo Sabres (@BuffaloSabres) December 30, 2017
With time winding down in the third period, Eichel nearly had his second hat trick in six games. He tipped Rasmus Ristolainen's shot from the point, but the deflection bounced off the crossbar and bounced down but not in. Devils' goalie Cory Schneider never saw the puck. "It would've been nice. But we get the win, so that's all that matters," said a smiling Eichel.
Elevating His Teammates
Jack is elevating whoever Housley puts on his line. This year, for the most part, that's meant teammates Evander Kane, Jason Pominville, Zemgus Girgensons and Sam Reinhart.
It's no coincidence that Jack has primary assists on all three of Girgensons goals this season. In fact, of the seven points Girgensons has this year, Jack has been in on six of them, with an assist or the goal itself.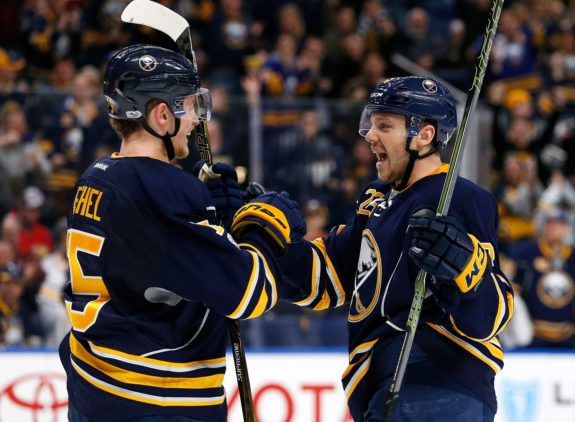 Of Jason Pominville's eight goals this season, six primary assists belong to Eichel. Of Pominville's 16 points on the season, Jack has been in on ten of them.
Jack has seven primary assists on Kane's 15 goals and has been a part of more than half (18) of his 34 points.
Talking Like a Captain
While there are many underachievers on the Sabres this year, Eichel has owned up to his team's problems when questioned. There are no eye rolls or whine-like rants. He's sounding more like a captain than ever before.
After a loss last week when his team wasn't ready from the first shift, he didn't hold back. "At some point we need to learn from it a little bit and grow up as a group," said Eichel. "Battles, compete level, execution. None of it was there."
"You want the team results and that's what it's about," said Eichel after a loss a week ago. "I think my game is really coming along. I'm moving my feet better, getting shots and making plays. But we have a long way to go as a group, myself included. There's a lot of things I have to get better at."
Winter Classic
So, Jack is pretty good at this hockey thing. But did you know he's also formidable at playing wiffle ball? Check out this clip as he gets ready for the Winter Classic at Citi Field, home of the New York Mets.
The @BuffaloSabres @Jackeichel15 puts up some serious wiffle ball numbers. No big deal.

The 2018 @Bridgestone NHL #WinterClassic is three days away! The puck drops at @CitiField on New Year's Day at 1 p.m. on @nbc. pic.twitter.com/FZY1nAcdk3

— NHL (@NHL) December 29, 2017
Be sure to tune in as Eichel and company face the New York Rangers in the 2018 Bridgestone NHL Winter Classic on Monday (1 p.m. EST).
Jeff has been covering the NHL for over a decade for various sites. He's been with The Hockey Writers as a lead Sabres writer three years, while also writing a satire column called "Off the Crossbar."