Former Nashville Predators enforcer Rich Clune has signed an AHL contract with the Toronto Marlies of the AHL. The Marlies announcement also noted that Clune is expected to attend Toronto Maple Leafs training camp, which will open on September 17.
#MarliesLive News: The #Marlies have signed Rich Clune to an #AHL contract. pic.twitter.com/6kwc40q7Le

— Toronto Marlies (@TorontoMarlies) July 5, 2015
The 5-foot-10 winger spent the vast majority of last season playing for the Milwaukee Admirals of the AHL, registering just a single game with the Predators, following two seasons where he played 47 and 58 games.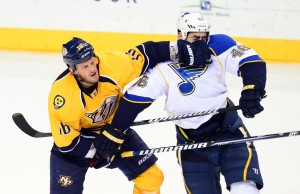 Clune recently wrote a
revealing piece for The Player's Tribune
talking about addiction and his journey in the NHL so far. His story is heartbreaking at times and surprisingly forthright.
I used to get home from hockey practice and start drinking at lunch. From the time I was playing Junior hockey for the Sarnia Sting to my first year in the NHL with the Los Angeles Kings, I would start drinking the second I woke up on my days off. I smoked marijuana every single day. By the time I was 19 years old, I was using cocaine weekly. If you saw me out at a bar in Ontario or New Hampshire or Los Angeles, laughing and cracking jokes, you probably would have thought, "Look at that kid. He's living the dream."

What you wouldn't see is me waking up shaking in my bed at 5 a.m., my nose bleeding all over the pillow.

…

Between the ages of 15-24, I was not here. I was checked out. I did not exist. Rich Clune the pro hockey player existed. He got in over 150 fights and drove drunk and chased women and laughed and cried and lived in oblivion. But Rich Clune, the kid who loved art and film and read books and thought deeply about life, that guy was just not around. He couldn't cope with the pressure.

Then one day, he woke up. I wish I could tell you it was when L.A. Kings assistant GM Ron Hextall pulled me aside and said, point blank, "Rich, do you want me to get you some help?" I wish it was when my parents begged me for the millionth time. But it wasn't like a movie. One day, I just woke up and had enough.
Clune will get a chance to crack the team's NHL lineup at camp. He plays a role that it looked like the Maple Leafs were moving away from over the last couple of seasons following the release of GM Dave Nonis and coach Randy Carlyle. After his Player's Tribune article, it's hard not to cheer for him to get back into the NHL.
RELATED: Toronto Maple Leafs Top 10 Prospects
[catlist categorypage="yes" numberposts=3 excludeposts=this]
Sign up for The Hockey Writers' Toronto Maple Leafs newsletter.