With the annual Blue and White Scrimmage coming this Wednesday, Islanders fans will get a chance to watch the organization's top prospects in action at Barclays Center. The rosters have been released and the players will meet Monday morning, with training camp to begin Tuesday afternoon. Here's what you should be paying attention to: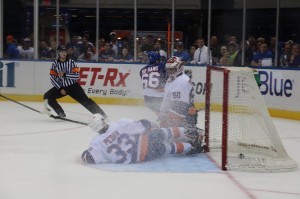 The Stars
Michael Dal Colle, Ryan Pulock, Joshua Ho-Sang, and Mathew Barzal are the top prospects in the Islanders organization right now, and with good reason. Pulock's first season of professional hockey at Bridgeport was incredibly impressive, as he was not only the best rookie on the team but at times the best defenseman altogether. Dal Colle and Ho-Sang had great post-draft seasons in the OHL, and Barzal dropped to the 16th pick after leading all '97-born WHL players in points per game.
These four are by far the most likely in the Islanders system to make an impact at the next level. All but Pulock have junior eligibility left, but would love to take the next step and make the NHL roster out of camp.
Dal Colle's all-around play has improved since being drafted, and with his size and consistency it's quite possible he gets at least a cup of coffee in the NHL this season. The organization seems poised to let Pulock develop a bit more in Bridgeport, giving him big minutes, but if a better option doesn't come about he should be the first call-up to aid a defense that might struggle. Ho-Sang is by far the most dynamic of the prospects, with perhaps the highest upside, but he's also the one with the most question marks. Most would probably agree he's still a few years away from cracking the Islanders roster, but he's the one to keep an eye on through training camp. Barzal will likely spend the entire season in the WHL.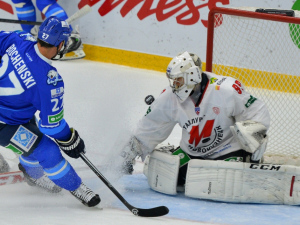 The Goalies
But mostly Ilya Sorokin.
As Jaroslav Halak hits 30, it's time to at least start thinking about the next goaltender of the Islanders, and right now Sorokin could be the front-runner.
It's a bit strange that a player under contract with a KHL team (CSKA Moscow) would be allowed to partake in an NHL camp, which makes Sorokin all the more interesting. After backing up with Metallurg Novokuznetsk, Sorokin was traded to CSKA and spent the postseason with MHL affiliate Krasnaya Armiya Moskva. Sorokin's solid KHL play and great numbers at the MHL level make him likely the top goaltending prospect in the pool as a '95 birth-year. Though he'll likely spend the upcoming season in Russia, we'll have to keep an eye on what he does when that contract is up.
There's also Kevin Lankinen and Stephon Williams, who could potentially be fighting for an NHL job in a few years. Lankinen had a very impressive season with HIFK of the Finnish Liiga, while Williams was dominant at Minnesota State (.925 save percentage, 1.65 goals against over 35 games) and fit in well in his short stint with the Sound Tigers. If the organization has given up on Kevin Poulin being the next big thing, Williams should be able to get quality time in Bridgeport while Lankinen continues to grow in Finland.

The (Relatively) Unknowns
Let's face it, most fans couldn't tell you anything about more than five or six players invited to camp. It's no slight–that's the reason these camps exist. These are the guys that could be the diamonds in the rough each organization hopes to find.
At forward, Austin Cangelosi and Charles Bertrand are intriguing. Cangelosi is an undersized forward from Boston College who joined the Eagles after leading the USHL's Youngstown Phantoms in scoring as an 18-year-old. He added 6 goals and 20 points in a season in which Alex Tuch's 28 was enough to lead the Eagles. Though this past draft is no indication of it, the league is clearly more welcoming of small forwards than it was ten years ago, and there's a place for a 5'7 forward if he can develop into the elite scorer at the NCAA level some believe he can be. Bertrand, a French national, had a breakout season with Vaasan Sport of the Finnish Liiga after struggling to make an impact at the senior level over the past three seasons. Bertrand's 47 points were tops for Sport, and 7th in the league despite his team finishing dead last. His skating and playmaking ability could impress the Islanders brass enough to offer him an AHL contract this season.
With Ryan Pilon, Parker Wotherspoon, and Doyle Somerby in the mix, there's an interesting group of defensemen who project below Ryan Pulock but could also help push him to that next level in camp. Wotherspoon and Pilon, drafted in the 4th and 5th rounds respectively this year, are two former 1st-round selections in the 2011 WHL Bantam Draft whose junior careers didn't quite live up to their billing. NHL Central Scouting listed Pilon as the 24th-rated North American skater, with Wotherspoon not far behind at 43, so the Islanders got great value at 112 and 147 if you trust Central Scouting. Somerby had a tremendous season at Boston University, and his imposing 6'5, 220 pound frame makes him a legitimate prospect as a tough stay-at-home defender.
And there's also Andong "Misha" Song, the first ever Chinese-born player to be drafted in the NHL, who will have an uphill climb to convince some fans that he wasn't picked as a publicity stunt. Song has lived in North America since he was 10 and for the last few years was a star at New Jersey's Lawrenceville School. He'll take his talents to Phillips Andover, where he'll likely find his college commitment skating with some of the top prep players in the nation.  Can Song win over some critics and show that he deserved to be drafted? He'll certainly be given every chance to.