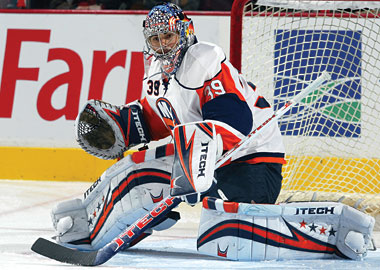 Rick DiPietro, the injury-plagued starting goaltender, of the New York Islanders has been officially declared done for the season. DiPietro missed the start of the year, however over the course of the season was able to play in five games, but is still having consistent swelling in his left knee after two surgeries.
"This has been one of the most frustrating situations I have ever had to deal with, but this is the right decision for me and the team," DiPietro said. "I am confident this will allow me to make a complete recovery, be ready in plenty of time for next season and compete to my highest ability for many years to come. I'd like to thank Islanders fans for their patience, and I look forward to playing in front of them next season."
While this may not seem like the best news for the Islanders, I am led to believe this could actually be good news. The Islanders have been known over the past few years to be a team consistently fighting for a playoff spot and then earning the 8th seed and losing in the first round. They have been a very average team over the course of the past few years. DiPietro, a potential top 5 goalie in the league when healthy, was consistently stealing games for them.
Now, take DiPietro out of the picture. In a year in which DP has only started five games the Islanders find themselves in last place in the NHL by 10 points. This almost ensures the Islanders will be a bottom dwelling team when the end of the season rolls around. It will be a chance for the New York Islanders to draft a top super star talent. Something the team has lacked for years.
Also, the Islanders are finally doing the correct thing by giving DiPietro the full rest he needs for the entire season. Hopefully, DiPietro will be able to come back strong and actually play a full year in the NHL. The Islanders young guys are starting to develop at a nice pace and with a strong draft this year the Islanders can be right back on track soon.
Add a super star talent with a super star goalie, a fully healthy team, and count on some prospects developing nicely and the Islanders can be a scary team in a few years. So while some can look at the DiPietro news and say it is a bad thing, I am saying I see the glass half-full.