Before I get to the actual rumor, I first want to give you a little run down on this new series of mine called "Caggy's Rumor Mill". First let me say that I haven't given myself the nickname, rather it was bestowed on me by my fellow writers at another site, and it's understandable since my last name can be difficult to pronounce/spell. Okay, so here I am with this rumor and it's not just out of the blue, it does have some substance.
Let me first say that I actually d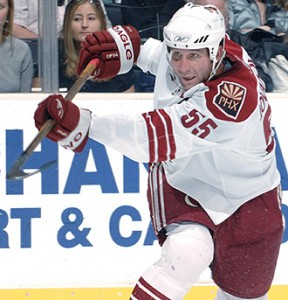 o have an inside source with the Rangers organization. Nothing huge, just a peon when it comes to the actual hierarchy, but he's an insider nevertheless. He feeds me rumors every once and a while and I'll be perfectly honest when I tell you that they hardly ever come to fruition. But still, one of these days he's going to hit the nail on the head and even though he hasn't often, I must say that most of the rumors I post will have been actually discussed, as there are many every day within different organizations. This is why I really don't have a strong hatred for the infamous hockey blogger and rumorist called Eklund. Who's to say that a rumor wasn't discussed?
If he reported one day that there was a rumor going around that said "Ovechkin to the Devils is a Possibility", it would immediately be shot down, and rightly so. But who's to say that one night Lou Lamoriello wasn't in a drunken stupor and happened to pick up a phone book and call Ted Leonsis of the Washington Capitals and inquire about it? No one, exactly. Possibility? Yes, like maybe a fraction of a decimal but still possible.
Okay so enough blabbering, let's get to the rumor at hand and that's the New York Rangers possibly inquiring about getting Ed Jovanovski in Broadway Blue. Every single season for as long as my young mind can remember, there is a rumor involving the Rangers and the current Phoenix Coyote's defenseman. Yet every year, nothing happens. Let me say that Sather has always been after Jovo but the right situation never came to be.
Given the current Coyotes financial situation, any big name/big contract player will most likely be on the move very shortly, and since Sather and Maloney are best buds, it makes even more sense that they would try to ship him to the Rangers. There is only one problem; and that involves the Rangers already being locked up with four gastronomical and egregious contracts, two of whom are on defense. Wade Redden makes $6.5 million a season through 2013 while Michal Rozsival makes $5 million a season and is locked up until 2011. Ed Jovanovski has a similar contract to Redden ($6.5 million per season) but is signed for two fewer seasons.
For the Rangers, trading Redden for an identical contract wouldn't improve their salary cap problems but it would cut two less seasons off. Yet why would the Coyotes want to take in an even worse contract? They wouldn't which is why the Rangers would need to sweeten the pot. Perhaps if they throw in a 2nd/3rd round draft pick and maybe even Petr Prucha ( who will in all likelihood be benched tomorrow night) the Coyotes would bite.