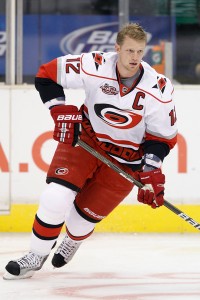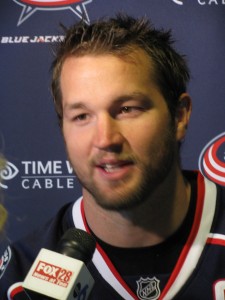 Every year the trade deadline features a number of players who are headed for free agency. Non-contending teams deem these types expendable every spring.
This year there could be a couple of added features to this list, who are not headed for free agency.
The Carolina Hurricanes and Columbus Blue Jackets are two teams that are going to be nowhere near the post-season. These also feature two big-name forwards with long-term contracts that will prevent them from taking on a proper rebuild that should be undertaken in each franchise.
Eric Staal is mired in the worst season of his career with only seven goals and 20 points in his 34 games played to date. He also sports a -18 rating, which is also a career low. The numbers only tell part of his story. In watching the Hurricanes' games, he is barely noticeable, whereas in years past he was always in the middle of the action. He has usually been most effective on the power play, notching at least 12 goals with the man advantage in each of his last 6 seasons.
This year he has only three goals on the power play.
Observers blame his downturn on a host of factors, including the fact that he feels guilt over causing his brother Marc to suffer a concussion. The most notable factor may be that he is a misfit on the 'Canes roster, with no compatible peer. Sure they have Jeff Skinner, the teen sensation, but after that, second and third-line players dot the Carolina roster. There is no contemporary who can come near the skill set of this 27 year old superstar.
In Columbus, Rick Nash inked a long-term big dollar contract with Columbus last year, taking his name out of a rumor mill that had him targeted for greener hockey pastures. It was thought that the Blue Jackets were devising a roster that would complement him. They were counting on players like Jeff Carter, James Wisniewski, Derek Brassard and goalie Steve Mason to deliver the goods like they had in earlier seasons.
Carter was expected to be Nash's running mate but he has scored only seven goals and 13 points in 22 games during his injury-plagued debut. Wisniewski has chipped in with 15 assists (and only one goal) but has a dreadful -18 rating. Brassard has failed in his evolution as a highly rated young player who does not appear capable of becoming a front-line player. He has only seven points in 25 games this year. Steve Mason has never come close to duplicating his outstanding rookie campaign of 2008-09. His current goals against mark of 3.52 is among the worst of his peers who starting goalies in the NHL.
Both of these stars should realize that winning the Stanley Cup is not on the horizon for their current clubs.
Both players also carry onerous salary cap hits that will handcuff their current teams. Staal has four years left at $8.25 M per annum, while Nash is in the books to the tune of $7.8 M over the next six years.
It should be clear to the management teams of both the Hurricanes and the Blue Jackets that a public auction of their signature players will net them a healthy ransom, to kick-start a legitimate rebuild of their rosters.
The list of interested suitors for Nash and Staal would guarantee a great return in each instance.