Maybe Luongo would accept a trade to Chicago, but would Blackhawks fans accept it?
Roberto Luongo was on 99.3 The Fox's "The Jeff O'Neill Show" and endured a 22 minute in-depth interview, most of which is about his future in the NHL.
"I'd rather not talk specific right now," Luongo told CFOX-FM 99.3. "I've always said I like playing in Chicago."
A Red Wings fan called into the show trying to convince Luongo that his best shot at winning a Cup is in Chicago and wondered if he would ever play here.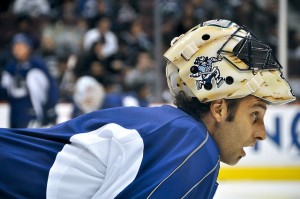 "That's a good question," Luongo said. "I think there's a lot of cities that are great to play in, and Chicago's definitely one of them. But you have to realize that it works both ways. There's not only me involved in this decision. It's also a question if the Blackhawks would be interested, if the team would be interested in trading me there, and if I would be willing to go there."
Later in the show the host asked Luongo about Chelsea Dagger, his reponse: "I like that song — it's catchy," Luongo said. "I heard it seven times in one game."
In the interview Luongo did state that this was his first interview since the L.A. Kings ended his season, coupled with the fact that it's quite obvious that the list of teams interested in his services is a very short list. Whether the Blackhawks are actually interested in him really holds no water yet, and this could just be a case of  his camp "pumping tires" to reach out to teams and hoping someone takes another look. In other words, take it with a grain of salt.
At the same time, there's a lot of smoke behind this rumor at the moment and it wouldn't surprise me to see Stan Bowman look elsewhere after failing to woo Marty Brodeur away from the New Jersey Devils. If Stan is going to make this move, he will either find himself in the unemployment line at this time next year, or nominated for GM of the Year. It's a risk, but this wouldn't be the first time a GM tried to save their job after receiving a lot of pressure from the top of the front office.