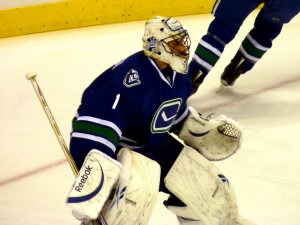 It's no secret that Roberto Luongo has indirectly (or directly) tipped the Vancouver Canucks' hand by stating his time in British Columbia is done. In fact what most sports betting sites were predicting was that he would have been moved already.
Many have speculated on Luongo's future since the Canucks signed Cory Schneider to a multi-year deal aftter Schneider took over the number-one spot in the crease during the playoffs.  Throughout the offseason, the feeling has been a sense of when, not if, Luongo gets dealt.
The only question that remains; what team Luongo will be traded to.
Many teams have been tossed about as possible destinations.  Much speculation has him going to Toronto to help right the sinking ship that is the Maple Leafs.  His name has also been linked to Florida, where he spent a chunk of his career manning the crease for the Panthers.
Still others have suggested Chicago will be Lu's landing-spot, as the Blackhawks have major questions in goal: The Hawks are arguably one solid goaltender away from a second championship in four years.
While the questions continue to haunt the Canucks, there could be another intriguing possibility:
Could Luongo end up an Ottawa Senator?
It's well-documented that Craig Anderson Senators' number-one goalie.  He's set to make a little over $3 million for each of the next three seasons and he's proven he can handle the load as Ottawa's go-to man.  However, the temptation of securing one of the most well-known names in goaltending might prove too much for the Senators brass, especially if the asking price is right.
General manager Bryan Murray has promised to do what he can to improve the Senators.  So far, his plan to springboard the Senators back into contention for the Stanley Cup appears to .  There's also a feeling that some experts doubt Anderson's ability to backstop the new-look Sens to the promised land.
The addition of Luongo would add an air of stability to the Senators' goal not felt since Ray Emery took the team on his back and brought them to the Stanley Cup Finals in 2007.  Emery fell short of  success the Finals, and his antics may have ultimately resulted in him being jettisoned out of Canada's capital. However, no one can doubt the sense of security he brought during the first three rounds of the 2007 Stanley Cup playoffs, as the Senators ran over their first three opponents before falling to Anaheim in five games.
Luongo could bring that feeling back: He came within a game of securing Vancouver's first-ever Cup, losing in seven games to the Boston Bruins in 2011.  He brought Vancouver to the precipice of glory, and the blame for not prevailing over the Bruins cannot be placed on his shoulders alone.
Luongo to the Senators could be just what the doctor ordered to inject a sense of excitement into the Senators' lineup and their hometown fans.  It gives them a well-known money goalie that has been through the grind of the playoffs and through the pressure cooker that is the Stanley Cup finals.  It gives them another superstar name in their lineup.
Still, Ottawa shouldn't detonate their entire roster to acquire Luongo.  The rebuild is on in-full in Sens nation, and Murray is being very careful not to upset what he has built thus far, making moves that will only aid his club in the long-term.  He's been very active this offseason, asking about several free agents and also trying to make a pitch for Rick Nash.
Luongo could be a big piece of the puzzle. The Senators' GM should be applauded for his recent track-record of positive long-term moves.  Should Murray decide to make a move for Luongo, however, the Senators have lots of cap space with which to fit his contract into.
These are exciting times in Ottawa.
Born in the Annapolis Valley of Nova Scotia, and living in Port Williams, Nova Scotia, Justin has been involved with hockey for over 15 years. He has written for local newspapers from 1994-2009. He brings a combination of passion and humor to his articles that frame his love of hockey. His style includes opinion pieces and historical fact. He finds game reviews "boring on their own" and aims to bring each piece to life in its own way. He currently owns www.openingfaceoff.net, and is looking forward to contributing regularly to thehockeywriters.com.