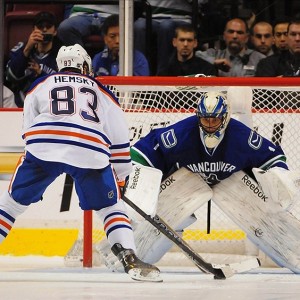 Don't look now but Roberto Luongo, the all-time leader in virtually every Vancouver Canucks goaltending record, is back in Vancouver.
Luongo is expected to start tonight as his Florida Panthers look to wrap up their road trip through western Canada with a victory. And this visit, just like every visit to Vancouver for Luongo since the March 4, 2014, trade that sent him back to the Panthers, it provides fans and analysts with an opportunity to evaluate the trade with a fresh perspective.
As we approach the three year anniversary of the trade that ended Luongo's tenure in Vancouver, it's fair to say that enough time has passed for a clear and sober assessment. The "wait and see" disclaimers are largely out the window now.
Back to the Future Part Lu
To set the scene and get proper perspective for analysis, let's go back in time to the eventful 2013-14 Canucks season. The preceding offseason was one of incredible change for the Canucks. In quick succession, general manager Mike Gillis performed a hat trick of bold moves by firing long-time head coach Alain Vigneault, hiring new head coach and noted grouch John Tortorella and trading future star goaltender Cory Schneider.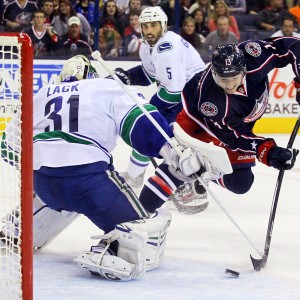 Each of these things proved to be instrumental in the ultimate departure of Luongo. Vigneault had shown loyalty to Luongo and tried to help the veteran play through his struggles, but he also wasn't afraid to play Schneider when the games mattered most.
With both Vigneault and Schneider no longer in the fold, it was expected that Luongo would become the team's unquestioned starter once again and rookie Eddie Lack would play 15 games or so to give Luongo a rest when necessary. In other words, business as usual before the whole "Canucks goalie controversy" muddied the waters in Vancouver. What happened instead was muddier and more complicated than any previous arrangement.
The first half of that season was up and down for the Canucks in terms of consistency. On the one hand they had put together a seven-game win streak in December, but on the other they also managed a nine-game losing streak. The team was at real risk of missing out on the playoffs for the first time in five years when Luongo went down with an injury in December. Lack took over the crease and performed well under scrutiny. Luongo returned but was injured again when Los Angeles Kings captain Dustin Brown collided with him while scoring a goal. Pressed into action again, Lack was underwhelming and went 1-3-2 during the stretch. To add to the frustration, captain Henrik Sedin was also injured during this time and the team was playing particularly uninspired hockey, which set the table for…
The Powder Keg Goes Off
What happened on Jan. 18, 2014, has been well covered. In an important divisional game against the Calgary Flames, Tortorella stormed the Flames' dressing room during the first intermission in an attempt to engage with Flames head coach Bob Hartley. Tortorella was enraged at Hartley's attempt to instigate and intimidate the Canucks with a starting lineup that consisted mostly of goons and tough guys. Tortorella took the bait and was slapped with a 15-day suspension by the NHL.
During their head coach's league-imposed exile the Canucks went 2-4-0. When Tortorella returned, the team lost four straight and extended their losing streak to seven, establishing their worst streak in over a decade. When the league resumed play after the 2014 Sochi Olympic break (where Luongo won gold with Canada), Tortorella started Lack in three straight games — the third of which was the 2014 Heritage Classic at BC Place against the Ottawa Senators. Many fans and analysts saw Tortorella's naming of Lack as the starter in this game as a slap in the face to Luongo. Ultimately, Luongo admitted that this decision was the final straw and he was dealt two days later.
Despite the friction between Luongo, his coach and team management, the trade still took many by surprise. In fact, on the day he was traded Luongo was slated to start that evening. Instead, he was packing his bags and taking his talents to South Beach.
IT'S OFFICIAL: #Canucks acquire Jacob Markstrom & Shawn Matthias from Panthers in exchange for Roberto Luongo & Steven Anthony.

— Vancouver #Canucks (@Canucks) March 4, 2014
Judging the Return
At the time Canucks fans knew exactly what the team was sending to the Panthers, but they weren't sure what exactly they had received in return. The team had essentially shipped Luongo and his cap hit (minor leaguer Steven Anthony was packaged as a way to balance out the number of players under contract for each team), for what appeared to be two young and promising, but underachieving, players. Both Jacob Markstrom and Shawn Matthias had failed to live up to expectations as NHL regulars at their respective positions.
🌴

— Strombone (@strombone1) March 4, 2014
Nearly three years, a management change, a coaching change and a near total overhaul of the Canucks roster and we can now accurately judge the lasting impact of the Luongo trade.
A Travelling Man
Shawn Matthias put up 21 goals and 13 assists in 96 games as a Canuck over two seasons. Following his 18-goal campaign in 2014-2015, the team elected not to renew a contract with Matthias and he left the team as an unrestricted free agent. He's now on his sixth NHL team in just four seasons.
https://www.youtube.com/watch?v=47jwVKgz4LE
During his time as a Canuck, Matthias showed flashes that he could be an impact player but he failed to maintain any level of consistency and struggled when Tortorella and his predecessor, Willie Desjardins, attempted to increase his role. Without being overly critical of Matthias, he is a bonafide NHL player after all, very few Canucks fans were upset when he left the team for free agency.
1A/1B Testing
Jacob Markstrom has played parts of two seasons for the Canucks with one incredible season as the Utica Comets' starter in the American Hockey League. In his time with the Canucks, Markstrom has performed admirably in a 1A/1B split situation with veteran Ryan Miller. As I've dissected before, Markstrom and Miller have very comparable statistics with a near identical workload over the past two seasons.
And given that Luongo himself had been in a 1A/1B split for much of his final seasons in Vancouver, can fans really expect much more out of Markstrom? Whether he develops into the bonafide NHL starter that the team hopes he can become remains to be seen, but so far Markstrom has performed up to expectations and has provided the team with decent returns.
The Real Return
To find the real value for the Canucks in the Luongo trade, you have to separate your judgment by a degree. By moving Luongo's contract and its $5.3 million cap hit, the team relieved itself of a $4.5 million cap hit (the Canucks retained $800,000 annually) for eight seasons.
VAN is taking back money on Luongo's contract. It varies in amounts each year. Around $1M (ballpark) for each of first four years.

— Bob McKenzie (@TSNBobMcKenzie) March 4, 2014
Once the drama of the 2013-14 season was over and Luongo, Tortorella and Gillis were all cast away, Canucks ownership hired Trevor Linden as team President who in turn hired Jim Benning as GM. Linden and Benning wasted no time in addressing their new team's goaltending by signing Miller to a three-year contract with an annual cap hit of $6 million on the opening day of free agency in the 2014 offseason.
After one stop-gap season with Lack and Miller splitting time, Miller and Markstrom have provided the Canucks with dependable and reliable goaltending on a fairly consistent basis. In his three seasons with the Canucks, Miller has posted a 2.60 GAA with a .915 Sv% and nine shutouts. Statistics aside, Miller has been an exemplary teammate in Vancouver. Despite the near 50/50 split in duties between him and Markstrom, there has been no mention of a "goaltending controversy" in Vancouver during his stint with the team.
While it was a risk bringing in a veteran goaltender for a three year term at high dollars, the gamble has paid off for Canucks management. Miller has provided the team with stability and he's enabled Markstrom to transition from a prospect into a professional.
The $36 Million Dollar Question
Did the Canucks get fair value in trading Luongo? Judging by the immediate returns, probably not.
However when analyzing the lasting effects of the trade, it's hard to argue that they didn't receive full value and then some. Throw out the 96 games from a middling NHL forward and you're left with a 1A/1B goalie split that has provided the team with stellar goaltending for three seasons. Goaltending that one could argue has been as good, or even better, than anything Luongo could have offered the team over the same span.