The Chicago Blackhawks' favorite left winger, Marian Hossa, is finally back on the rise.
Hossa has been a constant points-scorer for Chicago, averaging approximately 55 points per season over his entire tenure with the Blackhawks. (That number would be higher but for the 2012-2013 lockout that cost half the season, and significantly lowered points across the league.)
This season, however, Hossa has been on something of a goal drought, despite keeping his assists number high.
In more than 54 games he has only scored 14 goals. Four of them came in the last two games.
Hossa's game seemed to take a turn for the better this week. It was noticeable in Chicago's game against the St. Louis Blues, and then again when they faced the Coyotes Monday night, despite the shootout loss in the latter.
Hossa scored twice against St. Louis, putting up two in the third period, one a power play goal and one an empty-netter.
The game against the Blues was only the first step, however. In Chicago's game against Arizona Monday night, Hossa put a shot on goal within the first thirty seconds of play. It was only a quick pad save by Coyotes goalie Mike Smith that prevented Hossa's goal from being the first of the night.
Hossa finally scored the first goal of the night on a pass off of Toews in the twelfth minute of the second period.
He scored the Blackhawks' second goal, tying them up with the Yotes again in the twelfth minute of the second period, off another pass from Toews.
It's good to see Marian Hossa scoring again, of that there is no doubt. But is his lack of goals a reason to worry?
Running The Numbers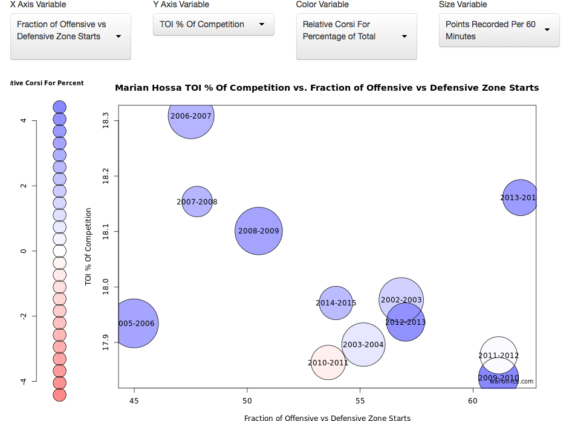 As we can see from his stats in the chart above, tracking Hossa's Corsi for, time on ice, points / 60 and offensive versus defensive zone starts over his NHL career, this is not Hossa's worst season.
It's not his best, but it's far from his worst.
His points / 60 might be among the lowest we've seen from him in his time in the NHL (and is the lowest we've seen from him over his career with the Blackhawks). Despite the low points production Hossa's Corsi for % tells us that he's still incredibly effective at two-way play, allowing fewer shots on his team than his team takes on opponents.
Hossa has long been known for being a strong two-way forward, which is one of the reasons why putting him on Toews' wing works so well. The two have a complementary style and backcheck harder than some lines forecheck.
Despite this, looking at the numbers in the chart below, we can see Hossa is still getting a decent number of defensive-zone starts, but not more so than any other top-liner. Instead, Quenneville is giving him the opportunity to focus on his offensive game and put some pucks on net.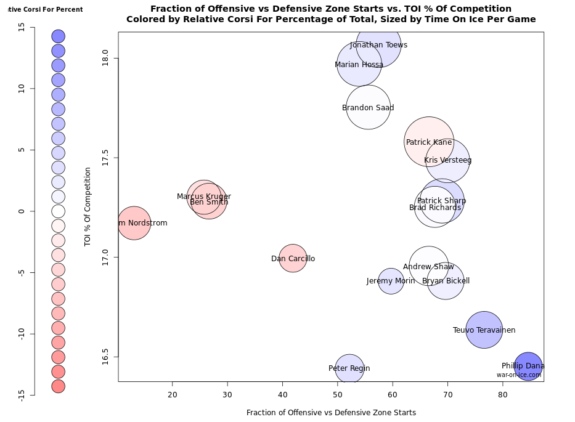 If this trend continues, we can look forward to seeing Hossa put more pucks in opposing teams nets as the season ramps up. At some point, Quenneville will put Hossa back on defensive duty, but we have to hope that he's gotten his taste for scoring back by then.
Even if he hasn't, we'll see a great season out of Hossa. He doesn't know how to do anything less.