The Ryan O'Reilly saga coming to an end sounds a bit like a fairy tale to Colorado Avalanche fans. Though hopefully this fairy tale does come true, and we can all move on from what has been a very uncomfortable situation for everyone.
It's really anyone's guess as to what will transpire between both sides. This really shouldn't be such a difficult decision or process as it's currently being portrayed. Someone is being hard to deal with and the blame is probably equally shared on both sides.
So come on, just hug it out guys.
Draft Deadline
Joe Sakic himself stated that he would like this issue resolved on or before the 2015 NHL Draft. Now most recently in a press conference held the other day, it seems as though that deadline may have some wiggle room.
"I'd like to have [Ryan O'Reilly] signed by the start of the season, hopefully." — Sakic

— Colorado Avalanche (@Avalanche) June 18, 2015
That said, I'd find it very hard to believe that there is no hard deadline to get an extension done, if the Avalanche and O'Reilly cannot come to terms by then, he will be traded.
After losing Paul Stastny for nothing to free agency(very different circumstances however) the Avs cannot mess this one up whatsoever.
Should He Stay or Should He Go?
Simply put, O'Reilly is a one of a kind player in the NHL today. There is no one like him. He can play in literally any scenario or position. The only problem is, a thing called the salary cap, and trying to build a consistent, winning hockey club.
Colorado would love to keep a player like O'Reilly around sure, but at what cost to the team? All the talks around him suggest a number around the $7.5 million mark to get him signed long-term.
Some may say he's not worth that money, though I am not sure their reasoning behind it. O'Reilly should get that kind of money or very close to it. A big question is would he take a little discount as many Avs have to create a winning team together?
One would think if that was the case, a deal would have already been agreed upon however.
Pros and Cons for a Trade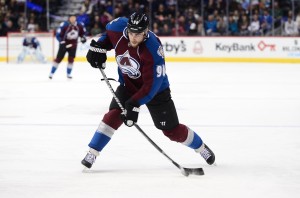 There are of course, pros and cons if O'Reilly were to leave Denver. Except there are way more cons than there are pros. O'Reilly is a huge part of this team moving forward, that is, he should be, and going by how the team talks about him, he certainly is.
"I like Ryan a lot. He's a very valuable player. He's part of our core." – Joe Sakic
If O'Reilly is indeed part of the Avs core, then get the man signed long-term, end of story. If he is traded, Colorado just creates a huge hole while filling another. You cannot replace a player like O'Reilly and everything he brings to the table night in, night out.
The only positive that could come from a situation like trading O'Reilly would be hoping for a massive overpayment, which just isn't realistic given the circumstances.
Management has told Avalanche fans they really like O'Reilly and view him as part of their promising young core of players.
So what's the hold up? We'll find out sooner than later.
.
Sebastian Noble is currently in his third year with The Hockey Writers covering the Colorado Avalanche and Florida Panthers. Liverpool, England, and of course Colorado Avalanche & Florida Panthers supporter. You can follow him on Twitter @SebastianHNoble