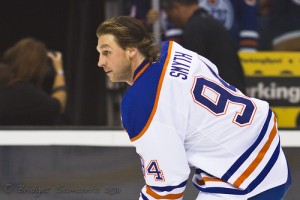 The Edmonton Oilers season has been, in a word, terrible. The team has failed to produce on the ice, the coaching has been called into question, some fans have essentially given up by throwing their jerseys on the ice, there is rumored conflict behind the scenes, and the general make-up of the franchise seems all wrong. Even when they started to play better, an 8-1 thumping by their provincial rivals put into summary what this year has been.
There can't possibly be much good to take out of this season. However, a franchise record currently up for grabs might at least put some smiles on the faces of players and management, even if just for a moment.
Smyth Already Passed Gretzky
The Oilers record books, for the most part, contain names such as Wayne Gretzky, Mark Messier, Grant Fuhr and Glenn Anderson. When Taylor Hall broke Gretzky's record for the fastest two goals ever scored in team history, it was an accomplishment. Now, another Oiler has a chance to put his name in the record books, though he is quickly running out of time.
Believe it or not, there are some Oilers records that don't have the name Wayne Gretzky at the top. One in particular, the most powerplay goals scored in franchise history, is currently held by two players, Glenn Anderson and Ryan Smyth. With his goal on March 6, Smyth now stands at 126 powerplay goals in an Oiler uniform. One more, and he will be in sole possession of the record. 
For many years, Ryan Smyth embodied everything that it was to be an Oiler. He was gritty, he stood up for his teammates, he never gave up on a loose puck, and put his heart and soul on the ice with each shift. He was a fan favorite, and a team favorite. When he was traded to the New York Islanders in 2007, his emotion showed that he wasn't ready to leave. And when he requested a trade back to the Oilers in 2011, it proved his heart never left Edmonton.
Smyth May be Running out of Time
At 38 years old, Smyth's best days are far behind him. The speed of the game is passing him by, and with his contract set to expire this summer, there is uncertainty whether or not he will be an Oiler next season, or if he'll still be in the NHL at all. Smyth made it clear that Edmonton is the only place he wants to be, so signing with another team in the offseason may not be an option. Under the assumption that the Oilers don't bring him back for one more season, Smyth has nine games left to break the record. Can he do it?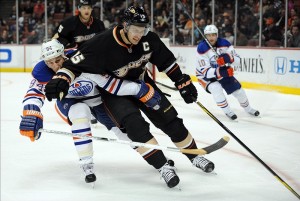 The Oilers powerplay isn't the worst, but it's not great. It's currently clicking at 16.5%, good for 21st overall in the NHL. Many of Ryan Smyth's goals have come as a result of his hard work in the blue paint. Many would call them garbage goals but they still count on the scoresheet. Smyth's toughness in the crease and his ability to get in the goalies kitchen has allowed him to be on the cusp of history. And it's not lost on his teammates, as they have been trying to get him the puck as often as possible.
A new record might be little consolation for such a dreadful season. But for a guy like Ryan Smyth, who plays the game hard and has given a lot to the city of Edmonton, it would be sweet to see him accomplish the feat. Time is running out. But here's hoping he can get it done.