Making the jump to the NHL is no easy feat, but at the start of this season, JJ Peterka hit the ground running. Expectations were high as he was coming off a massive season in the American Hockey League, but he looked fantastic right away. He scored the first goal of the season on a beautiful play, and he continued to be a consistent threat on the ice for the entire month of October. After the first month of the year, his production tapered off a bit. He was not getting as much ice time, but he was still finding ways to be productive without being on the scoresheet every night.
As the season went on, he encountered some struggles offensively; sometimes so much to the point that he found himself as a healthy scratch in favor of Vinnie Hinostroza or Rasmus Asplund. Fortunately, the scratches were never for a long period, and he found himself a fairly consistent home alongside Dylan Cozens and Jack Quinn as a part of the Sabres' "Kid Line". Peterka is a prime example of what a successful rookie year can look like without having mind-blowing offensive statistics.
Peterka's Scoring Game Matured Nicely
Peterka's rookie campaign saw him skate in 77 games; scoring 12 goals along with 20 assists for a total of 34 points. While these are not exactly the numbers that I predicted for him at the start of the season, they are a good indication of where his skills are at and where he can progress. His skills with the puck have room for improvement, but overall he was one of the best players for generating offense. He pressures plays in every zone, does not take a shift off, and ultimately can create and finish scoring opportunities. His skills were utilized supremely well alongside Quinn and Cozens, and the chemistry shown by those three was electric.
Peterka possesses some of the best passing skills on the team, but he also has an underrated shot. He saw some time on the second power-play unit late in the season and had some success there, so it would make sense to utilize him from a shooting position more often. His one-timer is not the hardest shot on the team, but it is accurate, and that will be something he carries into next year as he looks to improve his scoring numbers.
Peterka's Potential
Peterka has the makings of a top-six forward in the NHL, but the Sabres have a lot of potential crowding in that space. His role will likely be more of a middle-six forward using his high-motor offensive skills. This does not mean that he will be moved away from Cozens and Quinn, but due to the end-of-year resurgence of Casey Mittelstadt, his ice time may suffer a bit in the long term. He is a playmaker first but has the potential to be a perennial 20-goal scorer on top of that if he remains a top-six player. Should he shift down the lineup to the third line as his primary role, he will likely be a 15-17 goal scorer and finish with around 40 points.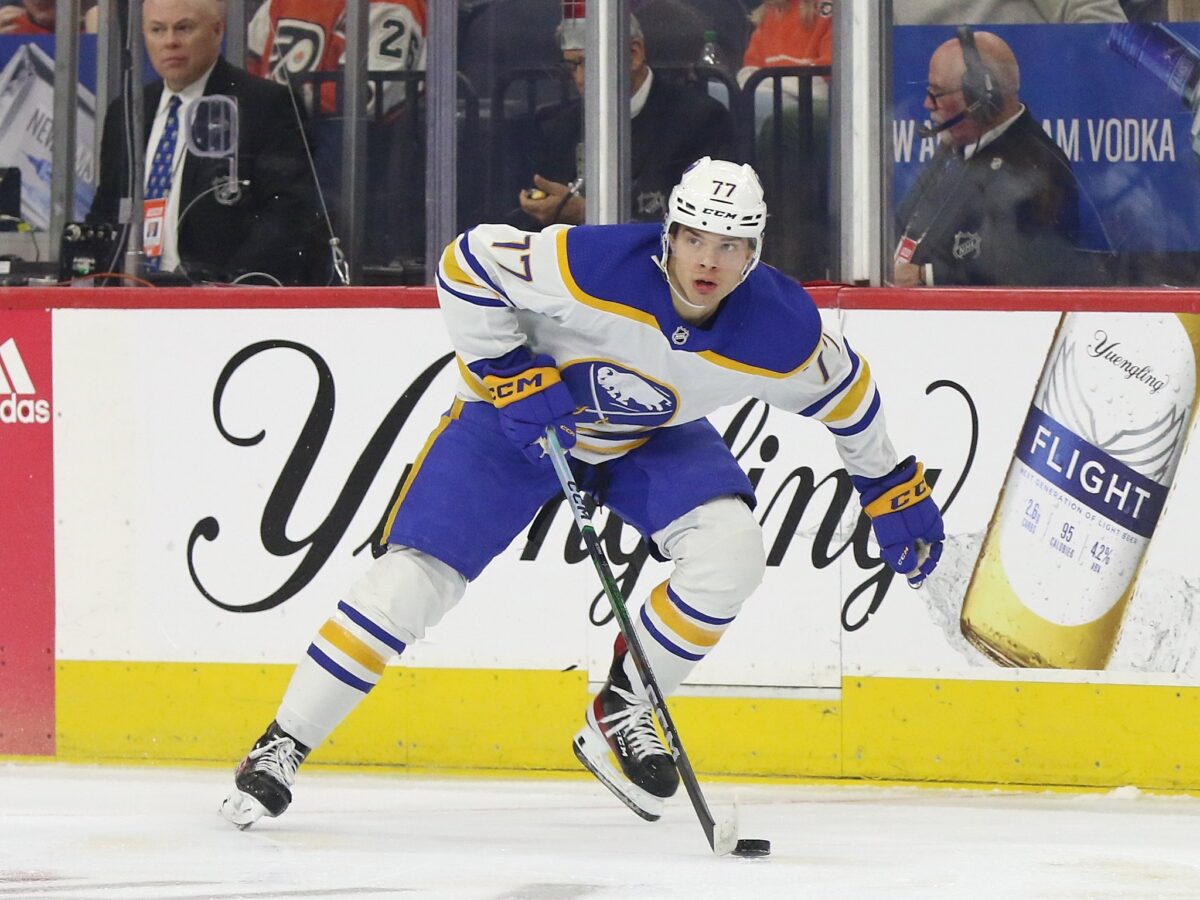 A player like him is a fantastic asset for the Sabres to have because he can be put on any line and be relied upon for generating offense. He is not big in the hitting category, but with how Don Granato has developed some of his young scoring talents like Peyton Krebs, Peterka could easily add that element to his game to bring more value. The Sabres are a fast team first and a physical team second, but if Peterka wants to stand out, he may need to evolve his game to maintain his roster spot.
Peterka's Final Grades
All around, he had a solid season, and that is all someone can ask for out of a 21-year-old rookie. While Peterka has the capacity for more, he never had a bad stretch of games that caused him to be out for long periods. His gameplay was good, his work ethic was better than most, and his chemistry with his linemates was one of the most fun things to watch all year round. Taking all that into consideration, his final grades would look like this:
Scoring – B-
Defense – C+
Playmaking – A
Leadership – B
Teamwork – A
While he was never a massive defensive liability on the ice, he was also never a huge positive defensive player either. Going into next year, the Sabres, as a whole, need to work on their defensive numbers, and if Peterka can become more responsible in his own end, that would just be another big element added to his game. His ice time would improve, and he would be relied on more in pressure situations. He is poised to be a very underrated player within a high-powered Sabres offense, and it will be exciting to see how he grows in the next year.
Future Look For Peterka
The Sabres have so many young forwards on their roster and waiting in their prospect pool that it is going to be a battle as they all fight for ice time. Peterka definitely has an inside track on that path right now, as he is already on the roster, but that does not guarantee him anything. Future talents like Matt Savoie, Isak Rosen, Jiri Kulich, and even Noah Ostlund will all be knocking on the NHL door next season and looking to outperform everyone possible. While it is not likely they take high-quality time from players like Tage Thompson, Alex Tuch, or Cozens, there is a chance they could overtake someone like Peterka if he tapers off too much.
Related – Sabres 2022-23 Report Card: Zemgus Girgensons
---
Latest News & Highlights
---
Long term, he has the opportunity to solidify himself as a consistent middle-six scoring threat. Five years from now, he likely still will be in a Buffalo uniform and have a shiny new contract to go with it, but I do not see him staying for much longer than that if he breaks out offensively. The Sabres have a locked-in core group and will not be able to dish out another high-end contract to a scorer in that time span, so it ultimately comes down to his production. Should Peterka have a massive season in the next couple of years and become a top-end scoring threat, he will not be a Sabre long-term, but if he continues to be the type of player he is now, but with solid improvements, he will be a great depth option for the next five or more years.
---
---