The story of Brian Boyle's National Hockey League career and his perseverance through a 2017 diagnosis of chronic myelogenous leukemia and subsequent return to the game is as uplifting as it gets. Players, coaches, fans and executives alike can appreciate what he has been through.
The league acknowledged his battles and his good nature throughout them by awarding him the Bill Masterton Memorial Trophy in 2018.
Add on top of that the positivity Boyle brings with him everywhere he goes, and you wonder why no NHL team could find room on their roster for him this season. Of course, the COVID-19 pandemic had something to do with it. With the salary cap flat at $81.5 million for the next four years at least, teams are having to dial in their spending. 
Still, his experience, grit and toughness are assets. He's not a prolific scorer, but he can beef up almost any third or fourth line and is just an all-around good guy. It turns out that doesn't always get you a job in today's league. 
Boyle a Fit for the Buffalo Sabres?
Sportsnet's Elliotte Friedman recently mused in his latest 31 Thoughts article that Boyle might fit well with the Buffalo Sabres. When I reached out to him to explain why he thought this, he said, "Just (to) have a positive guy around." 
God knows that's needed right now in the Buffalo Sabres' dressing room. 
Buffalo News reporter Mike Harrington asked Sam Reinhart after Monday's 6-0 loss to the Washington Capitals to provide evidence that contradicts the eye-test results that point towards the possibility the team has quit on their coach and each other. When those kinds of questions become commonplace in post-game pressers, nothing good is happening with your team. We can only imagine how tough it is to deal with the day-to-day grind right now for the Sabres.
Reinhart handled it well, like the professional he is. He said that he loves the group of guys and the coach but hates that the results are not there. 
Boyle Staying in Shape
According to Friedman, Boyle has been keeping in shape, skating with either a local junior hockey team or some Ivy League players. He's enjoying having more time with his kids, but "I miss (the game)," he told the scribe. "I didn't expect it to go this way. When I watch games, I think I can still play with how I feel and how my body feels."
He heard from lots of teams in the offseason. No one said no outright. "It was more like … waiting," he told Friedman. "I understand, it's the way of the world — everything is screwed up because of the cap and COVID. But I know I'm not done, and I'm ready for anything."
A Brief History of Boyle's Career
Drafted 26th overall in the 2003 NHL Entry Draft by the Los Angeles Kings, Boyle played four seasons at Boston College and scraped it out in the minors until he made his debut for the NHL during the 2007-08 season. 
He scored his first NHL goal against Martin Brodeur in his first NHL game. And they just kept going in: he collected four goals in his first seven games. He wouldn't become known as a scorer, though.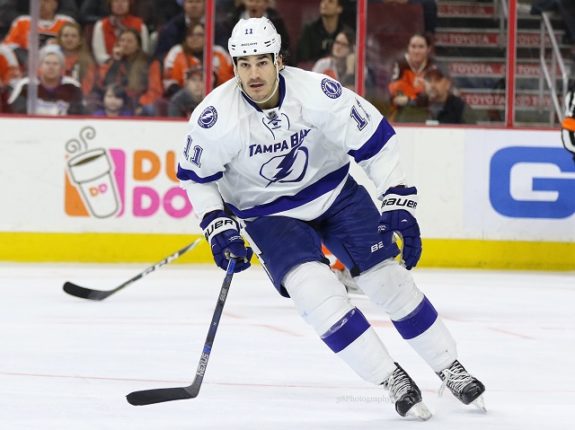 In 2009, he was dealt to the New York Rangers at the draft. He made an impact with the fan base some years later after roughing up the Ottawa Senators' Erik Karlsson in their 2012 series. He ended up concussed by the Sens' Chris Neil and missed three games, including Game 7. But Rangers' fans thought the team's series win resulted from the inspiration of Boyle's fireband type of hockey and the hope to see him back for Round 2.
Two years later, with the Tampa Bay Lightning, Boyle recorded his first two-goal game in the playoffs on May 24, 2014, and played in his 100th career NHL playoff game two days later.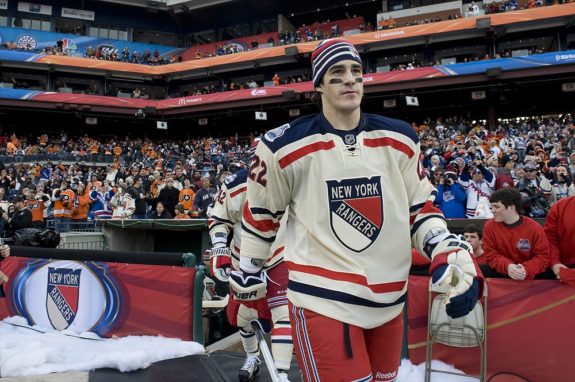 He had a brief stint with the Toronto Maple Leafs for one year (2017) in their rebuilding phase before signing a new deal as an unrestricted free agent that summer with the New Jersey Devils. Before the season began, he received his leukemia diagnosis, but still played his first game that season on Nov. 1.
That year, Taylor Hall (then Boyle's teammate with the Devils) was selected to go to the NHL All-Star Game, but suffered a hand injury and could not attend. Boyle took his place.
His two latest contracts were with the Nashville Predators and the Florida Panthers.
Boyle Signing Unlikely
Friedman's interesting off-the-cuff thought about Boyle coming into the Sabres locker room and bringing a ray of sunshine with him is something to think about. That's not likely where general manager Kevyn Adams' priorities lay right now. Still, the point that he would bring some positivity in a dressing room where the outlook is darker than a stack of black cats is valid — if only in a daydreaming-of-possibilities sort of way. 
Signing Boyle on a league-minimum contract of $700,000 would require some cap shuffling if it were to happen today, as the Sabres only have $410,962 in cap space as of March 16.
Would a move like this make the rest of the year more enjoyable? Yes. That alone would make such a seemingly nonsense suggestion make complete and total sense. 
---
---