After facing the Montreal Canadiens on Monday night, the Jets are officially 50 per cent through their 56-game 2020-21 schedule.
With half of the season in the rearview mirror and half still to come between now and May 8, it's the perfect time to take a look at three of the Jets who have improved the most since last season.
Honourable Mention: Paul Stastny
It might be strange to consider a 35-year old player as being "improved," but hear us out.
Stastny's two seasons with the Vegas Golden Knights were middling, with 42 points in 2018-19 and 38 points in 2019-20. But he's looked like a new man this season. He's recorded 17 points already and is playing a key role at even strength and on the power play.
A highly intelligent and low-maintenance player, he has provided depth, stability, and versatility.
Related: Jets' Stastny Providing Depth and Stability in Second Stint with Winnipeg
The Jets traded for the veteran so he could to play between Nikolaj Ehlers and Patrik Laine, as he did during his first stint with the team back in 2017-18. This, of course, happened for only one game this season as Laine was shipped to the Columbus Blue Jackets for Pierre-Luc Dubois. But that's ok — Stastny has been proven to be plug-and-play.
Whether playing left wing or centre — he's currently playing the former on the top line with Mark Scheifele and Blake Wheeler — his two-way presence and reliable playmaking skills bring out his line mates' best.
On a team struggling in the face off dot, Stastny is the only player with more than 50 draws taken who is operating better than 50 per cent (he's won 54.5 so far.)
While it looked like Stastny was just going to be a stop-gap solution and would move on after his contract expires this summer, he may be too integral to cut ties with.
3: Logan Stanley
Often a lightning rod for criticism by those who believe him a bust, Logan Stanley is now standing out for reasons other than his huge frame and his draft position.
The 6-foot-7, 230-pound defenseman is standing out because the first 16 games of his NHL career have been solid.
As the Winnipeg Sun's Scott Billeck wrote lately, many of the people saying Stanley shouldn't have been drafted in the first round back in 2016 and will never be an NHL-calibre d-man now "want to see him playing in the very same lineup they were certain he'd never crack." (From Jets' Stanley sticking out for all the right reasons, Winnipeg Sun, March 14, 2021.)
Stanley's Jan. 18 NHL debut came after a rocky 2019-20 season with the Manitoba Moose in which he was limited to 44 games. Including his debut, he suited up for 13 games while Tucker Poolman recovered from COVID-19. Upon Poolman's return, Stanley was the odd man out and was scratched instead of the struggling Nathan Beaulieu.
Only when Beaulieu suffered a hand injury after blocking a John Tavares shot on March 9 — an injury that will keep him out for a number of weeks — did Stanley get another opportunity, getting the call over Sami Niku.
Stanley's minutes have been sheltered and his less-than-stellar speed has been exposed a few times. That being said, there's a lot to like about the 22-year-old's game.
His reach makes him annoying from long-range. He has decent hands and can make good plays in small spaces. He helps generate offence thanks to his penchant for putting the puck on net. He recorded the first point of his NHL career with an assist in Saturday night's 5-2 win versus the Maple Leafs.
We think that size and that range that he has can be pretty darn effective, especially against the groups that he'll go out against," head coach Paul Maurice said recently.
"What's unusual about Logan, a man of that size, he's got really good hands for inside plays: the small, short area things that almost take more skill than the longer bombs that you send up the ice or having a big shot," the head coach continued. "He can make a lot of good little thing happen in that five to ten foot circle and… based on the way (the opponent) forechecks, it's really, really important."
He's been on the ice for 12 even-strength goals for, only three against, is plus-eight. That's tops among Jets defensemen.
This author has been critical of Stanley in the past. But he deserves credit for seizing the opportunity given to him. Watch for his ice time and role to both increase in the back half.
2: Neal Pionk
My, oh my, is the 2019 trade with the New York Rangers — the one that sent Jacob Trouba the other way, if you remember him — ever paying dividends for the Jets.
Neal Pionk's second season with the Jets has been a coming out party. Although he was impressive last season, he's taken things to a whole new level in 2020-21. He's been the team's best defenseman by a country mile and has anchored the blue line.
Pionk been outstanding on both sides of the puck. He has recorded three goals and 20 assists and sits seventh among all NHL defensemen in points. He's been an adept power play passer and his shot has been a threat, too.
On the defensive side, he has been physical, dogged, and resolute when logging big minutes against the North Division's best players alongside d-partner and fellow Minnesotan Derek Forbort.
There hasn't been a single shift where you could question Pionk's effort; although not a hulking specimen, he has dished out a team-leading 82 hits despite not being overly big. It's clear he's relishing his role skating 22-plus minutes per night, and that he's positioned well for a big raise this offseason.
1: Mason Appleton
Mason Appleton has been the most improved Jet this season and is excelling on the third line with Adam Lowry and Andrew Copp. The patience given to the 2015 sixth-rounder is starting to pay off.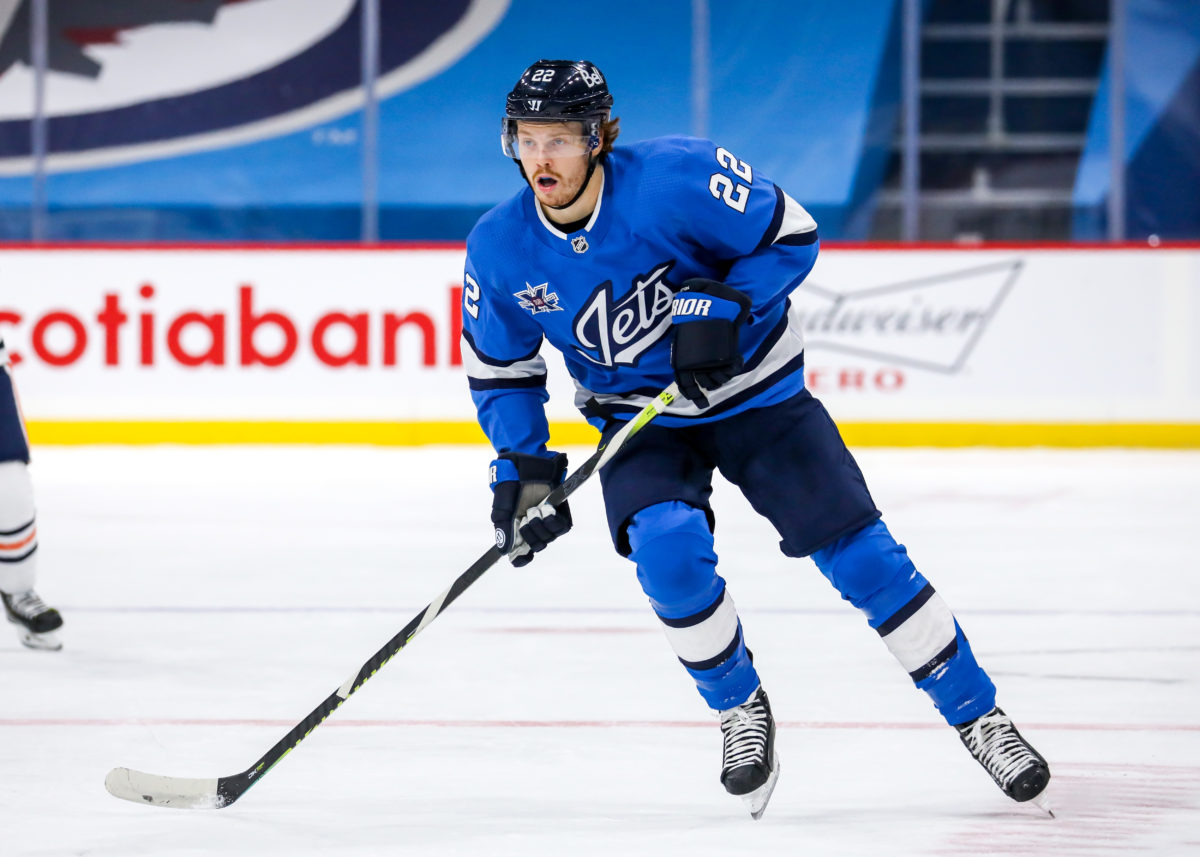 Coming off a rough 2019-20 hampered by a couple of injuries, the 25-year-old has already posted career highs in goals with eight and points with 15. He's done so without much flash or fanfare, but people are now beginning to take notice of his strengths. Appleton worked hard in the offseason, and his overall game has burgeoned as a result.
Related: Jets' Appleton Developing Quietly, But Nicely
His vision and awareness allow him to hit teammates with passes that create chances and also allow him to be in the right place at the right time. He has been defensively responsible and has posted good possession metrics, but has also used his offensive ability to shift the momentum.
He's become a strong secondary scorer who provides yet another threat for opponents to worry about, and has a great team-first attitude, too.
If Appleton keeps it up, it will be tough for general manager Kevin Cheveldayoff to justify leaving him unprotected in this summer's expansion draft. He might be just the type of player the Seattle Kraken want aboard their ship.
Who do you think has been the most improved Jet this season so far? Comment below!
---
---
Declan Schroeder is a 27-year-old communications specialist and freelance journalist in Winnipeg, Manitoba. He holds a diploma in Creative Communications with a major in journalism from Red River College and a bachelors in Rhetoric and Communications from the University of Winnipeg.
Deeply rooted in the city's hockey culture, the original Jets skipped town when he was two and the 2.0 version came onto the scene when he was 17.