The Florida Panthers currently stand atop the NHL with a 19-5-4 record. The team has torn up their division all season long, and in my opinion, have everything that is possibly needed to be poised for a deep playoff run, and honestly, a Stanley Cup in the end.
No. 1 Centre: Aleksander Barkov
If you're trying to win the Stanley Cup without a first-line centreman, odds are that you won't get very far. The Panthers however, not only have that, but they have a top-10 centre, who is contending for the Hart and Selke Trophies, in Aleksander Barkov.
This season, Barkov has been nothing short of amazing. The Tampere native currently has 12 goals and 22 assists – 82% of which being primary – through 28 games, which would put him on pace for 100 points on the dot in an 82-game season. He has helped Carter Verhaeghe have an absolutely monster season as well.
Barkov has an 8.90 goals above replacement (GAR) and 1.60 wins above replacement (WAR), ranking among the league's best in that statistic. He also has a 2.20 even-strength defensive GAR (EVD_GAR), which is a major improvement from his minus-3.30 and minus-1.10 from the years prior.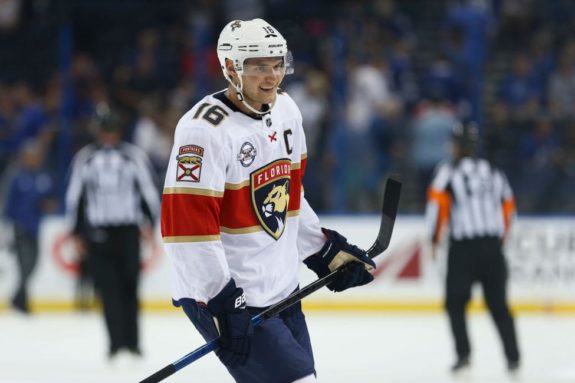 These statistics prove that Barkov is very capable of taking this team on his back and going the distance. If he stays consistent, I would not be surprised to see him bring home multiple awards, including Lord Stanley, in the summer.
Elite Offensive Supporting Cast
While we highlighted Barkov, he isn't to take all the credit for the Panthers' great campaign thus far, as general manager Bill Zito made sure to help support him with a great cast.
For starters, let's talk about Jonathan Huberdeau, one of, if not, the most underrated superstars in the NHL. Prior to the season, I even had him ranked higher than Barkov, due to his fantastic playmaking abilities and amazing production. Huberdeau currently has 10 goals, 34 points and a 4.80 GAR. He is a tremendous second-hand man, likewise to Evgeni Malkin to Sidney Crosby, and Jonathan Toews to Patrick Kane, during their Cup runs.
Along with Huberdeau, Zito managed to add some key pieces to the team, including Patric Hornqvist, who provides some grit, which the Panthers have missed for quite some time. He is currently second on the team in goals, with 11, and third in points, with 23. He also possesses a 3.10 GAR, mainly due to his even-strength and special teams offense. The veteran provides playoff experience, as well as vocal leadership on the ice and in the locker room.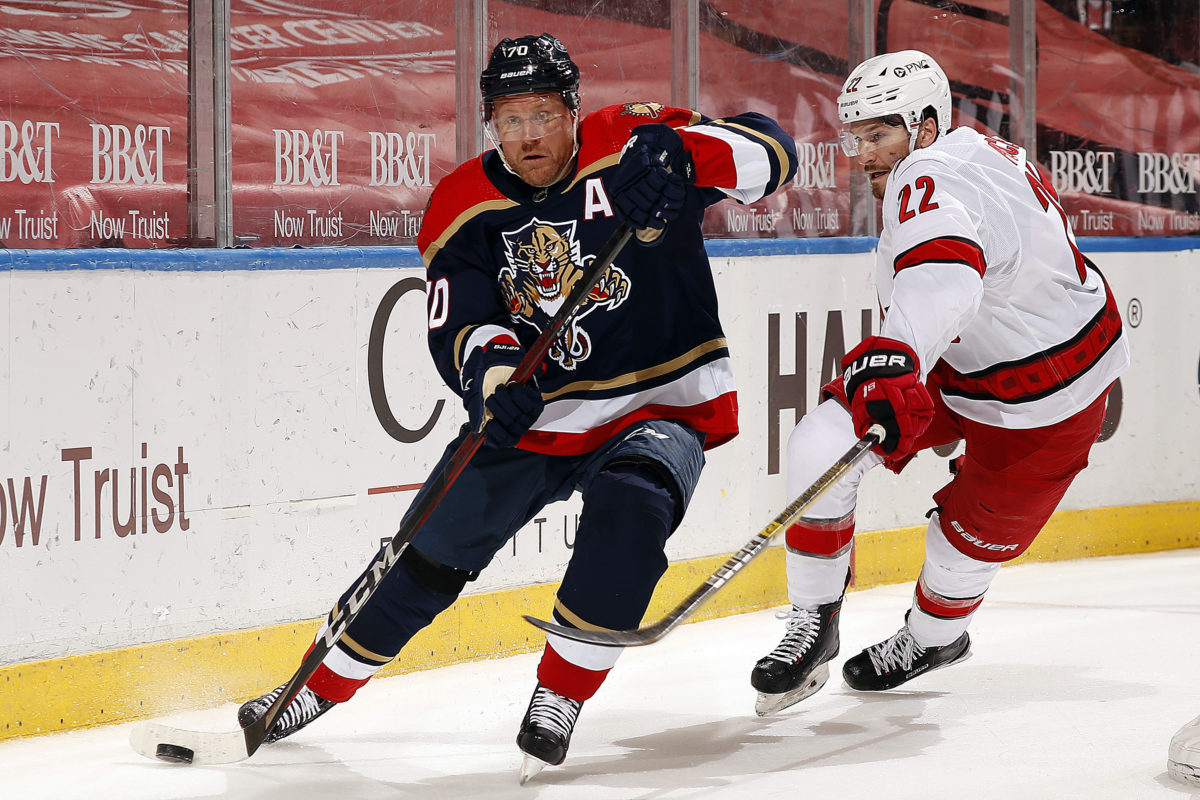 The three free-agent pickups in Verhaeghe, Anthony Duclair, and Alexander Wennberg have been terrific adds to the team. All of them have spent the majority of the season in the top-six (with Duclair as an exception due to injury and COVID protocol). They have combined for 47 points between the three of them, which is very respectable. They aren't superstars by any means, but are still reliable building blocks for the two-headed monster.
Lots of Blue Line Support
Another thing the Panthers have this season that they didn't in 2019-20? Depth on defense. Last season, the team had just their top pair, followed by underperformers. However this season, there really hasn't been a single weak link on the blue line.
Of the eight defensemen who have suited up in a game for the Panthers this season, just one is below replacement level analytically, that one being Anton Stralman. He has struggled to keep up to the pace of the game with a minus-2.40 GAR, and eight points through 24 games. While his production hasn't been bad, it just takes even the simple eye test to realize he isn't effective any longer.
Apart from Stralman, the remainder of the team's blue line has been very good. Radko Gudas' production of just five points may be deceiving, however, he has a whopping 8.90 GAR, among the top-five in the NHL. He has been more important than anybody could have imagined.
The pairing of MacKenzie Weegar and Aaron Ekblad has continued to be great, as they've combined for 12 goals and 37 points while also both being above replacement level defensively.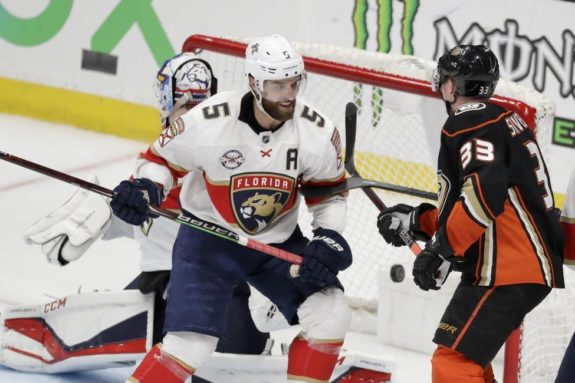 Weegar had this to say, regarding Ekblad: "I have never had this before in my career, for sure. We get along so well, but we aren't afraid to confront each other if one guy isn't playing well. We hold each other accountable."
Keith Yandle has also had a fantastic bounce-back season after all the offseason drama. He has continued to produce at an amazing rate, while also not being a defensive liability like he was in the past. His rejuvenated play is exactly what the Panthers needed from him, and his veteran experience helps for a potential deep run as well.
Puck Stoppers Are the Only Thing in the Way of Glory
Every team has a weakness, the Panthers' has been goaltending. While the team has managed to find ways to win, it hasn't been pretty sometimes due to the net-minders.
Sergei Bobrovsky is signed at $10,000,000 per year until 2026, yet has just a .905 SV% and minus-10.14 goals saved above expected (GSAx). I don't need to tell you these numbers aren't good – I'm sure you already know. He has picked it up in recent games, as he is 6-0-0 along with a .914 SV% through his last six – the question, however, is consistency. Only time will tell if this is sustainable.
Bobrovsky's teammate, Wennberg, thinks higher of him than I do, stating, "He's an unbelievable goalie. He's making some big saves. He's been really good for us."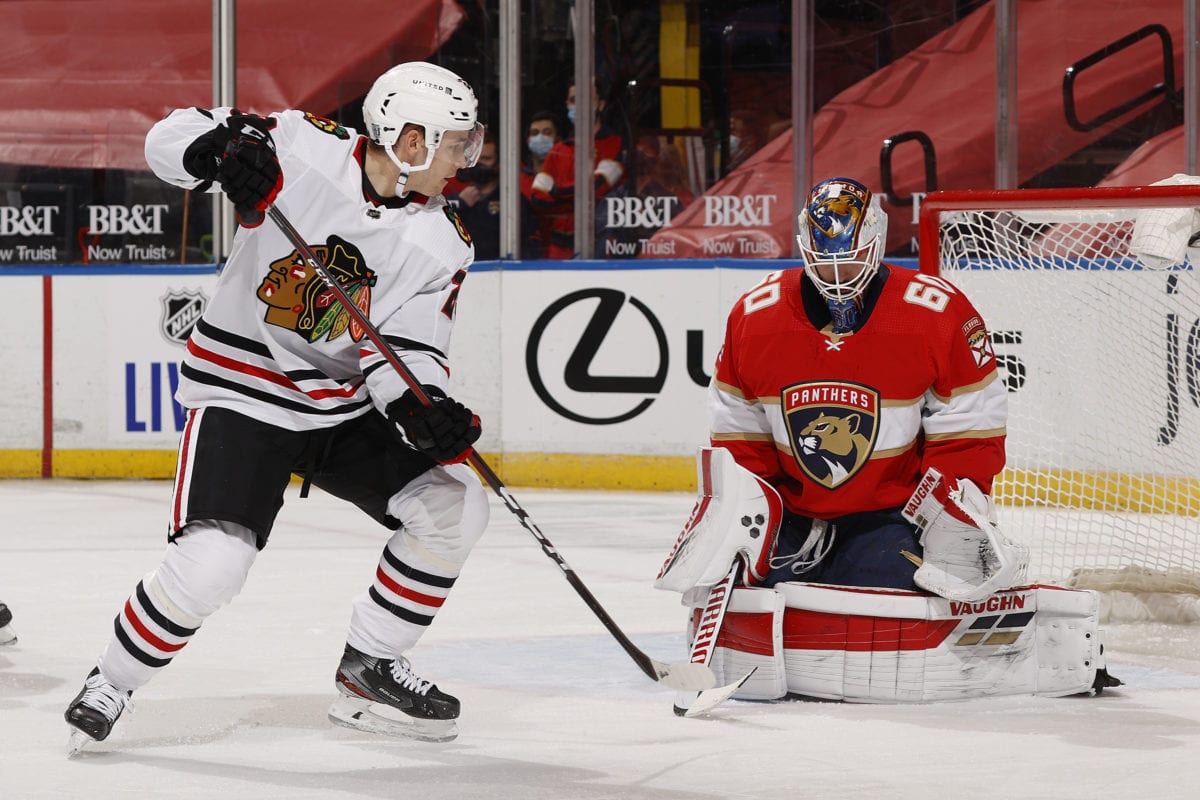 Chris Driedger looked like he was set to take Bobrovsky's job, however, Joel Quenneville has recently been sitting him in favour of the veteran netminder. While he hasn't been bad, he really hasn't been anything special, and has regressed since the beginning of the season. He currently sits at a .920 SV%, but just a minus-0.32 GSAx, meaning he has practically been saving just under what was expected of him based on shot quality, this is mainly due to his last few games.
Stanley Cup Bound?
While I wouldn't plan the parade yet, as sharing a division with the Tampa Bay Lightning and Carolina Hurricanes is tough, I don't see why the Panthers can't do it.
If they can find some consistency in net, this team will go the distance, and finish what they started in 1996.
---
---
PIT Penguins Writer THW. Instagram: puckempire. Formerly a Florida Panthers writer.