The Buffalo Sabres rely on Carter Hutton and Linus Ullmark to be a 1A/1B goalie tandem and provide better results than last season. Through the Sabres' first two games against the Washington Capitals, both showed they have their issues still, and it's a cause for concern. Although, during the team's past two contests against the Philadelphia Flyers, Hutton played two great games and stopped 40 of 42 shots.
There were always concerns about Hutton. When the Sabres signed him during the 2018 offseason, he was coming off a contract season where the St. Louis Blues' defense was unstoppable. His stats peaked that season, with a save percentage (SV%) of .931 and a goals saved above average (GSAA) of 15.08. He was a top ten goaltender for the Blues, and it allowed him to get more starts, and he earned a three-year deal worth $10 million in free agency.
For Ullmark, the Sabres drafted him in 2012, and he's shown promising signs since his call-up in 2018, but he has yet to solidify himself as a goaltender that most teams would even want in a tandem situation. In a division with Tuukka Rask, Mackenzie Blackwood, and Carter Hart, the duo will have to have bounce-back seasons. Any team could have surprising years, as we have seen a variety of times during a condensed schedule. The 2012-13 Toronto Maple Leafs' squad boosted an insanely high PDO, and everything went right for a team that was not loaded with skill and talent.
It also helped that James Reimer was unstoppable that season, as his team was outshot in 21 of their 26 wins. Goaltenders can carry a team to the playoffs in any season, and the team will need some luck and quality performances. Let's go over the two Sabres' goaltenders and what their expectations should be.
Are the Sabres Getting 2018 or 2019 Carter Hutton?
Hutton had a career-best .931 SV% during the 2017-18 season with the Blues. He stepped up when Jake Allen needed nights off to give him a rest, and the Sabres thought he could make that type of impact in their lineup. Since arriving, he has posted a .908 and .898 SV% in his first two seasons, which leaves room for improvement. After a 5-2 loss to the Capitals to open the season, it is not looking too promising. The sample size is the biggest indicator for goaltender performance, and it is far too early in the season to make a judgment.
Take a look at this goal from Caps' blueliner Brenden Dillon. His shot from the blue line squeaks past him as he can't see a shooting lane, and he can't make the save with his blocker. The Sabres could have done a better job defending the slot area, but it is on the goaltender to make those types of saves throughout a game.
The underlying numbers throughout the past two seasons are fascinating as well, as shown below:
All-Strength High Danger Save Percentage (HDSV%): 0.789 (65th in NHL)
All-Strength GSAA: -14.50 (65th in NHL)
Related: Cozens Cracking the Sabres' Top-Six
When looking at these metrics, Hutton is not even a suitable backup option for any NHL team. He has played at a replacement level since joining this team. He will need to have a bounce-back campaign to give the Sabres good value for his contract, as it runs through the 2020-21 season at an AAV of $2.75 million. That is among the expensive backup option across the league, ranking ahead of names such as Jack Campbell and the same as Jaroslav Halak.
This is the Season for Ullmark to Prove He Can Be a Starting Goaltender
Last year was a breakout season for the Ullmark, as he had a .915 SV% across 34 games and won more games than he lost. His career trajectory to this point reminds me of Jacob Markstrom.
He was a highly-touted prospect, and it has taken 8-10 years for him to solidify his position in the NHL — Markstrom is now one of the best goalies in the league. Buffalo can only hope that Ullmark can become what Markstrom was for Vancouver, and hopefully now Calgary.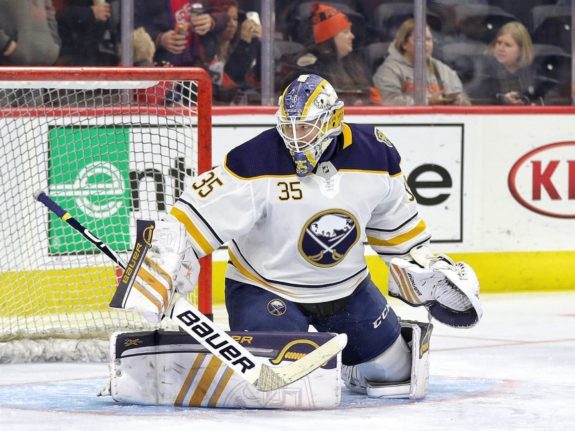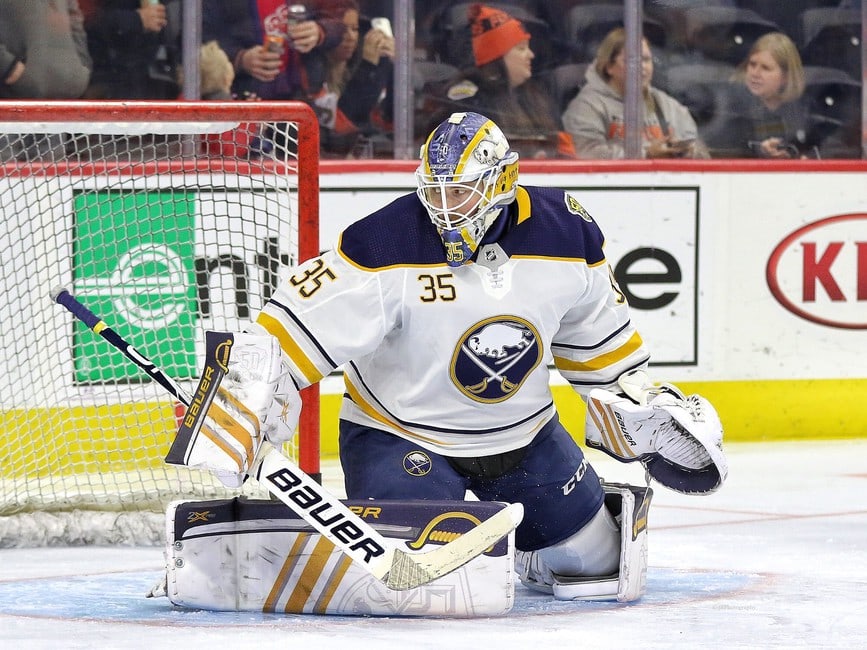 This season is a testament to see if he can handle a schedule of a regular starting goaltender. If Hutton proves that he is more of a backup, Ullmark needs to carry the Sabres' load. He would likely be starting 40+ games with a condensed schedule, which would be a career-high for the 27-year-old.
Here are Ullmark's underlying numbers throughout the past two seasons and how it indicates that he has more to prove in this league. I believe he can improve on these since his base stats, like SV%, have been quite strong.
All-Strength HDSV%: 0.803 (50th in NHL)
All-Strength GSAA: -0.16 (36th in NHL)
When looking at the list of goaltenders similar to Ullmark, names such as Frederik Andersen, Ilya Samsonov, and Braden Holtby are there. His numbers showcase that he is probably more of a 1B option for most NHL teams. He will need to improve and play like a 1A for the Sabres to make the postseason for the first time since 2011.
I also want to personally give my condolences to Linus Ullmark and his family as he announced his father's passing. He missed the past two games and should return soon.
Overall, it will take bounce-back seasons from both goaltenders for the Sabres to have suitable options in net. For Hutton, it is less likely that he gets back to his 2018 form, but I expect that he rebounds from last season. For Ullmark, he has starter potential, and I say he puts himself as a league-average goalie this season by being in that 10-20 range in underlying stats while having a comparable SV% as his .915 last season.
---
---