Ryan O'Reilly has had to endure a lot over the past two seasons as a member of the Buffalo Sabres. Not only has he had to serve as a 'de facto captain' of a young and inexperienced team, but he's also had the responsibility of being the team's highest-paid player. He makes more money than anyone on the team, along with any Sabre ever in their history. O'Reilly's monster contract, along with his indispensable role, has many fans looking at him to lead the Sabres out of mediocrity.
Walking the Walk
O'Reilly's first week as a Sabre was unfortunately clouded with a DUI case. Just days after signing the most lucrative contract in Sabres history, he was arrested and charged with impaired driving and leaving the scene of an accident after his pickup truck allegedly hit a Tim Hortons in Lucan, Ontario. He was acquitted on all charges by an Ontario court on Friday, July 19, 2015.
Not exactly the best way to start to a seven-year, $52.5 million contract. This experience would only be a tiny blip, though, in what turned out to be a very productive first season as a Sabre.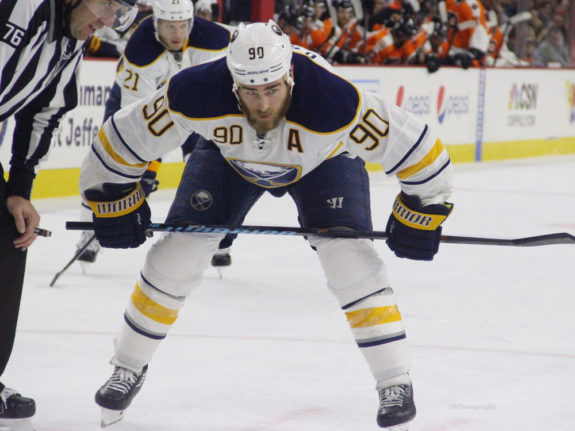 No stat commands more respect than that of leading a team in scoring and O'Reilly did that in the 2015-2016 season. He led the Sabres with points (60) and assists (39) while reaching the 20-goal mark for the second time in his career with 21 goals. He also led the Sabres in power play points (22) and was tied for the lead in power play goals (8).
Aside from leading the Sabres in statistical categories, he also had his share of league-wide success. O'Reilly led all forwards in time-on-ice per game (TOI/GP) with 21:44. He also boasted a very respectable face-off percentage at 58.9%, which ranked third among regular NHL centers. O'Reilly made his first trip to the NHL All-Star game that season as well.
Additionally, O' Reilly provided more than just numbers in his first season with the Sabres. After team practices, he would host what former general manager Tim Murray dubbed 'The O'Reilly practices.' As Mike Harrington of the Buffalo News noted:
The 25-year-old routinely stays on the ice after the club's regular workouts and leads many of his teammates in more extra skills drills after the coaches have left. Pylons, sticks and other barriers fill the ice as the pucks fly, often for another 30-45 minutes. Only when O'Reilly is satisfied with the progress do the others call it a day.
No one benefited more from these post-practice sessions than Sam Reinhart, whose shot saw a vast improvement in a relatively short period of time. With team-leading stats and newfound leadership skills, O'Reilly became the Sabres' de facto captain in his first season with the club.
A Step Back?
At first glance, it appears that O'Reilly regressed in his second season with the Sabres. His point total yook a bit of a dip to 55 points while playing one game more than the season prior. One stat that remained at the top was his TOI/GP with 21:27, leading the NHL for a second consecutive season.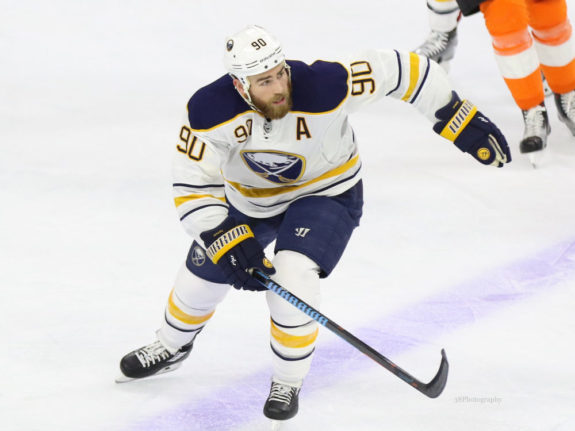 The over-usage of O' Reilly has left many wondering if the Sabres play him too much. Of course disagreeing, O'Reilly said: "I'm never going to say no to going out on the ice. If it was up to me, I'd play the full 60 and I think anyone here in the room would want to play as much as they can." Regardless of what he says, that's a ton of mileage for one player.
Injuries also played their part in O'Reilly's second season as a Sabre. While suffering a 'mid-body injury' early in the season, O'Reilly suffered a second, more serious injury during the holiday break. On Christmas day he had an emergency appendectomy, which usually carries a 10 to 14-day recovery period, if not more for other NHL players. Amazingly, he only missed four games and dressed for the January 5th matchup against the Chicago Blackhawks.
In light of injuries and exuberant usage by former head coach Dan Bylsma, O'Reilly put together a solid second season. Of course, he was the first to say his season was "embarrassing" and "not good enough," but all in all he was a bright spot in an otherwise mediocre season for the team. Any perception of a regression can be attributed to the overall team game, which took more than a few steps back.
There's Still More to Give
In light of a decent season, O'Reilly can still undoubtedly provide more for a young and inconsistent Sabres team. Tim Murray traded a lot to get him and for good reason. Murray said:
It's not easy to find a player who, at his age, is already established in the league as someone who plays a complete game and makes his teammates better. When we acquired him, we viewed him as someone who could immediately improve our roster but was still young enough to make an impact for several years to come. And this contract reflects that belief.
Though plagued with spurts of inconsistency last season, O'Reilly showed he was capable of taking games over. Exhibit A:
https://www.youtube.com/watch?v=NQ5im-mdaXM
And Exhibit B:
These goals are just a small sample of how O'Reilly can take over a game over (along with showcasing a wicked backhand). He should be on the precipice of a career year. With his off-ice preparation and leadership qualities, O'Reilly will be in the running for the future captaincy of the Sabres, along with generational talent Jack Eichel.
Of course, now that Eichel has 'arrived', O'Reilly will probably not be vying for the team-lead in goals or points. That's not an indictment, but a testament to Eichel's potential. Eichel's rise only signals better days for O'Reilly. Less playing time and a more balanced role means a healthier and more focused O'Reilly. Regardless of a change in Sabres' management and coaching, O'Reilly will need to live up to 'The Factor' nickname. The Sabres are desperate for it.
Matt is an avid fan and writer of the Buffalo Sabres. Currently residing in Charleston, South Carolina, Matt has spent his professional career working in the moving/relocation industry as well as the medical supply sector.