For the first time during the 2017 playoffs, the Edmonton Oilers officially find themselves in a must-win situation. Starting with tonight's showdown over at Rogers Place and Wednesday's potential "winner take all" return engagement in Anaheim, losing to the Ducks is something this team can no longer afford to do. With their margin for error now a thing of the past, it will be up to Connor McDavid to lead the charge and ensure this group finds its way back to the Western Conference Final for the first time in a decade.
so this McDavid kid is pretty good, huh#StanleyCup pic.twitter.com/4C79pz1W85

— NHL on NBC Sports (@NHLonNBCSports) May 1, 2017
In a series which Ryan Getzlaf has stolen much of the spotlight and on-again, off again linemate Leon Draisaitl has turned many a head across the hockey world with his performance, we are still waiting for No. 97 to leave his mark on the series. We have had glimpses, including a two-point effort in Game Five and his eye-popping dangle and sublime finish in Game Three but that defining moment has yet to happen and this team could certainly use it right about now.
Does that mean McDavid needs to go out and put up a four or five point effort? That would be an ideal scenario but hardly a necessity. However, what this team does need is for the league's top scorer to make life uncomfortable for the opposition. Again, we have seen stretches of it earlier in the series and when it happened, Anaheim could do little but hold on for dear life. Unfortunately for the Oilers, it hasn't been the norm and in turn has made life far more manageable for the Ducks to deal with.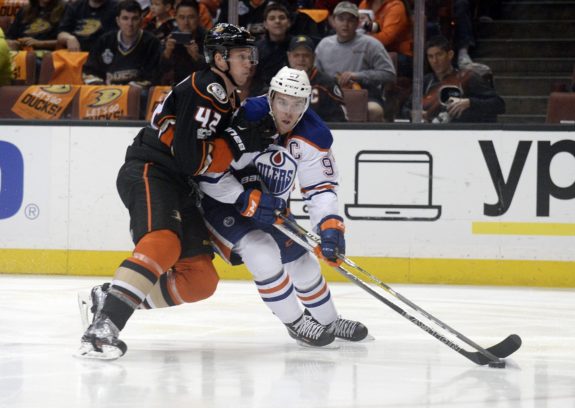 No. 97 Could Use a Little Help
Problem being, with the attention he is getting, the kid needs some help. The lack of secondary scoring from the likes of Jordan Eberle, Milan Lucic and Ryan Nugent-Hopkins forced Todd McLellan into moving Draisaitl and McDavid onto different lines on Friday night. Inserting rookie Drake Caggiula onto the top line was a welcomed addition but Patrick Maroon continues to look as though he is lost at sea and it has hampered the line's overall effectiveness…though they are still generating chances.
With that said, the time has come for the head coach to start being proactive when it comes to his best player and loosening the reins. Let the stallion out of the barn and see what he can do. Something as simple as having the McDavid line be the third one off the bench to start a game sends the wrong message and it has to stop. If the plan is to try to force Randy Carlyle's hand when it comes to how he deploys Ryan Kesler, there is only one way to do it. Play the hell out of your "generational talent" and see what happens.
On the few occasions McLellan has gone down said path, the Ducks have been unable to contain the youngster on a shift by shift basis but they have only had to deal with it in small doses. That cannot continue. In my mind, McDavid starts the game, is force-fed as many minutes as he can handle and you let the chips fall where they may. Trying to get Anaheim out of their comfort zone is a must and we simply haven't seen enough of it to this point in the series.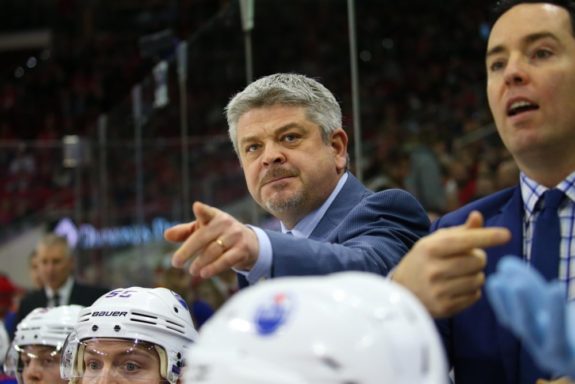 Time for McLellan to Loosen the Reins
Let's see how Carlyle reacts to a steady diet of the NHL's lone 100-point scorer, be it as a part of the first, second or third line. Each unit offers a different look and it makes trying to zero in on McDavid all the more difficult…which is the entire point of the exercise. If the Ducks come out and make the adjustment, kudos to them but at least you go down swinging and leverage your best player to his fullest potential. Make no mistake, it is a large ask for an individual athlete to take on but we are not talking about a "regular" player here.
Oilers shook off 3 injured d-men in 1st period, then see McDavid take over in 2nd. His 1st multi-pt game in playoffs after 30 in reg season.

— Jack Michaels (@EdmontonJack) May 6, 2017
It may not seem fair to put this kind of pressure on a 20-year old kid who has a grand total of a season and a half of NHL experience under his belt but it comes with the territory. Right or wrong, when we are talking about the best players in the NHL, finding ways to lead their team to post-season success tends to be part of the deal. It certainly won't be easy but something tells me Connor McDavid is not only looking forward to the moment but also making the most of the opportunity.
Now Available