Believe it or not, the sun did come up this morning in the city of Edmonton. After watching their beloved Oilers end up on the wrong end of a crucial video review decision for a second consecutive game, one couldn't help but wonder if a dark cloud was making its way over the City of Champions. As if having to deal with a team as good as the Anaheim Ducks wasn't already challenging enough for Todd McLellan and company to overcome, this extra little wrinkle wasn't supposed to be part of the equation.
Through the first five games of this series, there is little question as to which team has carried the play. Despite putting themselves in a 0-2 hole with a pair of losses on home ice, the Ducks have been the better of the two sides. With that being said, in normal circumstances, the fact Anaheim will be heading into Game Six with a chance at clinching the series would seem to make perfect sense. However, there has been nothing "normal" surrounding the "circumstances" of the last couple of games.
Make no mistake, the Oilers have done a poor job of closing out what should have been a pair of wins in Games Three and Four. Like it or not, that point cannot be argued but in their defence, this is a group of players that are getting their "collective" feet wet for the first time in the post-season. Playoff success is something that rarely comes easily for most teams, never mind one as inexperienced as this group. Which makes what this team has been forced to endure of late all the more mind-boggling.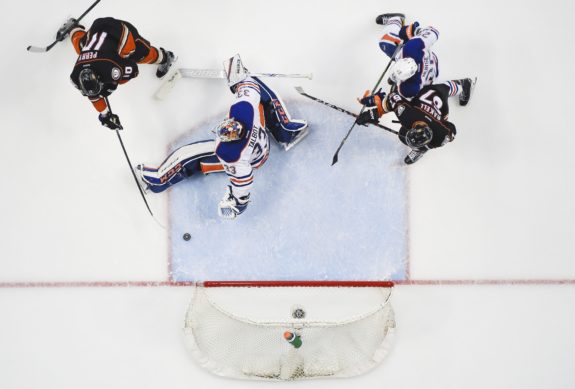 Oilers Paying for NHL Blunders
While fans tend to get worked up over the Ducks seemingly getting away with more than they should from the referees on a nightly basis, right or wrong, that is part of the deal in the NHL and most North American team sports. Again, you don't have to agree with it but a roster filled with veteran players is always going to be given more wiggle room than it should. Problem is, that is not what has unfolded over the last few nights and it is frankly an embarrassment to the NHL.
For anyone who actually believes referees go out of their way to help teams like the Ducks win a series, all I can say is you need to give your head a shake. That is not how this works…never has and never will. But what is rather staggering is how a league that has used instant replay for ages can allow a pair of terrible decisions to stand when anyone who knows anything about hockey can tell you they got it wrong. Wasn't getting the call right the entire purpose for bringing instant replay into the equation?
As much as Oilers fans want to get worked up over the apparent missed off-side call and curious icing decision made during crucial points in Game Four, those are at least understandable. Last time I checked, referees and linesmen are human beings as well and they are going to make the odd mistake. Hockey is a fast game and expecting these guys to never get a call wrong is not only unrealistic but it is downright moronic. Just like the players, they are going to make mistakes during the course of play.
NHL Has Egg on Its Face
Unfortunately for the NHL, human error has nothing to do with what we saw during the dying seconds of last night's game or the second period of Game Four. The league can try to dress it up however they would like but the fact this happened once is bad enough but for it to happen a second time…in the very next game…against the same two teams…is reprehensible. Obviously, the guys on the ice looking at these plays on their little tablet got it wrong and instead of helping them out, they league decided to sit and watch.
Q: Did I think it was interference?

A: Yes

Q: Did I think for even one second that it would be overturned at that juncture?

A: No https://t.co/HVvRJzTM9K

— Jack Michaels (@EdmontonJack) May 6, 2017
Not surprisingly, you have players like Milan Lucic and hockey fans everywhere wondering what the hell is going on and who can blame them. Again, the team with the 3-2 lead has been the better side to this point in the series but those two plays have put one team at a massive disadvantage and that simply cannot happen. This has nothing to do with whether you are a supporter of the Edmonton Oilers or Anaheim Ducks and everything to do with the NHL and its unwillingness to "right" what was an obvious wrong.
To their credit, the Oilers said all the right things following yesterday's collapse and hearing Connor McDavid say "…it sucks but we'll be back here Wednesday" during his post-game media scrum was exactly what the doctor ordered. Let's hope the hockey gods are working overtime come Sunday night and make sure this series at least gets to Game Seven because any other result would be a shame and create a potential train wreck the NHL frankly wants no part of.
Now Available