The 2022-23 NHL season has come to an end for the Buffalo Sabres, and while they did not make it to the playoffs, there were so many other positive things for fans to enjoy. One player in particular that was dynamic and exciting to watch each night was star center Tage Thompson. From his booming slap shot, to his show-stopping dangles, Thompson was constantly putting on a show, and he was one of the best players on the roster all year.
Having set personal records in all offensive categories, Thompson improved on his 38-goal, 68-point effort from 2021-22 and managed 47 goals and 94 points this year. He was the first Sabres player since Jeff Skinner to score 40 or more goals in a season, and if injuries were not a factor, I feel confident in saying that he could have joined the 50-goal club. Having signed a seven-year extension with the Sabres earlier in the year, it is safe to say that he will be a dominant force for Don Granato for a long time.
Thompson's Continued Growth Leaves Room for More Excitement
Thompson has proven that he is one of the best goal scorers in the league over the past couple of seasons. He has an elite shot that he can get off at a moment's notice, and he has the accuracy to score from anywhere in the offensive zone. He had multiple hat tricks this season, and he added a five-goal effort against the Columbus Blue Jackets on Dec. 7, of which four goals were scored in different ways. The variety of ways he has shown he can score are unlike anything Buffalo has seen in decades.
As Thompson continues to develop his game, he will only improve his offensive numbers. He has shown he has the capacity to be a 100-point player, and that is likely his ceiling. Scoring goals and making beautiful plays have become his moniker, and his versatility defensively only makes him that much more valuable as a player. Despite all of his offensive value, there are still some improvements to be made to take him from a great player to a true superstar.
Small Improvements Can Make Thompson A Superstar
He has all the flash in the world, and he does a lot of little things defensively, but he lacks a couple of key elements to his game that would bring him to another level. Thompson plays center primarily in Buffalo, but he struggles in the faceoff dot. This season he posted a 43.1 percent win rate on faceoffs, which often left him not taking draws in key scenarios. Those duties typically fell to Dylan Cozens, who won 48.3 percent of his draws. Learning how to contribute more wins in the faceoff circle would mean more possession time for the Sabres, and thus more opportunities for him to score. He may be considered their No. 1 center, but if he wants to retain it, he will need to improve this part of his game.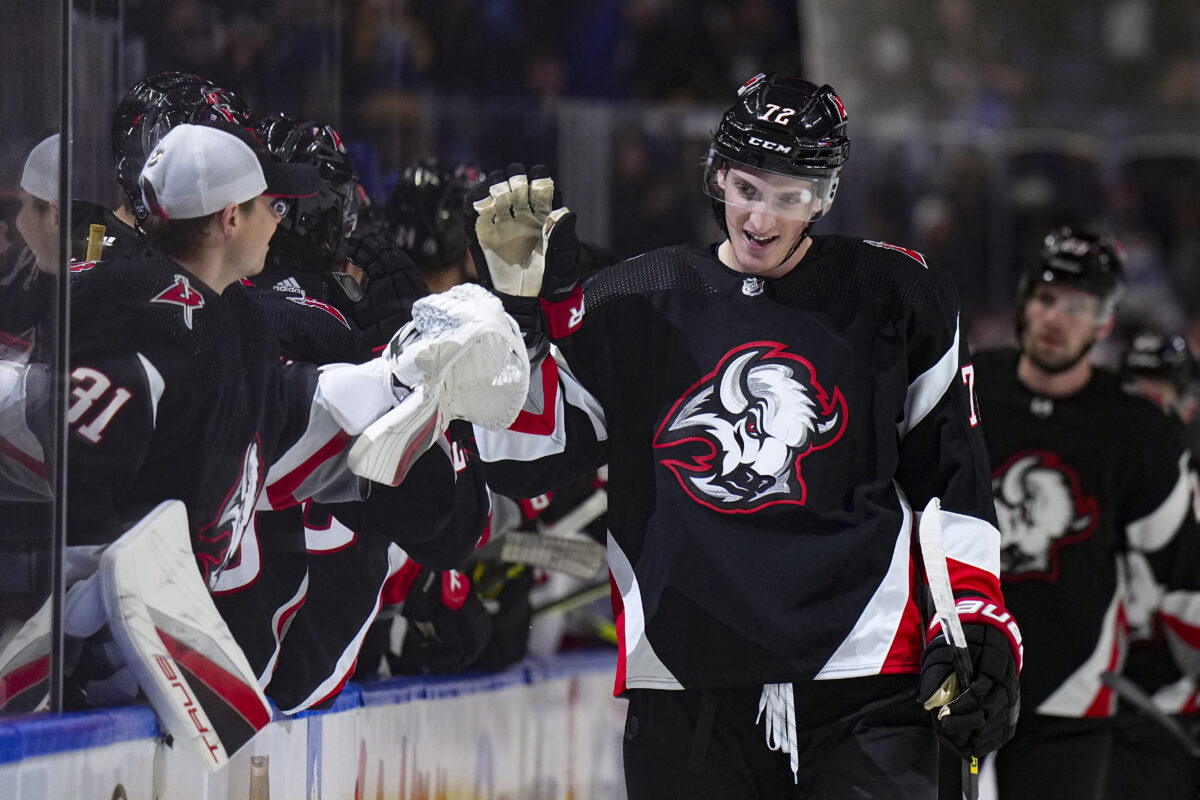 Another issue Thompson has is his physicality. Granted, the Sabres as a whole had a physicality problem considering they were dead last in hits for the 2022-23 season. Thompson is a large-bodied person standing at 6-foot-6, so he has a naturally imposing presence, yet he shies away from hits and using his size to control play. Adding this to his game will open up space for himself and his linemates in the future. He was doing it at the start of the season, but stopped around January, and not surprisingly, saw his offensive numbers take a slight dip. Even if he does not throw hits consistently, he should at least learn to use his size to his advantage and control the positioning of the puck with his body.
Final Grades For Thompson
As a whole, it is hard to find too many issues with Thompson this season. He had incredible offensive numbers, and he added some leadership abilities on the ice while he was at it. He was always one of the most noticeable players on the ice each night, and he produced some of the biggest goals for Buffalo this season. That being said, here are his grades for the 2022-23 season:
Scoring – A+
Defense – B+
Playmaking – A
Leadership – A
Teamwork – A
Thompson still has a lot more he can do if he develops himself in the right ways next season. For this year, it was a roaring success, and it will be interesting to see how he builds on it. Looking to the future, Thompson has the makings of a complete scoring forward, and he hasn't even entered his prime yet.
Thompson's Future Look In Buffalo
Developing chemistry away from Alex Tuch and Jeff Skinner will be a big key to his success as the Sabres continue to work their roster and infuse their prospects into their system. Thompson being the biggest piece at the forefront of their offense for years will only help develop those players, and show them that they can become something amazing with hard work. As the years go on, he will find himself playing with new teammates, and he will be a huge positive influence on them (primarily on the scoresheet).
Related – Sabres Have Bright Future in Net With Luukkonen and Levi
---
Latest News & Highlights
---
He may not be one of the players that wears a letter on his chest next season, but it would not be shocking to see him wearing one a few years down the line. With players like Kyle Okposo reaching retirement age, and depth players like Zemgus Girgensons possibly being cycled out for youth, the leadership group will need some new faces, and Thompson is a great fit for it. As the years go by, he will not only be remembered as a great leader, but as one of the best scorers in team history. This year was a fantastic mark that he already has left on the franchise, and next season, he will only continue to grow the legend and legacy that will be left behind.
---
---