As the trade deadline approaches, just a handful of days away, most Buffalo Sabres are desperately hoping to get a call from their agent to pack their gear. On-edge players practically jump out of their seat when their iPhones ring; anticipating news that might get them the heck outta Dodge.
Stressed out players have been taking turns in a constant prayer vigil at St. Delores of the Bleeding Knuckles Basilica. "I'm not a usually a church-going man, but lately I've reconsidered," explained a well-known veteran defenseman, "I need all the help that I can get."
"This organization is a dumpster fire," said a player that wished to remain anonymous. "I want to win here, but the reality it'll never happen on this team. There's a better chance of winning the draft lottery the next three years than having a 40-win season."
Busy Botterill
Door-slamming Jason Botterill, the team's general manager, is ready to blow up the team. For most of the season he's had the dubious honor of having the league's worst team. He's trying to get something… anything… for just about any player on his team named something other than Jack Eichel.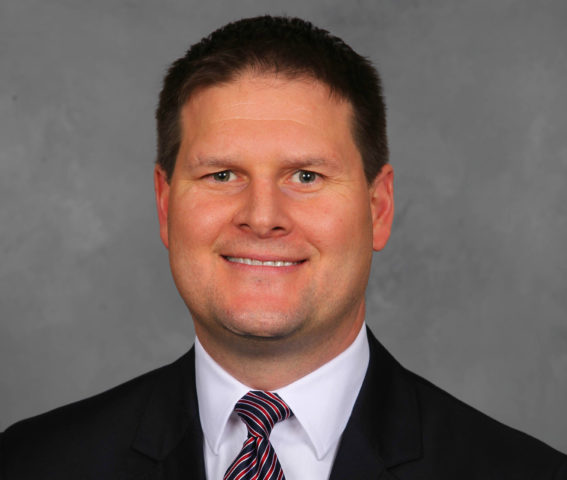 "I've been actively talking with several teams," said the said the baby-faced rookie general manager. "I just don't understand why I'm having so much difficulty. Just yesterday, I was on the phone with Pierre Dorion up in Ottawa. I offered him two Amerks for Eric Karlsson. When he said that wasn't nearly enough, I agreed; I told him that he was going to have to throw in a second-round pick with Karlsson. Just then, my phone seemed to drop the call. I hope he rings me back today."
JBotts is amped up and ready for trade talk. "I'm listening aggressively to every offer. My cell phone is fully charged. I'll be rubbing my RJ bobblehead like a Buddha belly for good luck."
Likely to Leave
There are several Sabres with expiring contracts that Botterill is trying to move. Forwards Evander Kane, Benoit Pouliot, Jordan Nolan, and Jacob Josefson will all be unrestricted free agents as will defensemen Josh Gorges, Casey Nelson and Justin Falk. Sam Reinhart, Scott Wilson, Nicholas Baptiste and Victor Antipin will be restricted free agents. According to security guards at KeyBank Center, as NHL scouts enter the arena, all of the players perk up like puppies at an animal shelter.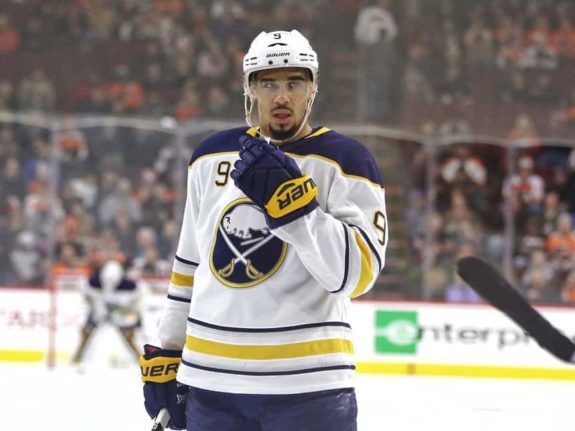 The win-less misery is likely over for left winger Evander Kane who has been cited in trade rumors for months. Anticipating a trade, he's had all of his belongings packed up in moving boxes since Thanksgiving, ready to leave Chippewa St. for good. "I've been living out of a suitcase," said the goateed player.
Last Place Residency
The Sabres are no stranger to the NHL's basement. Over the recent years, they've finished as the NHL's worst team twice in the past four years, with the 2015-16 season seeing them go as high as 23rd place in the league. In fact, the Sabres and the Titanic have a lot in common. They both look good until they hit the ice. And they're both at the bottom of the Atlantic.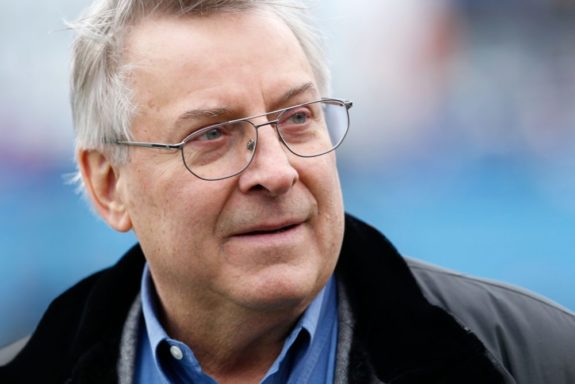 The roster is riddled with veteran players who used to be good or were supposed to be good a long time ago but never panned out. They are reclamation projects desperate to escape Terry Pegula's self-proclaimed Hockey Heaven in Buffalo. They wish nothing more to escape hockey's Shawshank prison and seek redemption.
Players Desperately Want Out
Many roster players are convinced the Sabres are going nowhere. They claim the team is stuck in a never-ending rebuild.
To raise the likelihood of being moved, they've sent Edible Arrangements to every general manager in the NHL with Botterill's cell phone number as the "sender." Some have sent singing telegrams. Others have made direct appeals. One veteran winger, who insisted on anonymity, left voicemail pleas for general managers, including offers to take part in player fashion shows and buy-a-date-with-a-player publicity schemes. An often healthy-scratched defenseman is known to have made a personal offer of lawn-mowing and dog-washing.
"I can't take the risk that another team can't reach Jason," said a winger. "I need to increase the odds a deal is done to get me out of Buffalo." He then broke into a series of nervous tics while checking his phone.
Beleaguered Goalies
The Sabres goaltending hasn't been terrible this year. But without much help going on in front of them–a lack of scoring, too many odd-man rushes, and terrible special teams, the goalies have been hung out to dry every game.
Robin Lehner was given a one-year, $4 million "show me" contract by Botterill last July. The restricted free agent has had flashes of brilliance offset by nights where he couldn't stop a beach ball. His name has been prominent in trade talks, with many expecting him to land in Philadelphia. When the news came Monday night that the Flyers acquired netminder Petr Mrazek from the Detroit Red Wings, Lehner was visibly agitated. "Dammit, that was my crease," said the goalie with eyes dilated severalfold and a look that he could snap any moment. "Now I might have to play for Garth freakin' Snow."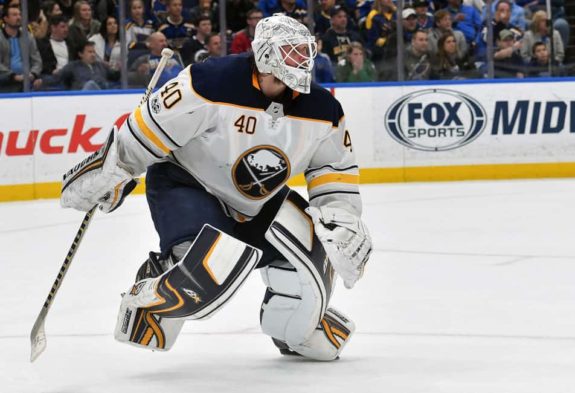 Chad Johnson was also signed by Botterill last summer. The fifth-round draft pick in 2006 has played for six teams in his career and returned to the Sabres inking a one-year, $2.5 million deal. When asked if he'd like to be traded to a contender, Chad looked around him for any onlookers, mouthed "Help me! Get me out of here!" then nodded and whispered, "I love it here."
Pitied Fans
As desperate as players are to jump ship, Sabres fans have had it equally as bad this year. Season ticket holders know that the Sabres have a lot in common with fine wine. They both spend a lot of time in the cellar, cost too much and are enjoyed only on select occasions.
Fans have had trouble giving their tickets away this year. Some have paid others to use them.
We have tickets for today's Sabres game. We've tried giving them to our vendors, customers, and friends. No one wants them.

So, we turn to you, Twitter. We'll actually pay you $10 to take our two seats in the 200 level and a pass for the parking ramp.

First response gets them. pic.twitter.com/BELzOxXQ16

— ᴄᴏᴍᴍᴜɴɪᴛʏ ʙᴇᴇʀ ᴡᴏʀᴋs (@communitybeer) February 19, 2018
As one fan with season tickets in the 200 level said after the recent loss to the Washington Capitals, "I took my broken vacuum cleaner back to the store. They put a Sabres jersey on it and now it sucks again."
*Relax. It's satire.
---
Enjoy more 'Off the Crossbar' columns.
---
Jeff has been covering the NHL for over a decade for various sites. He's been with The Hockey Writers as a lead Sabres writer three years, while also writing a satire column called "Off the Crossbar."