Ever since the Buffalo Sabres were selected as the winners of the 2018 NHL Draft Lottery, speculation has run rampant regarding what fans should expect from the team's young core in 2018-19. With a certain generational Swedish defenseman presumably in the fold, some expectations have become particularly lofty.
The sky is the limit for players like Casey Mittlestadt, Brendan Guhle and of course, Jack Eichel. However, it's important to put things into perspective. The team still has a few glaring holes on the wing, and while the top of the defense looks a bit more formidable, it still isn't a particularly deep group.
Let's take a look at a few of the youngsters who are expected to see significant playing time in Western New York, and what to expect from them in terms of overall production next season.
Jack Eichel
Will the Sabres just make this kid the captain already? After being the only player on the team who performed night-in and night-out last season, he seems to have matured a great deal. As the undisputed face of the franchise, the time has come for him to lead this young roster forward. With "sweeping changes" supposedly coming to the Sabres' roster, he will play a big role in keeping his teammates on the right path.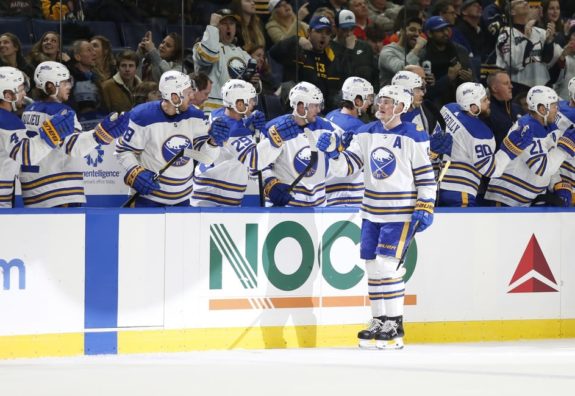 After posting 64 points in 67 games last season (on a team with very little offensive support on the wing) he will once again hover somewhere around a point-per-game pace even with a lack of complementary players on the Sabres' roster. If Phil Housley leaves Sam Reinhart on Eichel's right side, and if Jason Botterill finds him a viable option on the left, he could see a significant leap in production.
Even without an offseason addition in the top-six, fans should expect the 21-year-old to lead the team in points for the third consecutive year. If his ankles hold up, allowing him to play a full season, he should find himself in the 80-90 point range in 2018-19.
Sam Reinhart
Nobody in the NHL had a more "Jekyll-and-Hyde" season than Reinhart did in 2017-18. After starting the year with 11 points in his first 38 games, his production exploded in the second half, where he posted 37 points over another stretch of 38 games. If Housley wouldn't have wasted so much time trying to force Reinhart into a role as a center to start the season, he probably wouldn't have struggled so badly.
The 22-year-old is set to become a restricted free agent on July 1; however, the Sabres would be wise to lock him into a short-term bridge-deal beforehand. There is always the possibility that Botterill tries to use Reinhart's big second half as a way to bolster a potential return via trade, but that seems unlikely given the team's distinct lack of talent on the wing.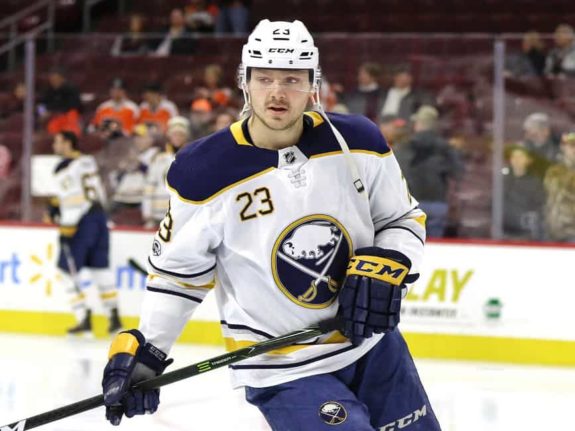 During his end-of-the-year press conference, Botterill mentioned that he had yet to discuss an extension with Reinhart's agent, but planned to in the near future.
If the coaching staff in Buffalo does the right thing by leaving him with Eichel on the first line, Reinhart just might post career bests next season. Somewhere in the neighborhood of 65-70 points isn't out of the question.
Related: Reinhart Making His Case for a Long-Term Deal?
Casey Mittlestadt
In what quickly became a very dreary campaign for the blue-and-gold last year, fans took solace in the fact that 2017 eighth overall pick Casey Mittlestadt was taking the junior world by storm. Since being named as the most valuable player in the 2018 World Junior Championship, the 18-year-old was the talk of the town after being widely ridiculed for not being able to complete a chin-up at the NHL combine the previous summer.
Perhaps never has a fan base gone from being vehemently against a draft pick to crowning him as a franchise cornerstone so quickly. Toward the end of the 2017-18 season, Mittlestadt spent the last six games of the season with the big club, notching five points. Though there were certainly times where he appeared to be a bit overwhelmed by the speed of the NHL game, he acquitted himself nicely in limited action.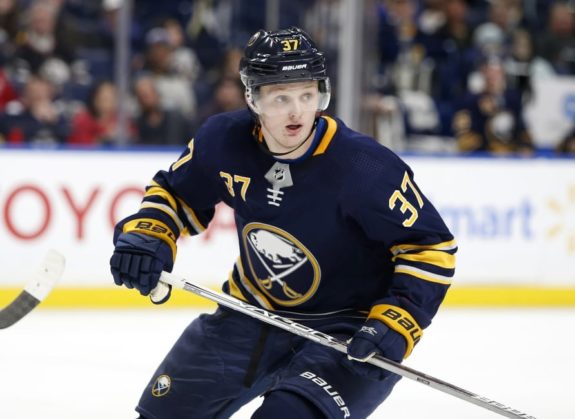 Barring something catastrophic, he will spend the entire year with the Sabres next season. Though fans will set incredibly high expectations for the young phenom, there is still a lot of growing to do before we see the type of production he had in college, and on the international junior stage. Assuming he stays healthy, expect him to land in the 50-55 point range.
Brendan Guhle
The anticipated addition of Rasmus Dahlin in the draft this summer will be a huge help for Guhle's development. Instead of forcing him into a top-four role like the Sabres have done with so many other promising prospects in the past, with more talent ahead of him, he can continue to hone his craft against lesser opponents on the third pairing.
In his 18 games in Buffalo last season, he only produced five points. That said, the competence he displayed in his own zone was a breath of fresh air. Not only is he an elite puck-carrier, but his astounding foot speed makes him a threat at both ends of the ice. He should fit right into the system Housley intends to implement in Buffalo.
Though he will likely never be an offensive juggernaut on the blue line, Guhle plays a responsible two-way game, something the Sabres have been missing. His development next year will be gauged less by his point total, and more by his ability to help in transition. He should land somewhere between 25-30 points next season.
Linus Ullmark
After watching Robin Lehner struggle for the better part of his three-year stint with the Sabres, fans have anxiously awaited Ullmark's emergence as an NHL regular. Last year, he posted a .922 save percentage with the Rochester Amerks, earning him a spot in the AHL All-Star Game. Though he struggled mightily in the playoffs, there is no doubt that he is ready for the big league.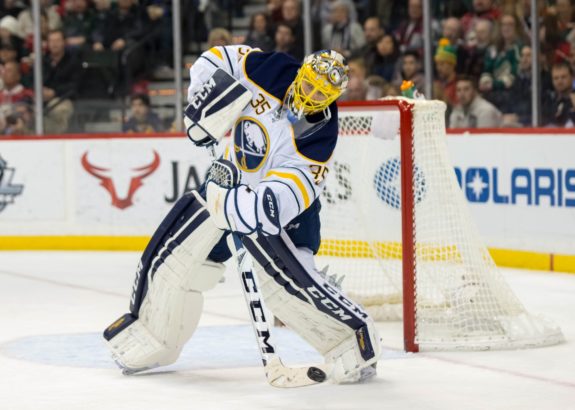 Whether or not Ullmark will be the Sabres' starter next season remains to be seen. If he does indeed win the job, he will need a very strong backup to ensure that he doesn't see too heavy a workload in his rookie season. Ideally, he would be called upon to start 50-55 games while he adjusts to being an NHL regular.
Fans must keep in mind that goalies take a bit more time to develop, and regardless of whether he is the starter or a backup next season, there will be bumps in the road. That being said, he has improved every year since the Sabres selected him in the sixth round of the 2012 NHL Draft, and it won't take long for him to surpass his predecessor.
Rasmus Dahlin
Yes, we know he isn't technically a Sabre yet, but barring something completely insane, he'll be wearing blue and gold next season. Just last week Housley gushed over his elite potential and awe-inspiring highlight reel.
"What a cornerstone for us to get Rasmus Dahlin," he said. "It really gives us hope. All of the things that have happened in the past, this is one bright spot to look forward to heading into the draft that can change a franchise."
The Sabres have finished last in three of the past six seasons, but until last month, had yet to select first overall. With the current state of the franchise, a lottery win couldn't have come at a better time. He is the best defenseman the draft has seen in well over a decade. If Housley cannot run his "system" even with Dahlin in the fold, his seat will get warm very quickly.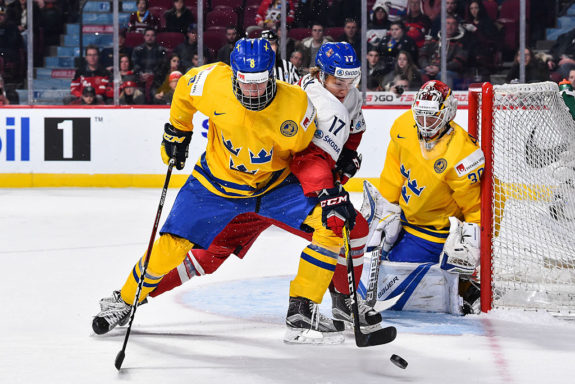 So what should Sabres fans expect from him in terms of offensive production in his inaugural season? It isn't crazy to think that the 18-year-old is already as skilled (if not more) than Rasmus Ristolainen. If he is given ample time on the power play, and the organization doesn't force him to match up against other team's first lines right out of the gate, he could reasonably land in the 50-60 point range.
No, it's not hype. He's really that good.