Though she may be only 17 years old and all of 5-foot-1, Alicia Hiis is a firecracker. And that is both on the ice and off of it. The young Swedish defender is a multi-sport athlete who is making her first strides in the Svenska damhockeyligan (SDHL) – the top women's league in her country. While she may be one of the younger players to have skated for her club, SDE HF, during the 2017-18 season, she is determined to become an integral player for her team and the league during the years ahead.
The most noticeable aspect of Hiis' game is her physicality, despite weighing only 110 pounds. She is built very solidly and has a low center of gravity in her compact form. Hiis has utilized her build and positioning to not only bring an aggressive style to her team, but has even been known to throw her body around. While hitting is not allowed in women's hockey – and Hiis has at times needed to remind herself of that – there is no question that her rougher style of play makes a statement.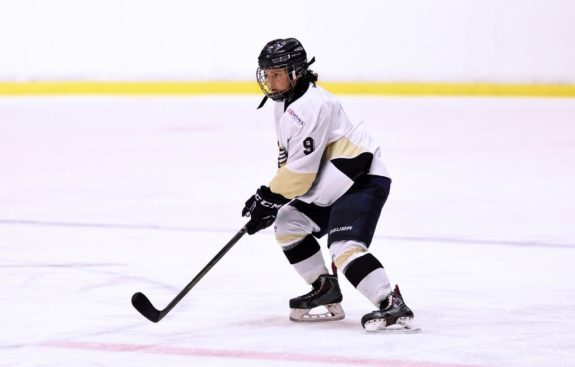 THW had the chance to speak with her one-on-one and learn a bit more about the fearless blueliner. We may even go as far as considering her the female version of a "little ball of hate", a moniker bestowed on very few but one that certainly does justice to her kind of play. We think that by the time you have finished reading about her, you are going to like Hiis as much as we do, and you will wish that she was on your favorite hockey club.
Still Very Much a Kid Herself
Hiis was born on Feb. 1, 2001. Given when she started playing hockey, she honestly has not been playing the game very long. This makes it even more admirable that she has already made it to the SDHL. Hiis explained that her original roots in hockey stem from the sport of bandy, which is a game that is quite similar.
"I started playing hockey when I was 10 years old," Hiis told THW. "There were really two reasons why. One was because I played bandy, which is also a skating and stick sport. But I got tired of that, and since I've always been an aggressive player, my dad suggested hockey. I got interested in hockey, but my dad also told me that when I played soccer in for the club AIK, they told me that I had to quit bandy because they wanted me to focus on soccer. I was only 10 years old then, and I didn't accept that I should choose to quit a sport. So, for some reason I told my dad that since they don't want me to play bandy, then I want to play hockey. Maybe a lot of kids works that way – you tell them one thing, and they end up doing a whole other."
Blir det fotboll eller hockey för backtalangen Alicia Hiis? "Känner att jag är ganska bra på båda" @hockeysverige @sdehockeydam https://t.co/bJfLWAfAUE pic.twitter.com/GwjpoIUUqd

— Ronnies Skrivsmedja / Ronnie Rönnkvist (@skrivsmedjan) November 13, 2017
If you have not garnered it already, you will soon realize that Hiis is very strong-willed. It is hard to not agree with her – why should a child be forced to quit a sport so young? As her 10-year-old self recognized the injustice of it all, Hiis stood firm and did things her way. This ended up being the profoundly right decision for her, as she has excelled in hockey ever since.
Growing up in Sweden
Currently living in the capital of Sweden, Hiis has spent most of her life in Bromsten – a middle-class district of northwestern Stockholm. The municipality of Stockholm has a population of over 950,000, while a few million are living in the urban and metropolitan areas of the city.
"I live in Stockholm and I've always lived here," Hiis explained. "When I was a little kid I used to live in a suburb called Tensta, but then my parents got divorced and I have basically lived my whole life in Bromsten with my dad. There's one hockey team called Spånga, and the rink is about seven minutes from my house, so it was an easy choice."
Bromsten actually belongs to the  Spånga-Tensta borough of Stockholm, hence the hockey team of said name and nearby rink. Hiis has lived in both locations within the borough.
Making the Most of Limited Opportunities
As far as hockey goes though, the opportunities for a young girl to play the sport in this area have been about average for Hiis, and likely even a little less. With the influx of the "Grow the Game" mentality that is being strongly promoted by NWHL teams, CWHL teams, and women's national teams in North America, there should be some thoughts of appreciation for the way that the women's game has encompassed support for young girls in recent years, specifically in this part of the globe. Especially when considering that the same support is not always found worldwide. For Hiis and other players in Europe, a struggle of sorts has been real.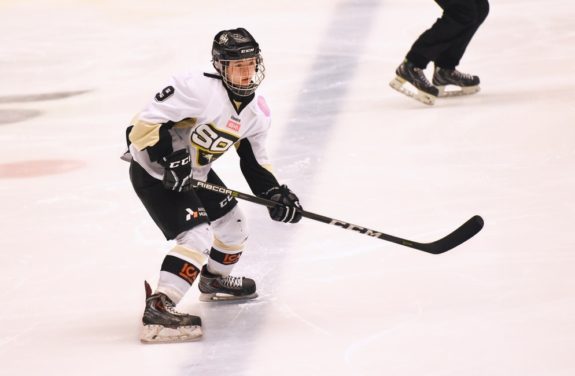 "As a girl there are okay opportunities to play hockey here." Hiis would go on to explain, "It all depends on what coach you have. Some have given me the same opportunities as the boys. But others I would say have been a real problem in my career, and that's because I played with the boys from when I was 10 to 16. So, it can really effect the players development if you treat them different from the rest of the group. I went to play with the J-18 team (a boys junior team in Sweden) when I was fifteen. But after we switched coaches it was, in my opinion, no longer about how good or bad I was, but the fact that I was a girl. So I didn't play for about a whole year when having that coach. I won't lie – that year I lost a lot of motivation and 'gained' of course doubts about me as a player, but also doubts about if it was right of me as a female to play hockey. And the fact that no one in the club wanted to confront him about it, I wouldn't say that it's a good opportunity for a girl to play hockey here. At least not if you want to play on the same terms as the boys."
You certainly have to respect Hiis's candidness and her ability to recognize, that at least in this particular instance, she was sold short because she is a female hockey player. Wise beyond her years, one would have to say that not playing Hiis was more of a loss for the team.
Finding a Place for Herself in the SDHL
Unlike a lot of young athletes, Hiis has not looked up to a particular player or found one whom she tries to model her game after. Instead, she has geared her focus towards observing different skills or body checks she has enjoyed, and then used those for adding inspiration to her own play.
"Oh I´m not really a player that follows the NHL or other leagues", Hiis shared. "I know that might sound bad, but I just really don't feel like putting in time to watch any games. Usually I might have homework or soccer, so I can't really find the time to follow a team or a specific player. But I usually just watch skills or hits on YouTube, because then I can decide by my own when to watch and learn. When I was younger and played in the J18, I used to look at the older and more experienced players. The biggest thing I think is just confidence on the ice. You might be stressed out in a specific situation but to keep your cool. That's what the better players do. I think that's one of the many things I noticed while watching some of the J18 guys."
Since the 2014-15 season, Hiis played women's Division I hockey, which is the tier just below the SDHL. In 48 Division I games, Hiis scored six goals and nine assists while picking up a whopping 72 penalty minutes. Her finest season statistically came during the 2016-17 season for AIK 2 when she scored six goals and five assists for 11 points in 22 games, to go along with 34 penalty minutes.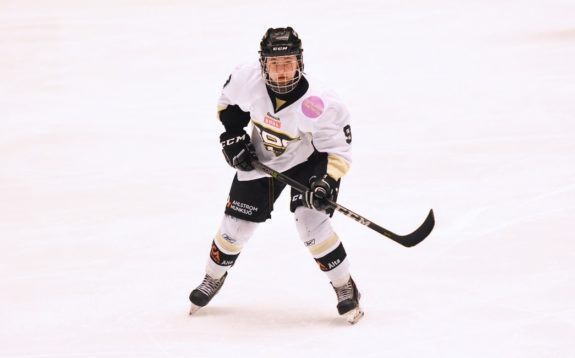 Hiis admits her feistiness, acknowledging that her hard hitting against boys has carried over into the women's game. This desire to hit and play in-your-face hockey has led her to acquiring more penalties, but has also made her presence known.
"Yes, going from playing with the boys to playing women's hockey, the hardest part was just getting used to 'no' (hits)." Hiis would go onto explain, "my best skill might be hitting, and since that's the one thing you can't do in women's hockey it has been a quite difficult in my way of playing. I've now gotten used to not making an open ice hit, but it sill is one of my favorite things to do. That's one reason why I miss playing boys hockey. Another strength I have is that I'm a good skater. Maybe I got that a little bit from bandy, but for most part it's just repetition. My best characteristic might be that I like to practice – I appreciate a gym session. Well it's not always fun, but you get it – I do appreciate having a lot of training."
Still Learning the Game and Plenty of Time to Make Decisions
During the 2017-18 SDHL season, Hiis played 15 games for SDE out of the team's 36 total contests. Although she went pointless, she still finished the year as a minus-two. Normally that number might seem a bit paltry, but SDE finished second to last in the SDHL and scored a league worst 54 goals. After allowing 137 goals, the team finished the year as a minus-83. Hiis' plus/minus was actually the best total of all skaters on the team of those that had played at least 10 games.
Despite the record, Hiis feels that SDE suits her perfectly. The club has also given her the opportunity to continue a successful career in soccer too, in addition to hockey.
"I go to a high school that's called Danderydsgymnasium, which is nearby the SDE rink," Hiis told us. "Also, for this season I wanted to challenge myself a bit, or maybe step up my game. I decided to go for a SDHL team. But since there are three teams in the SDHL in Stockholm, and the other two teams weren't an option for me by the time, I chose SDE. Also, one of my biggest priorities is that my coach has a good attitude about me also playing soccer. In SDE I have been able to play both soccer and hockey. Some coaches are not up for a player having another sport but really, I just think it's better that a player is at practice developing, even if it's not the same sport. You still get to work on other muscle groups or skills that might be useful. Also, it's better that the player shows character and ambition than doing other stuff like maybe partying on the weekends, but maybe that's just me."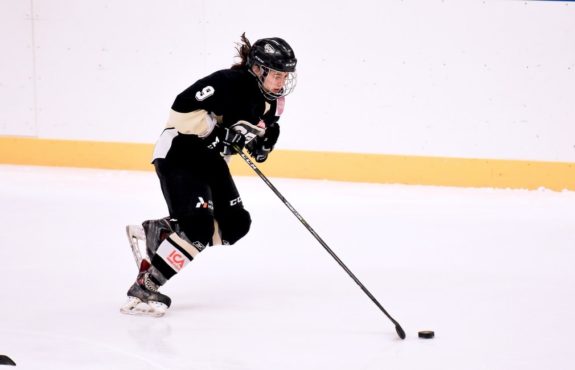 Hiis also feels that there is more she will be able to contribute to SDE next year. She is only 17 years old age, and is playing in a league with some women who are about twice her age. Hiis, however, is staunch in doing her darndest and going with the approach that she can contribute more.
"Well perhaps taking one step up in my game," she said, when asked what she is most looking forward to for the 2018-19 SDHL season. "I think I did okay this year, but I´d like to say that I got more to give. Also, maybe us as a team doing better this year I think a lot of the girls are exited for showing what we can do next season."
Hiis Is Growing as an Athlete and as a Person
11 or 12 year old hockey players are not much younger than Hiis is now, but she has come a long way in her game. As you may have gathered too, she is a very determined young lady. One of Frank Sinatra's most famous and beloved tunes is "My Way". One thing that can be said for certain about Alicia Hiis is that she is doing things her way. Even at an early age, she has already developed a strong sense of self-awareness.
It is a wisdom too, that she is willing to impart to youngsters. THW asked Hiis if she had any advice for young female hockey players about to enter their teenage years. She offered a rather thorough response.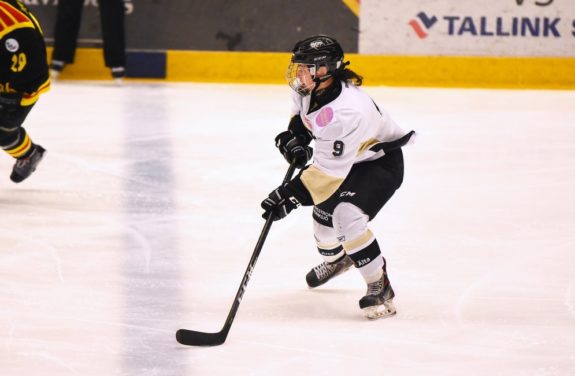 "I wouldn't say 'don't be afraid'. That's like saying 'don't be angry' to someone who's angry. Accept the fact that you are a little nervous, but that you have nothing to lose. I have tried all different types of sports. I've tried ballet, basketball, swimming, boxing and that's just four of about fifteen different sport I've tried. Some of them were not for me, but as an example, I still do boxing now and then. I gained so much from participating in different environments and I've met so many people on the way, and I'm glad I did. No one's great at the beginning of something. What matters is if it fulfills your days with joy and you growing as a person. I would like to say that my confidence is somehow linked to the sports I've played. I wished more kids would be exposed to different types of sports, because maybe their youth years would've been a whole lot of easier. The teenagers I know that party a lot and tried alcohol at an early age, they're just insecure. And maybe if they would've had something that they feel they are good at, for example a sport such as hockey, they would be more confident with themselves."
Rather sizable thoughts from someone so young, but she knows what she is talking about. Hiis has also incorporated more of a Muay Thai kickboxing training into her off-ice work, as opposed to traditional boxing. The kickboxing has not only helped with her confidence, but certainly has carried over into balance and strength in her hockey playing.
Some Final Thoughts From Hiis
The best is yet to come for Alicia Hiis. It will be interesting to see how much she has grown heading into the 2018-19 SDHL season, and what more she will bring to SDE. This is a particularly strong blueliner who has no hesitation in being punishing on the ice. To each their own, but it is a shame that hitting is not presently allowed in women's hockey. Hiis would be more of a great white shark out there, capable of delivering some devastating hits. For now, she will need to keep herself in check.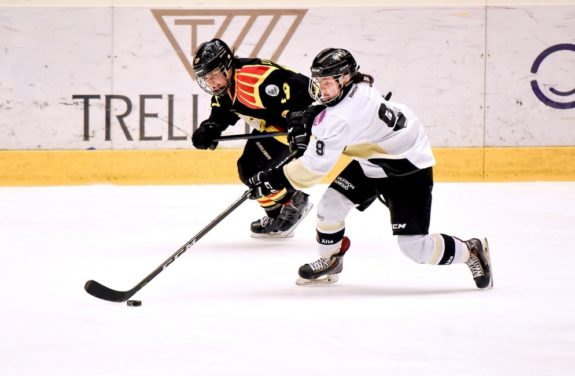 Hockey and sports have taught Hiis a lot already, but as a practitioner of the game she is always eager to learn more.
"I've learned that if you want to be good at something the number one key is repetition," Hiis explained, "and you have got to have discipline. That means maybe choosing a practice or studying, before being with friends or partying. That does not have to mean that you can never be with a friend or not have fun. That just means that you must make your priorities, and do so wisely. I've also learned that everything isn't always fair, but you can do nothing other than to keep going. I feel like you mature faster, in some sort of way than people at the same age. Maybe because as an athlete you have to take more responsibilities for your training, and that has an impact in your personality to also take responsibility for other stuff such as school."
Wise words from a tough athlete. Or as we like to call Alicia Hiis, our "Swedish Little Ball of Hate".