The 2017-18 season marked the silver anniversary of what is regarded by many to be the best season in NHL history, 1992-93. A quarter-century ago, Wayne Gretzky, Mario Lemieux, and Eric Lindros graced television sets. The Pittsburgh Penguins were going for a three-peat but fell short as the league's most storied franchise, the Montreal Canadiens, captured their 24th Stanley Cup.
To commemorate the 25th anniversary, the upcoming NHL Network documentary Picture Perfect: The 1992-93 Season does a wonderful job presenting the greatness of that season. If you are too young to remember it or are a new fan, the documentary teaches you about it. Or, if you are old enough to remember what made that season great, Picture Perfect will foster nostalgia.
Use of Pictures to Tell a Story
As can be gathered from its title, photographs play a key role in telling Picture Perfect's story. It's what sets it apart from other sports documentaries, especially fellow hockey ones. The film opens by showing a dark room where film is developed and then proceeds to present a still that represents a different storyline from the 1992-93 season.
The images are presented in chronological order, beginning with Eric Lindros at the 1991 Entry Draft, leading to his trade a year later, sparking the 1992-93 season, and ending with Patrick Roy hoisting the Stanley Cup with the Canadiens. In between are images of Lemieux that convey his electric start to the season, Gretzky discussing a career-threatening back injury, and Teemu Selanne taking the league by storm.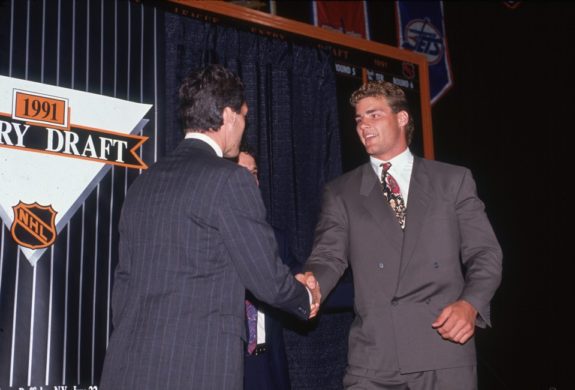 Using still photographs to tell a story in a fast sport like hockey seems impossible but it works. I feel this is because the film's producers chose images that perfectly captured the essence of each moment. At the film's conclusion, these images are shown having been framed and hung on a wall in chronological order in a way that even if someone hadn't watched the documentary, basic player knowledge allows the story to be told.
Impressive Storytelling
Picture Perfect is told in a chronological fashion. It starts with Lindros being drafted, going unsigned for a full calendar year, and then his controversial trade from the Quebec Nordiques to the Philadelphia Flyers that changed hockey history for a decade. But, while it is chronological, it is not necessarily linear.
The storylines jump around between moments, themes, and players, but use excellent segues to do so. For example, after establishing the Lindros trade, the film highlights his first game against the Penguins but focuses more on Lemieux's incredible start to the season, where he scored 36 points in his first 11 games.
From there, the film moves to Gretzky's career-threatening back injury, the Canadiens' attempt to break a seven-year Stanley Cup drought, and Selanne's overtaking of Lindros as the league's best rookie. All of these storylines except Selanne are revisited as the film advances, each with its own ups and downs.
Following Lemieux's diagnosis of Hodgkin's Lymphoma (after which he ultimately returned better than before his radiation), Gretzky's health returned and he led the Los Angeles Kings to their first Stanley Cup Final, and Roy played through trade rumors to win his second Cup.
This storytelling style succeeds because it takes audience members through each moment but never fully addresses each at one time. Using Lemieux as an example, his season started off great, the film cuts to other stories, comes back to Lemieux for his cancer diagnosis, his return, and his success after radiation.
"There were always arguments about Mario and Wayne Gretzky, and he doesn't hold all the records that Wayne Gretzky holds, but the people in Pittsburgh think he's the best player that ever lived, and we have reason to because we saw the stuff he did that '92-'93 season." – Paul Steigerwald (Former Pittsburgh Penguins Broadcaster)
Use of Interviews
No documentary, especially a sports documentary, is complete without interviews. In Picture Perfect, interviews go beyond being an addition to the film but are an integral part, as people present for the season are utilized.
The film interviews New York Rangers GM Neil Smith to discuss the team's attempt to land Lindros at the 1992 Entry Draft. Others interviewed include broadcaster Gary Thorne, the Canadiens' Kirk Muller and Guy Carboneau, Kings player Luc Robitaille and coach Barry Melrose, and NHL commissioner Gary Bettman.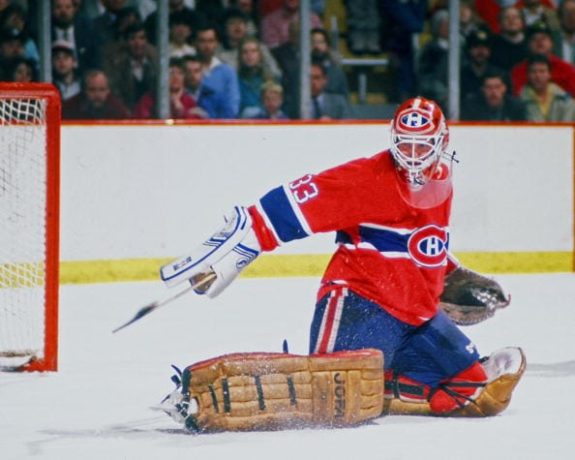 That star-studded cast helped present all facets of the season, including opposing views of the Stanley Cup Final. Additionally, to hear Lemieux talk freely about facing cancer or have Melrose discuss that the main reason he took the Kings job was to coach Gretzky, only to have him miss the first three months of the season, was spectacular and something only a well-thought-out documentary can accomplish.
An interview that stands out to me was Gretzky being asked about his health scare, his return from injury, and his ability to lead the Kings. He admitted to struggling in the Conference Final against the Toronto Maple Leafs, where received criticism as a result. Entering Game 7 in Toronto, a security guard told Gretzky that he wasn't looking forward to his 10:30 shift that night because when the Leafs won, the city would go crazy. To that, Gretzky replied:
"Don't worry about your 10:30 job, because my job starts at 7:30."
Gretzky and the Kings beat the Maple Leafs 4-1 that night, with Gretzky producing four points and providing the hockey world with a storyline that couldn't be made up.
Seriously, Watch It!
If you are a hockey fan, and I'm assuming you are to be reading this, you will love Picture Perfect. It has something for everyone. There is history, controversy, and sad valleys with great peaks. It has everything you want in a sports documentary: excellent interviews, a compelling storyline that pervades the duration of the film, and strong narration provided by actor Morgan Spector.

A season that started with a blockbuster trade was capped by the most storied franchise winning the Stanley Cup for the 24th time. But while those moments were spectacular and would have made the 1992-93 season dynamic on their own, it was the moments between the beginning and end that established the season as one of the best in league history. And on the 25th anniversary of that storied season, Picture Perfect celebrates it with the reverence it deserves.
Picture Perfect: The 1992-93 Season airs on Friday, June 1 at 8:00 p.m. on the NHL Network.
My name is Kyle, and I'm the managing editor of The Hockey Writers. I joined THW in Oct. 2017 and am always striving to bring you the best hockey coverage possible. You can email me directly at kyle@thehockeywriters.com.