Looking back on a career highlighted by his notching of one of the most important markers in Canada's rich hockey history, two Stanley Cup championships and countless awards, many may find it difficult to pinpoint Mario Lemieux's crowning achievement on the ice.  But, if one is searching for Super Mario's most remarkable performance, he or she need not look any further than Lemieux's 1992-'93 campaign.
The season couldn't have started more perfectly.  Coming off back-to-back Cup wins, the Pens began the year with what was probably the greatest hockey team Pittsburgh ever assembled.  With names like Lemieux, Kevin Stevens, Ron Francis, Jaromir Jagr, Rick Tocchet, Larry Murphy and Tom Barrasso (and, oh yeah, the legendary Scotty Bowman behind the bench) leading the way, the Penguins resembled a freight train charging toward a third straight Stanley Cup parade.
Early Season Dominance Turned Meaningless
The Penguins exploded out of the gate in their quest for a three-peat, kicking off the year with an impressive 8-0-2 run.  The squad never lost more than two contests in a row en route to amassing a league-best 28-10-4 record halfway through the campaign.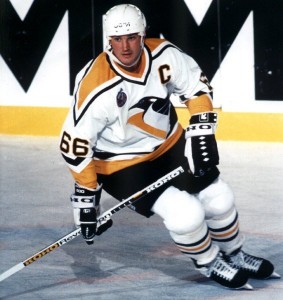 For his part, Mario proved nearly unstoppable as his scoring onslaught appeared destined to threaten Wayne Gretzky's single-season record of 215 points.  "Le Magnifique" never went more than a single game without recording a goal or an assist, registering one seven–point, three five-point, five four-point and 11 three-point contests along the way.  In just 40 games, Lemieux racked up an astounding 39 goals, 65 assists and 104 points.
As the calendar turned to 1993, Mario and the Penguins' offensive juggernaut appeared unstoppable.  The club continued to put up video game-like numbers as it distanced itself from the rest of the league.  That is, until the unthinkable happened.
In early January, Lemieux was diagnosed with Hodgkin's disease, a cancer of the lymphatic system.  And, while doctors indicated the illness shouldn't prove life threatening, the seriousness of the situation immediately put things in perspective.  With hockey placed squarely on the back burner, Super Mario underwent over a month of radiation treatments, a grueling ordeal that finally ended on March 2, 1993.
An Epic Return
Upon completing his final radiation treatment, Lemieux boarded a plane for Philadelphia, meeting his teammates for a contest against the Flyers that night.  So emotional was the return that Lemieux received an unheard of standing ovation from the archrival Philadelphia faithful en route to recording a goal and an assist in his first game back.
"At that point, all you want to do is prove to yourself that you're fine, that the cancer is behind you. That's why I came back [so quickly]. Maybe it was foolish, but that's what I felt I had to do." – Lemieux, on his dramatic comeback
And, while the Penguins lost that night in Philadelphia (and in their next contest against the Rangers), Lemieux's return eventually catapulted the Penguins to their first and only Presidents' Trophy.  Because, after the team managed to stay afloat by recording an 11-10-2 record without Mario, Pittsburgh ultimately enjoyed a 17-game winning streak on the way to finishing the season without a loss in their final 18 games.
Meanwhile, during Lemieux's absence, Pat Lafontaine surged ahead of the Pittsburgh superstar in the points race, building himself a 12 point cushion in a chase for the Art Ross Trophy.  In the campaign's final 20 games, though, Super Mario didn't just catch Lafontaine; no, he made a mockery of the competition.  Recording 30 goals, 26 assists and 56 points upon his return, the game's most dominant player won the Art Ross Trophy by a 12 point margin of his own.
"The run he went on was beyond belief. He was significantly behind Pat LaFontaine in the scoring race. He missed six weeks. He won the scoring title and it was something like [56] points in [20] games. It was a ridiculous pace. It would have been ridiculous even if he hadn't gone through any physical maladies. To do that in this context was amazing." – Tom McMillan, former Penguins' beat writer
To put it all in perspective, Lemieux put up a monster 2.6 points per game in the 1992-'93 season prior to temporarily stepping away from the game.  When he came back for the year's final 20 contests, he registered 2.8 points per game after beating cancer.  Had Mario remained healthy all year, his projected 97 goals and 224 points would have both easily eclipsed Gretzky's single-season records.
And, while the Penguins ultimately came up short in their goal of bringing home a third consecutive Stanley Cup, nothing can take away from the incredible season Mario Lemieux put together during that trying season.  In the end, he took home the Art Ross, Hart, Lester B. Pearson and Masterson Trophies.  And, given everything Lemieux went through that year, the staggering numbers he compiled surely top the list of his seemingly endless career achievements.