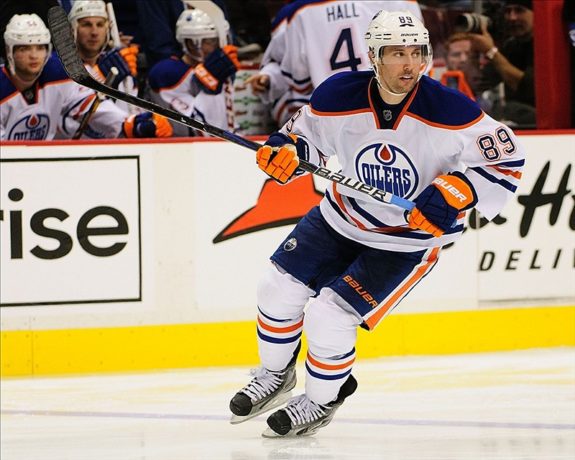 There has been no Edmonton Oiler player who has been under more scrutiny or had more questions the last few years than Sam Gagner.
Constantly mentioned in trade rumours and questioned around whether he is a legitimate top two centre, Gagner has been on the hot seat since he came into the league.
He has started off 2013 strong and is answering many of those questions early this season.  Currently leading the Oilers in scoring with 13 points, Gagner has points in 11 of the first 12 games played including a 10 game point streak to start the season.
With some of the Oilers top forwards struggling to light the lamp early in the season, Gagner has picked up a lot of the slack.
Playing for Klagenfurt AC in Austria during the lockout, he put up 20 points in 21 games there and has carried that production back to the NHL.
With the addition of the young Oiler forwards over the past few seasons like Jordan Eberle, Taylor Hall, Ryan Nugent-Hopkins and this year Nail Yakupov, no one has really included Sam Gagner in that group of young stars.  Many don't realize he is just 23 years old, only a year older than Eberle, it just seems like he has been around forever since he is in his sixth season with the Oilers.
The difference between he and Eberle is that he will hit the 400 games played mark some time this season before Eberle even hits the 200 mark.
Drafted 6th overall in 2007 from the powerhouse London Knights of the OHL, Gagner stuck with the club as an 18 year old and put up 49 points in that season.  A number he has yet to surpass.
Known early for his prowess and highlight reel goals in the shootout, skill level has never been an issue for Gagner, it's been the other areas he has had to work hard at.
He has been consistent in his first five seasons averaging 15 goals and 44 points a season in his young career, but not the kind of numbers Oiler fans were expecting at this point after his strong rookie season.
Gagner made headlines last season with his record 8 point night which was part of a strong second half for the former London star, and hope that he was beginning to realize his potential.
Shuffled up and down between the top six and bottom six in his first few seasons, this year Gagner appears entrenched as the number two pivot behind Ryan Nugent-Hopkins.  Although the way 2013 has started, the argument could be made that those roles have been reversed at this point.
Gagner started the year centering a line with Ales Hemsky and Nail Yakupov.  They found early success and were the team's most productive line through the first 9 games.  Ralph Krueger has done some shuffling to try and shake things up over the last few games and Gagner now finds himself between Hemsky and Taylor Hall.  He has continued to put up points playing with skilled linemates, something the Oilers hope will continue.
Having Gagner as productive as he is makes the coaches jobs easier and solidifies the Oilers up the middle.  When healthy Krueger has his centres slotted with Nugent-Hopkins and Gagner in the top six and Shawn Horcoff and Eric Belanger in the bottom six.  The first two play an offensive role and the latter two play a defensive role, kill penalties and are big in the faceoff circle.  It makes the lineup that much deeper and gives each line an identity.
Gagner has also found success playing the point on the power play this year for the Oilers second PP unit.  Playing beside Ryan Whitney with Hemsky, Yakupov and Ryan Smyth up front, Gagner already has 6 PP points to help the Oilers to being one of the league's best power plays.
It was a role he started during the lockout in Austria, where he played the point with Buffalo's Tyler Myers for Klagenfurt and enjoyed success.  When the Oilers have the option of putting out two PP units with that kind of firepower, it certainly makes teams think twice about taking penalties.
Time will tell whether Gagner's name comes up once again at trade deadline time, as it tends to surface every year like clockwork, however if Gagner can continue his production he could make himself too valuable a commodity to think about taking out of the lineup.