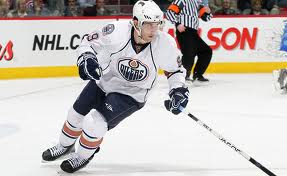 Wayne Gretzky.  Paul Coffey.  Sam Gagner.
Before last night the only thing you could find that these three names had in common was that they have all worn the Oilers jersey.
That was until Gagner suited up against the Chicago Blackhawks at Rexall Place.  Gagner had 8 points, 4 goals, 4 assists in an Oilers 8-4 victory at home against the Blackhawks, which tied the Oilers franchise record for most points in a game.  A record held by both Gretzky and Coffey….and now Gagner.
Gagner became only the 11th player in NHL history to record 8 points in a single game, and the first to do so since Mario Lemieux, who accomplished the feat December 31 in 1988.  Gagner fell two points short of Darryl Sittler's all time mark of 10 points in a game.
Playing on a line between Jordan Eberle and Taylor Hall in the absence of Ryan Nugent-Hopkins, Gagner and his linemates were flying all night finishing with 16 points as a line.  Both Eberle and Hall each had a goal and 3 assists and as the night went on did all they could trying to set Gagner up for more with each passing shift.
The night couldn't have come at a better time for the Oilers 22 year old centre as he came into the game mired in a  slump, having not scored in his last 11 games.  Gagner broke out in spectacular fashion and almost matched his season total in goals in the one game.  Coming into the game he had 5 goals and 17 assists for 22 points in 43 games.
A 2007 first round pick, 6th overall, of the Oilers, Gagner has found his name linked to numerous trade rumours this year and more often than not when he sees his name in the news it's about where he's rumoured to go next and what he isn't doing on the ice.  While Gagner has perhaps not put up the kind of numbers that the Oilers had expected or hoped for when they took him, his skill set is undeniable and they were on full display in Edmonton last night.  The Oilers are hoping this is only the beginning and while he won't be able to keep up the pace he set last night they hope it will give him the confidence he needs and enable him to be a consistent producer for the team going forward.
While it remains to be seen whether Gagner will be dealt at the trade deadline, or be part of the Oilers for the forseeable future, he put the rumours and speculation to bed for at least one night and gave Oiler fans and the hockey world something else to talk about.
And what a story it is.