After being drafted in the first round of the 2015 NHL draft by the Washington Capitals, Russian goalkeeper Ilya Samsonov has finally landed in DC after signing a 3-year, entry-level contract. His contract will have an impact of $925,000 on the Washington Capitals cap space. Samsonov, who turned 21 last February, spent the last three seasons with his hometown team Metallurg Magnitogorsk, mostly acting as a backup of Vasili Koshechkin.
Playing with Metallurg, Samsonov won the Gagarin Cup in the 2015-16 season. Metallurg Magnitogorsk has a good tradition in developing NHL players, as among their alumni you can find Evgeny Malkin, Nikolai Kulemin, and Viktor Antipin. The team has a total of 11 players drafted so far, with the latest being Igor Shvyryov, picked during the 5th round of the 2017 NHL Draft by the Colorado Avalanche.
Samsonov's International Career
Samsonov has plenty of experience on the international stage. He was named the best goalie at the 2015 U18 WJC and made the All-Star team at the 2017 WJC in Montreal and Toronto, where he helped Team Russia return home with a bronze medal. Samsonov also played a few games with the senior national team in non-official tournaments.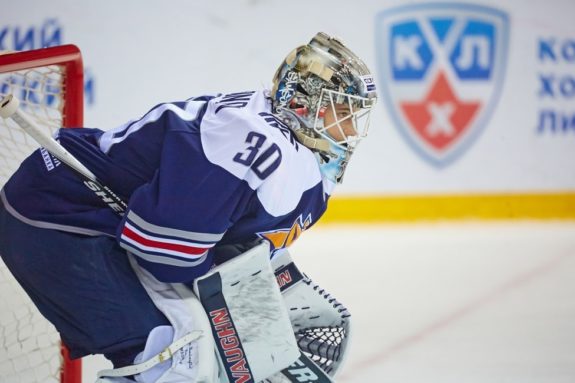 At this point, it's hard to image that he will have an immediate impact on the Capitals. The Washington team has a solid duo in nets with Braden Holtby and Philipp Grubauer, even if the latter's contract will expire this offseason. Samsonov will need a couple of years of seasoning in the AHL, but he knows that and seems to accept the fact, differently from some other Russian players who usually aren't interested in playing for the farm team. At 6-foot-3, 205 pounds, Samsonov is gifted with an NHL body, something that will help him adap to the more intense North American game.
After signing his ELC with the Capitals, Samsonov talked with Yevgeni Belousov of the Russian website Sport-Express. In this brief interview, Samsonov confirmed that he's ready to play in the AHL, talked about other Russian players, and discussed the Capitals-Penguins series.
* You can read the original article in Russian language by Yevgeni Belousov here *
Samsonov Moving to North America
Yevgeni Belousov: What kind of role were you offered with the Capitals?
Ilya Samsonov: In December I met [Capitals GM] Brian MacLellan and we agreed that I will first need to adapt to the new environment, therefore I'll start playing in the AHL. And then soon I'll be called up to the NHL.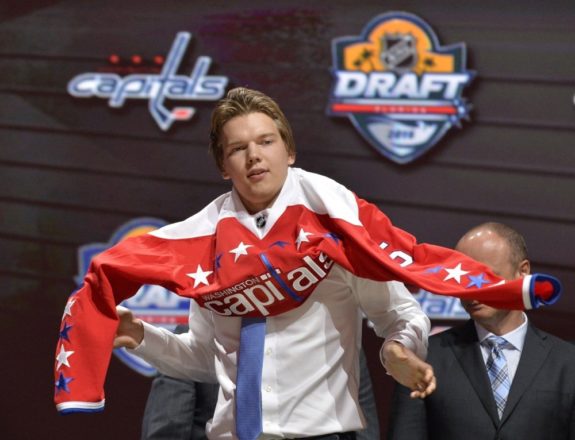 YB: Are you ready to substitute Holtby and Grubauer?
IS: They are both very good goalies. But some competition is never bad. I'll fight for my place on the team. And doesn't matter what role I'll be assigned to, I'll start with that.
YB: The Capitals just tied up the series against the Pittsburgh Penguins. (The interview happened after Game 4.)
IS: My whole family and I are supporting the Capitals, we watch the games together. We do believe that the guys will manage to break the traditions and defeat the Penguins this time.
YB: Did you talk with your countrymates in Washington, Alexander Ovechkin, Dmitri Orlov, and Evgeny Kuznetsov?
IS: I don't want to disturb the guys now, they are playing in the playoffs. I have talked with Kuzy earlier. Hopefully, I'll send in my congratulations for the Stanley Cup win! (smiles)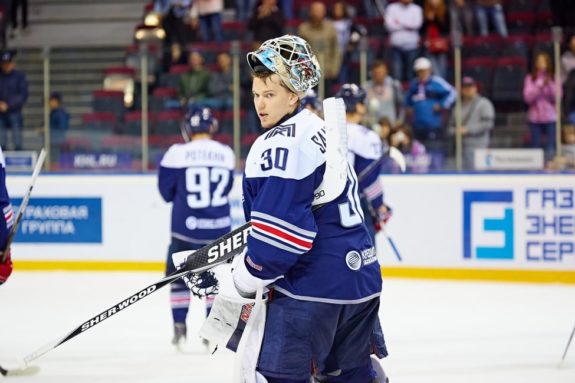 YB: Tom Wilson plays on the team's first line and he was recently suspended for a suspicious hit. Is it easier when you have such guys in your team?
IS: In Magnitogorsk, we had Yevgeni Timkin. It won't be easy for Pittsburgh players when [Wilson] returns [from his suspension].
YB: Metallurg Magnitogorsk GM Gennadi Velichkin has expressed much ambiguity regarding your departure. What ties do you have now with Metallurg?
IS: I didn't burn any bridge. I'm very grateful to the team and to [Metallurg President] Viktor Rashnikov and other people. I left with good ties to Velichkin, we discussed all the different aspects. They let me go and wait for me back at home.