So much for those "big changes" hinted at by Doug Wilson and promised by the media. So much for dismantling the core and "blowing up" the team after a pathetic first round exit against the St. Louis Blues.
It had me excited (heck, it had all of us excited) at the possibility of acquiring some top-flight free agents or making a huge blockbuster trade that could invigorate this team.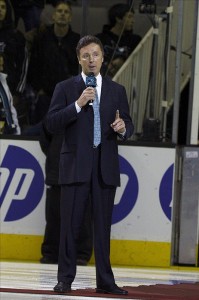 You know, trading for Rick Nash. Signing Zach Parise and Ryan Suter. Or maybe a sign-and-trade deal to acquire Shea Weber. Hey, at this point, even Shane Doan sounds like a good fit.
News flash: virtually all of those players are gone from the market, which hurts even more when you consider that the San Jose Sharks were on the verge of landing at least one of them, if not more.
Let's start with Rick Nash. Traded to the New York Rangers for Brandon Dubinsky, Artem Anisimov, a prospect, and a pick.
Really, that's all it took? The way that Scott Howson was holding out for Logan Couture, you would think that he'd strike a better deal than that.
The Sharks could have offered a similar, or even a better package without giving up Couture. How does Ryane Clowe, Joe Pavelski, Jason Demers, Alex Stalock, and a first round pick sound? Much better than what the Blue Jackets got from the Rangers.
Clowe and Dubinsky have similar stats, so they cancel out. Even though Anisimov may be a bit younger than Pavelski, he hasn't scored 20+ goals for four consecutive years like Pavelski has. And I'm pretty sure that two prospects are better than one, so throw in Demers and Stalock (the Sharks' best goaltending prospect).
There you go. A better deal than what the Rangers had to offer, without touching Logan Couture.
Acquiring Nash would have single-handedly put the Sharks back in Western Conference contention. Just think about the nightmare that teams would have to face on the top line with the two-headed monster of Nash and Joe Thornton. That's like having the Sedin twins, but without all the whining.
Alright, stop drooling and focus, because we're not even close to finished talking about the Sharks' insipid off-season.
How about Zach Parise and Ryan Suter? Michael Russo reported that 17 teams had offers on the table for Parise, and it's a good guess that the Sharks were one of them. Parise then "weeded out" teams based on a list of 12-15 criteria that ranged from hockey operations to travel taxation.
So what did Parise think was wrong with San Jose? We'll never know, but he ended up taking his talents to his hometown of Minnesota and brought his good buddy Ryan Suter with him. Both signed identical 13-year, $98 million contracts.
Ok, so maybe the Sharks were never in the final mix to land Parise or Suter. But Shea Weber sounded like a pretty nice consolation prize, right? A high-scoring defenseman who can quarterback the power play, meaning that the Sharks could finally dump or trade Dan Boyle and his $6.66 million contract.
It seemed like Doug Wilson agreed with me. He was seen dining with Weber in Los Gatos earlier this month, and seemed serious about acquiring him. In fact, it seemed like the Sharks were on the verge of pulling off a trade for Weber before the Philadelphia Flyers had to ruin the party with a ridiculous 14-year, $110 million offer sheet.
You know the rest of the story: Weber signs the offer sheet, and the Nashville Predators match, crushing the Sharks' hopes once again.
Now all that's left is Shane Doan, who is unlikely to choose the Sharks as his free-agent destination. He has made it clear the he would like to return to Phoenix, and he is also intrigued by the Rangers after they landed Nash (see what could have happened if the Sharks had traded for Nash?).
Of course, there are other options left, but it would be embarrassing to be picking up the scraps of what was a talented and skilled free agent pool. Alex Semin is not a solution, as Wilson has said that he wants to build a tougher team. Jason Arnott, Mike Knuble, Jason Blake, and Andrew Brunette are decent role players, but they would just be one-two year rentals because of their old age.
So that's it. Take a deep breath, and let reality sink in.
The reality that the Sharks are going to be stuck with this core for at least another year. Yes, the same core that failed so miserably last season to even get into the playoffs, let alone win the Stanley Cup.
I give Doug Wilson an A+ for effort, but an F for the results so far. Because of his failure to make any notable changes to the roster, we all are going to be stuck with another year of disappointment.