It's finally a done deal. Rick Nash is a Blueshirt on Broadway. Nash will earn $7.8 million against the salary cap through the 2017-18 seasons. Nash had to waive his no-trade clause before the trade to the Rangers. The 28-year-old five time all-star, 40-goal scorer is relieved the wait is over. Nash can concentrate on elevating his game rather than being a face of a franchise.
The deal sends Rick Nash, a 3rd round draft pick and a minor league defenseman to the Rangers in exchange for Brandon Dubinsky, Artem Anisimov, Tim Erixon and a 1st round draft pick.
New York General Manager Glen Sather made it known he wanted to make a trade for Nash for the past six months or more. General Manager Scott Howson of the Columbus Blue Jackets played his cards with the frustrated captain wanting a large haul from New York, including rookie Chris Kreider and Derek Stepan. Howson was willing to trade Nash but was hoping for as as much as he could get for the winger. Nash has six years remaining of his 8-year, $62.4 million contract. Nash had his worst offensive season since 2006 as the Blue Jackets struggled last season.
The Rangers still have enough cap space to re-sign Michael Del Zotto and Anton Stralman securing the blue line bombers, plus could add an interesting free agent.  Shane Doan, Jason Arnott and Pavel Kubina are all names that have been bounced around.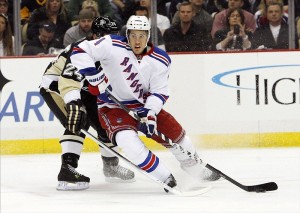 Brad Richards will benefit playing with a power winger. Chris Kreider has shown he's ready for the NHL and to take it to the next level. Add in a healthy Marian Gaborik, Ryan Callahan and the possibility of adding other key elements should give the Rangers that extra push for Cup contention.
During a live conference call with Glen Sather and Rick Nash, Sather adressed whether Shane Doan was an option for the Rangers and stated that Doan "is purely speculation at this time."
Sather is excited to bring Nash to the fans and the organization.
Glen Sather on #Nash: "This type of player doesn't become available very often. This is a very important deal for our hockey club" #NYRNash

— New York Rangers (@NYRangers) July 23, 2012
Nash likes what he sees in the Rangers and is excited to give New York and its fans the best he has to offer.
"I think they already are one of the top teams in the league and the players they have there is pretty impressive right from the goaltender and the defense and right on up. I'm proud to be part of the organization and the whole city."
News of the Nash trade in the NHL surrendered instant quips that the Rangers won the draw. So what was Howson thinking when he traded a hot commodity for seemingly subpar players? Howson is pleased with the talent and potential in Anisimov and Dubinsky.
"I think they're capable of 20. Dubinsky's gotten 20 twice in the league. He had a down year last year. Anisimov, I think, has scored 16 and 18 over the last 2 years so we think that he's got some more upside to give. Could they potentially get 20? Yes, but I think they're good for 15. 15 to 20."
Brandon Dubinsky fumbled often in his 8-year career with the Rangers and noticeably during the playoffs.  This hasn't been the first time Dubinsky was rumored to go in a trade deal. He's been expecting this to happen. It's a compliment and a testament to his play and potential as a leader. And he can pull a punch. The sturdy center will survive in Columbus with his fortitude and the fresh start. Performance expectations in a media-driven metropolis can be inspiring, but many athletes get lost in the normal shuffle. Dubinsky's chance to become a powerful ambassador to hockey fans in Columbus is there for his taking.
I would like to thank all of my fans and the city of New York for everything! My 8 years being part of the NYR have been magical. Thank you!

— Brandon Dubinsky (@BDubi17) July 23, 2012
Howson fully expects Dubinsky to rebound.
"Well I know he played an important role on a team that finished with the second overall best record in the league and went to the Conference Finals. I have no issues with Brandon Dubinsky bouncing back. I think he will. He had a bit of an off year offensively, but he was still — he impacted games every time he played and I expect him to do that here."
Howson sees an opportunity with Erixon and the Jackets franchise.
"We wanted a top prospect in the deal, and we think Tim Erixon fulfills that. We went through a lot of combinations with the Rangers and finally settled on this. Our highest priority was to get some forwards that could help us right now, and we've done that with Artem and Brandon."
Tim Erixon never got his wheels firmly planted. He played 18 games for the Rangers. New starts do great things for underrated players. But Erixon arrives in Columbus with fans questioning his loyalty. He was the 23rd overall pick in the 2009 draft for the Calgary Flames. That wasn't received by Erixon and he never played there. If Calgary isn't appetizing, then Columbus won't be much better.
Sather got his man and the Jackets delivered. Howson walked away pleased with the exchange.
"He's a great general manager. We talked a little bit about that today — about trading these types of players. It was good to hear his views on it, but really you know this trade had its own course. […] We really worked hard at this. We talked to the Rangers for a long time, right up from starting at the trade deadline to the draft, post free agency and to today. The Rangers were the team that showed the most interest in Rick, consistently."
Coach John Tortorella will have new blood to bewilder. The countdown begins…the Nash Jersey Dash. Will Rangers' fans sport the Nash?