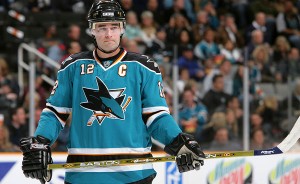 The first week is almost in the books for the 2013 NHL season and the San Jose Sharks are looking really good. The Sharks own a perfect 3-0-0 record and sit 2nd in the western conference. San Jose has shown they can dominate early in their contest against the Oilers.
The Sharks were perhaps most impressive in their home opener on Thursday night showing determination and character coming back from a 3rd period deficit to win 5-3. If you are looking for the reason behind the Sharks success you can look no further than their top 6 group of forwards.
After the game Logan Couture said:

"Once we get down, there's still belief in this team where we can come back from deficits like that because we know the skill and talent we have and the offensive capabilities of the players on this team that we can score goals in bunches"
Joe Thornton is looking like the Jumbo Joe of 2006 and is proving he is still one of the premier playmakers in the NHL. Thornton leads the team, and the rest of the NHL with 9 points (1 G 8 A) while average around 19 minutes a game.
During the Sharks Alberta road trip Havlat played well but it was their home opener against Phoenix that he really looked impressive. Havlat was at his best using his speed and dekes to draw defenders to him and free up teammates.
Not having to play against teams top D pairings should benefit the Sharks second line going forward.
Antti Niemi has been solid but not spectacular and it has proven to be enough for the Sharks early on this season. It remains to be seen if he can elevate his game when the team needs him most like he did for Chicago in 2010.
Nothing will shut Jeremy Roenick up quicker than watching Partick Marleau this season. The Sharks sniper has come out of the gate firing registering 6 goals and 8 points in the first 3 games, including 2 game winners.  Marleau has potted 2 goals in each of his first 3 games this season, and only trails teammate Joe Thornton for the league lead in scoring.
http://youtu.be/O2O_rX-jbYo
San Jose currently has 4 players who are averaging more than 2 points a game. Only Ryane Clowe has under a point per average of San Jose's top 6 forwards, and expect him to start producing soon.
After the Coyotes game coach Todd McLellan said "They're clicking, They had big nights tonight. Teams are going to count on their big guys to get the job done. Ours are producing right now."
The San Jose Sharks are back in action against Colorado on Saturday and then the Canucks on Sunday. The Sharks powerplay has been the difference maker and they will look to continue to keep up their impressive conversion rate (38.9%)
Look for Scott Gomez to make his Sharks debut and can bolster the centre position in the bottom six. No one is expecting Gomez to produce big time numbers, but with the weight of his monster contract and the Montreal fan base off his shoulders look for him to give a solid effort. Gomez can pinch in as a top 6 forward when needed but lacks the consistency to stay there.
The San Jose Sharks have been one of the most exciting teams to watch out of the gate this year and it seems like the team has a whole new attitude compared to last season. If the Sharks big guns can keep this up it will be a very enjoyable season at the Shark tank.