The San Jose Sharks open their season on Oct. 3, and today we finish our season preview. We've covered the team's pre-Erik Karlsson trade roster, our expectations for divisional opponents, the Sharks' greatest vulnerability and the team's X-factors. I've taken a look at important side effects of the Karlsson trade and my colleague, Mac Bass, offered his take on the deal as well. There are three articles on critical statistics. The first covered important goalie results and how they relate to Stanley Cup winners. The second focused on a plan for Joe Thornton, given his play and health. The third delved into the defensive group, especially the penalty kill.
I'm tying these preview articles together, drawing heavily from the three statistics pieces, and presenting what I think is the optimal way for the Sharks to operate heading into this season.
Sharks Forwards Lines
Logan Couture – Tomas Hertl – Marcus Sorensen
The combination of Couture and Hertl was the Sharks most effective pairing over the course of last season, and easily the best in the playoffs. I'm adding Sorensen, my X-factor forward candidate, to this line. His aggressive play and ability to win short races should be a perfect fit for the powerful scorers. That is, assuming the playoff version of Sorensen shows up and can hold up with the major increase in ice time.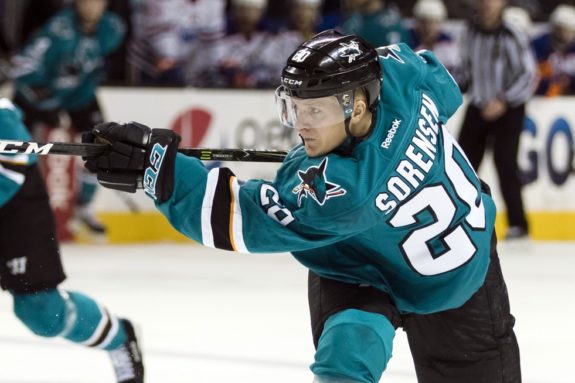 Joe Pavelski – Evander Kane – Melker Karlsson
Pavelski returned to his former role as a center following Joe Thornton's injury last season and it was a productive homecoming, especially once paired with Kane after the latter's arrival in late February. The two can make great music together again. I'm comfortable putting a number of different players with this duo — a healthy Melker Karlsson is an excellent fit.
He is the best forechecker among the team's forwards and forecheck-generated turnovers are a gold mine for scoring opportunities. Especially with this pair of quality goal scorers. If he isn't healthy (and he often isn't), I'm fine with Joonas Donskoi here instead. Between Pavelski's savvy game and passing ability and turnovers Karlsson can generate, Kane might get 30 even-strength goals.
TBD – Timo Meier – Joonas Donskoi
Having Meier on the third line gives the Sharks depth scoring, and another line with a big powerful winger.  Meier is the youngest winger on the team so I like the idea of him playing with whichever young center the Sharks deem deserving of a roster spot. I'm guessing it will be Finnish import Antti Suomela, but I'm good if the Sharks give Rourke Chartier or Dylan Gambrell a shot at it. I like Donskoi (also a Finn, making it easier to communicate with Suomela), a clever and creative set-up man, as the compliment on this line.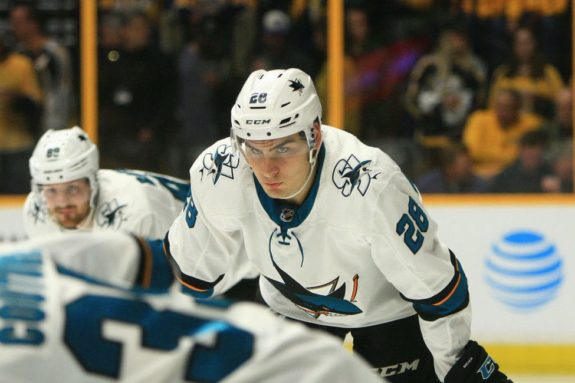 Joe Thornton – Barclay Goodrow – Kevin Labanc
As Thornton recovers from his knee injuries and rebuilds his game, there is no need to to add significant ice time stress, especially in the first half of the season. I fully expect general manager Doug Wilson to pursue a high-end winger at some point during the season, and this player can be added to Thornton's line as he increases his playing time. I've liked Goodrow's game for a long time, if he can stay healthy, this can be a very big season for him. I'm open to switching Labanc with Karlsson, as the latter has trouble enough staying healthy. Labanc thrives when there is time and space and there will be more on this line facing lesser defenders than on Couture's line.
This forward group has the set-up men well distributed, each on a separate line (Thornton, Pavelski and Donskoi). Each line has a power forward, which will create match-up issues as most teams can only defend one of them effectively, not four (with three very good ones). The parings which worked best last season stay together. Thornton is given less time while his knees recover. And there is talent on all four lines, reducing the stress and ice time required of any individual line. With some older players in key roles, this can only help.
Sharks Defense Pairings
Yeah, I'm going with what I'd like to see, even though there is an excellent reason* for switching Justin Braun and Erik Karlsson.
Marc-Edouard Vlasic – Justin Braun
The top unit at 5-on-5, they are simply the Sharks best even-strength defensive pairing. And they have enough offensive pop to make it worthwhile. The duo potted 15 even strength goals last season, more than the total of Karlsson plus Burns. DeBoer will go with Vlasic and Karlsson together, making it the most talented pairing in the league. I can't argue his logic, either.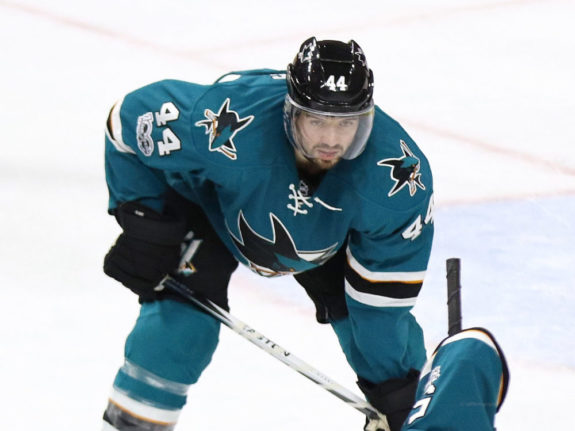 Brenden Dillon – Erik Karlsson
While one can never be sure of chemistry, Dillon's most successful partnership was with DeMelo, a smaller and more agile sort. Which is what Karlsson is. Karlsson's most effective pairing in Ottawa was with Marc Methot, who resembles Dillon's size and skill set. But it'll be Dillon – Braun handling second/third pair duties. As long as they work well together, this pairing should be very good.
Brent Burns – Joakim Ryan
Does it make sense for Brent Burns to be a third pairing defenseman? A few seasons back, a frustrated Todd McLellan effectively did exactly that. Even strength play is the weakest element of Burns' game. Burns excels on special teams and the more time he spends on these units, the better off the Sharks are. Ryan will see penalty kill time, but his power play quarterbacking skills (which might have been useful last season), aren't needed with Karlsson in town. I see the lower two pairings as relative equals, provided the chemistry works.
* If Erik Karlsson came with a long-term deal already signed, it'd make the case for my suggested pairings easier. But Karlsson hasn't signed a long-term deal yet and retaining him for the long run is a priority for the organization. There is little doubt who he'd prefer to partner with for a long time to come. It's Vlasic over Dillon, and it's not close.
There aren't a lot of choices after assuming Burns and Ryan need to be together, which they do. The pairings I prefer has Burns, Vlasic and Karlsson on the ice for all even strength minutes, posing a relentless challenge for opponents. It also goes with the proven chemistry over the new chemistry. But I'm fine with Karlsson paired with Vlasic, recognizing the reality of the contract situation. The talent on the Sharks blue line is so enormous, it's hard to go wrong.
Sharks Power Play
Top Unit: Thornton – Burns – E. Karlsson – Couture – Pavelski
A barn-burner unit with great balance. The Sharks power play was Jekyll and Hyde last season, crushing it with a healthy Thornton last season and poor without him. Karlsson is the new addition, he is a superb power play quarterback, one of the few things a healthy top unit lacked last season. The firepower is staggering, but the unit is also smartly balanced, with excellent passers, shooters, tippers, physicality and savvy. If you're the Sharks opponent, you don't want to face this group.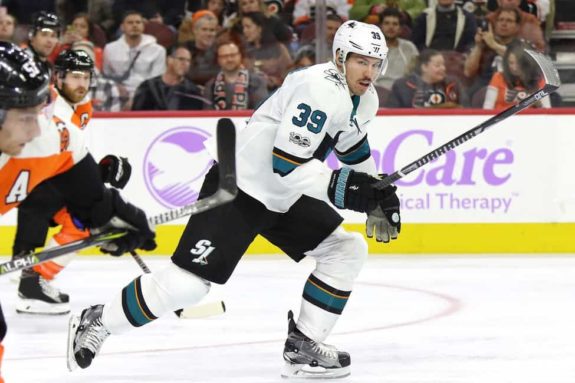 Second Unit: Thornton – Burns – E. Karlsson – Hertl – Labanc
By cutting down on their even strength playing time, Burns, Karlsson and Thornton can double shift on the power play. I'd add Labanc, a good passer who excels when he has time and space (and struggles without) and Hertl, a big body presence in front with a nice scoring touch. Some may wonder why Evander Kane isn't in the mix, but for whatever reason, the power play doesn't seem to agree with him. Either in San Jose or prior stops in the league. I'm open to Timo Meier swapping with Hertl, though for now, Hertl has a better variety of shots. While this unit may not have quite the firepower of the top unit, it'd be the top unit on almost any other team in the league. If you're the Sharks opponent and thought you'd be OK if you somehow weather the storm from the top unit, I got bad news for you.
Sharks Penalty Kill Defensive Pairs
Burns – Ryan
Dillon – Braun
Vlasic- Karlsson
Last season, the Sharks had the league's best penalty kill, allowing a net total of just 26 goals. I ranked the Sharks penalty killers by their plus-minus/10 minutes of ice time, the ratings might not be what one would guess:
E. Karlsson
Vlasic
Braun
Burns
Dillon
Ryan
The above list is worst to first. Vlasic's numbers aren't bad, but they aren't special, either. Nor are Braun's, whose numbers are almost identical to Vlasic's. The numbers for the other three, Burns, Dillon and Ryan, are flat out elite. A few obvious caveats apply here. Karlsson's results, worst on the list, are from his time in Ottawa; it's not apples to apples. Ryan is best on this list, he's also the only one with not enough ice time to get a fair picture. That said, his number is so amazing, it has to be a fluke.
I use the defensive pairs which I expect DeBoer to use (ie Dillon-Braun and Vlasic-Karlsson), but I'll bump Burns and Ryan to the top pairing on the penalty kill. Burns is a much better penalty killer than most think, while Ryan, albeit in very modest minutes, happened to have the best penalty kill plus-minus (plus-3!!) rating in the entire league last season. I'm intrigued enough to give this pairing a long test drive this season.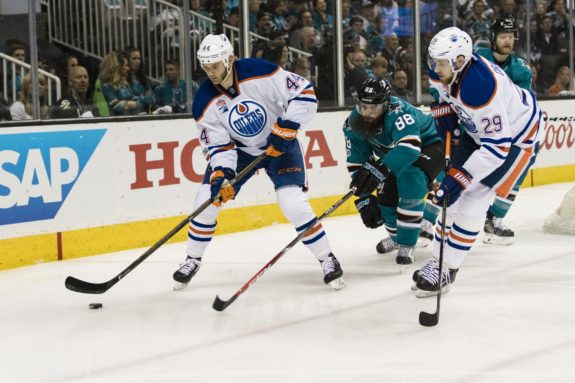 I'd have the Dillon-Braun unit as the second defensive pairing. Dillon has proven a very good penalty killer. Over the past three seasons, Dillon is an exceptional minus-11 in 250 minutes of 4-on-5 ice time, less than half a typical rate (ie minus-25). Braun has also been solid. I foresee this duo being a very strong one. I'd feel the same if it was a Dillon-Karlsson pairing.
By sparing Vlasic and Karlsson major penalty kill minutes, they can play added 5-on-5 ice time and Karlsson can double shift on the power play. This is a good thing for the Sharks, as this pairing should be the league's most dominant pairing.
Sharks Penalty Kill Forwards
Hertl – Couture
Goodrow – M. Karlsson
Suomelo (?) – Meier
This is the trickiest part and much depends on the skills of the rookie who will get the starting job on the roster. I've assumed it will be Suomela, but this could change.
The absence of Chris Tierney has major consequences for the penalty kill. He was effective (best Corsi among forwards), won over half his draws (leading the team in draws taken) and was the ice time leader. His loss is a big deal here. Other departed players had a healthy role, too (Eric Fehr, Joel Ward, Jannik Hansen), meaning some different players will need to step up. Five of the twelve forward ice time leaders from last season are not on this season's roster.
I'd hate to use Hertl and Couture too much, but unless Suomela can fill Tierney's skates adequately, they'll need to be the first ones on the ice. By spreading out the talent on the forward lines, as I suggested earlier in the article, no line needs excessive playing time. Which means Hertl and Couture can be a bit more energized on the penalty kill. If the top lines are too top heavy with talent and the lower lines depleted, the top lines need to play more even strength minutes. Which makes it less than ideal to have them play a big role on the penalty kill, too.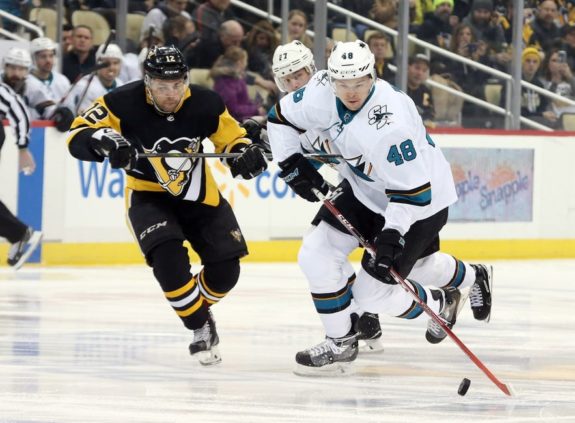 Melker Karlsson and Barclay Goodrow are in the mix. Perhaps Marcus Sorensen and Timo Meier figure more prominently, too. There is a shortage of guys who are good in the face-off circle, meaning Joe Pavelski may need to take a larger role, too. If Suomela (assuming he is the rookie who sticks) can fill the Tierney void somewhat adequately, it'll help a lot. If he can't, I'll put Pavelski in the second pair with Meier.
The Plan for Peter DeBoer
All in all, this plan is designed to maximize what players have proven to do well, minimize the things they don't do as well and allow for the sort of playing time balance essential to a team with questionable depth and key, but older veterans.
I doubt DeBoer will do anything close to this plan, he's largely a creature of habit. More likely, he'll load up the top forward units, overplay Thornton and give lip service to rolling four lines. It's more likely he goes the double shift approach on the power play. I wouldn't be surprised if he did it with both Burns and Karlsson. I would be surprised if he did it with Thornton.
The Sharks roster continues to evolve, and while continuity is an asset, a re-think is due for this season. The above approach is pretty much optimal. Will DeBoer seizes the opportunity to do something different? Challenges include limited depth, players finding new chemistry, getting exceptional special teams performance and keeping the older veterans strong for the entire season, especially the playoffs. If Peter DeBoer can handle these well, a Stanley Cup season is very possible.
ZEKE is a native of the DC area where he witnessed the birth of the Capitals franchise. After graduating from Cornell University, which had seen hockey glory before he arrived, he moved west to San Jose. There he witnessed the birth of the Sharks franchise. His wait to witness a Championship from any of these teams finally ended in 2018.