Two games into the 2018-19 NHL season, the San Jose Sharks have a 1-1-0 record. A 5-2 loss in the season opener at the Shark Tank to the Anaheim Ducks was followed by a 3-2 overtime road win over the Los Angeles Kings.
Sharks Dominant Skating
In both games, the Sharks outskated their opponent. In the loss to Anaheim, the blame can be spread around, but few will argue goalie Martin Jones had a good game. Jones gave up a particularly soft goal which put the Sharks down 3-2. The power play looked awful and the penalty kill allowed two goals, though a short-handed score aided the Sharks.
Against the Kings, all three aspects improved. Jones was better, especially after allowing a shaky goal in the opening moments of the second period. By game's end, he was very good, including a terrific pad save on Austin Wagner, who got behind the Sharks defense. The save was clutch, with eight minutes left and the game tied.
The power play didn't deliver, but the revamped units weren't awful and the second unit actually looked dangerous. The penalty kill was solid, giving the Kings few good looks and keeping them off the scoreboard despite over eight minutes of penalty killing time. While it is too early to consider the opening game woes solved, progress was evident.
The Third Line & Evander Kane
One of the concerns I noted from the preseason was head coach Peter DeBoer's choice to stack the top two lines with talent and leave the third and fourth lines vulnerable. I thought he might change his mind, but didn't really expect it. But prior to the start of the season, DeBoer changed his mind.
He rotated three wingers. He took Evander Kane away from the line with Joe Thornton and Joe Pavelski and moved Timo Meier into the spot. Meier had been on a line with Logan Couture and Tomas Hertl. DeBoer elevated Kevin Labanc to this line and moved Kane into the spot Labanc had occupied on the third line.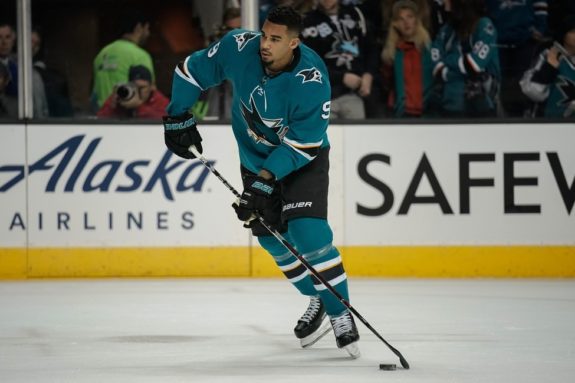 With the Sharks' three talented power forwards (more on this shortly) on separate lines, the Sharks can create talent mismatches. Kane has taken advantage, with a goal in each game.
Rookie center Antti Suomela centers this new-look and suddenly dangerous third line; he looks like a legit NHL player and earned his first NHL point on Kane's goal against the Kings. His face-off game is an early concern. In the preseason finale, he lost 10 of 12 draws and has lost 14 of 21 in the two regular season games. If he can improve on this area, the line will have more possession time and create more opportunities. Joonas Donskoi rounds out the line and he too is off to a solid start. The third line is a challenge for opponents now. If Suomela improves, it could become a nightmare.
Power Forwards Rule
Ever since the Sharks acquired Kane, I've noted their power forward identity – specifically, Kane, Hertl and Meier. Through two games, this identity has been reinforced. Four of the Sharks' five goals have come during regulation time, all four scored by power forwards.
The fifth goal, the overtime winner, was thanks to Meier. Early in his shift, he took the puck from the Kings and built on the turnover by dominating puck possession with the Kings defenders, notably Tyler Toffoli, chasing him. By the time Meier ended his shift, the Kings defenders were tired and unable to get off the ice. The Sharks' next group successfully attacked the weary group for the game-winning goal. Toffoli wasn't quick enough to cover Kevin Labanc, who got inside position and tapped in the winner. At the time of the goal, the Kings defenders had been on the ice for nearly a minute and a half, and were forced to defend most of the time.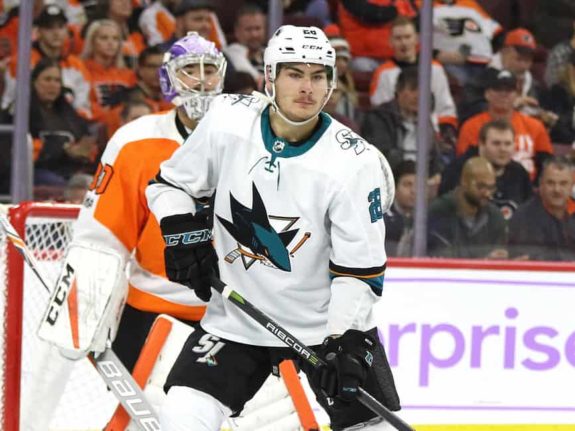 While scoring is obviously important, all three power forwards have looked good in the process. Both opponents struggled to handle them. In my preview, I mentioned that few teams have more than one defender capable of slowing down any of the Sharks' three power forwards. By allocating one to each forward line, as DeBoer has now done, the Sharks have created numerous mismatches in the early going. It's played out exactly the way one would expect.
Defensive Ice Time
DeBoer has used a surprising defensive rotation so far. I'm not sure I like it, but it has worked because of their talent. Both Brent Burns and Erik Karlsson are skating enormous minutes, as they usually do. DeBoer has curtailed Joakim Ryan and Brenden Dillon's ice time, which resulted in some odd pairings, including right-handed shots Justin Braun and Burns skating together. While it's early, I find it difficult to imagine this is a good long-term solution or even a good short-term one. Rotating players and frequently switching them between their on and off-side isn't viable.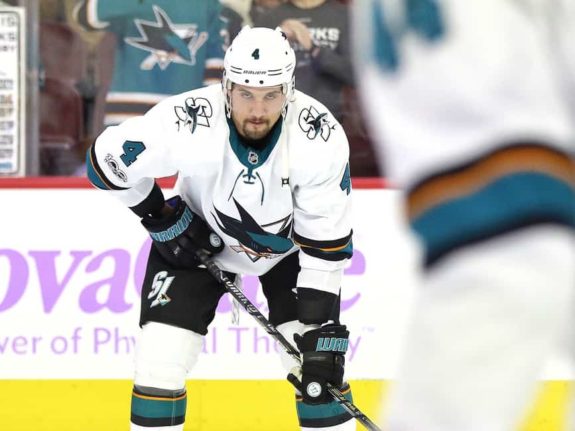 Ryan had a solid rookie season in 2017-18. He led the team in plus-minus despite his primary partner, Burns, posting the team's worst mark. Cleary Ryan wasn't the problem. He's had some rough spots to start this season, but so have other Sharks defenders, including both Burns and Karlsson (who was beat down the ice twice against the Kings, giving up high-quality chances on both occasions).
The best resolution is to find a partner who works effectively with Burns. Ryan is the most promising candidate, sitting him won't help the team. When Ryan is on the bench, the Sharks were least effective defensively.
Brenden Dillon has also been planted on the bench a good bit more than in past seasons. Both Ryan and Dillon are averaging around 12 minutes a night. Marc-Edouard Vlasic, the team's other southpaw, is averaging over 24, which is above his norm and might be a bit much over time. Still, the imbalance is clear. The three right-handed shots (Braun, Burns, Karlsson) have combined for 117 minutes of even strength ice time, the lefties just 89. This is a disparity of 28 minutes, or 14 minutes/game. There are a lot of minutes DeBoer has defenders playing on their off-side.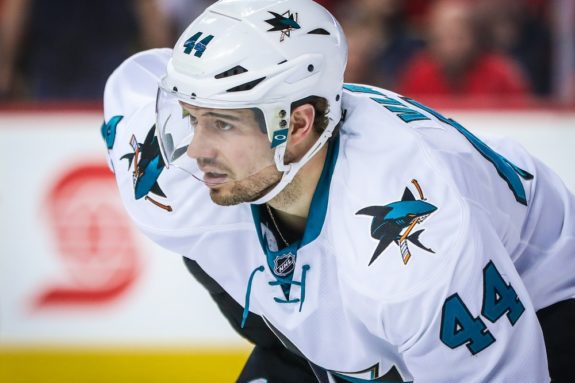 Through two games, Dillon and Ryan are even (Braun is plus-1, the only Sharks defenseman with a positive rating). Dillon's Corsi leads Sharks defensemen, while Ryan is third, just a shade behind Vlasic. There's little data to support DeBoer's risky approach.
Comparisons to Last Sharks Season
The Sharks began last season with back-to-back losses. In one, they skated relatively evenly with their opponent, in the other, they were badly outskated. Jones looked awful in both games but then he caught fire and was a top goalie until an injury sidelined him.
This start to this season has been far better than last. The Sharks have been the better skating team twice, but have shown deficiencies. Fortunately, these aren't fundamental issues, nor are they likely to last for long. As for Jones, a cold start is nothing new, and I expect a return to form in the near future.
Two games in, the Sharks are doing just fine.
Zeke's Notes
Barclay Goodrow signed a two-year deal to stay with the Sharks at an AAV of $925,000 per season. It's a good deal for all. Goodrow merits an everyday role while the Sharks get cost certainty on a lower line player. This is important given Karlsson, Joe Thornton and Joe Pavelski are all on expiring deals and the cap space to retain all three is expected to be tight.
ZEKE is a native of the DC area where he witnessed the birth of the Capitals franchise. After graduating from Cornell University, which had seen hockey glory before he arrived, he moved west to San Jose. There he witnessed the birth of the Sharks franchise. His wait to witness a Championship from any of these teams finally ended in 2018.