The San Jose Sharks are red hot. The Sharks are tied for first in the Pacific Division with the Edmonton Oilers with two games in hand. Going into Wednesday's game against the Ottawa Senators, the Sharks have won three in a row and six of their last seven. Their last three wins came over two division foes and the NHL-leading Montreal Canadiens and their all-world goaltender, Carey Price.
The Sharks are riding high on the back of Martin Jones. Jones, coming off a 32-save shutout against the Canadiens, is 7-2 in his last ten starts and during that stretch has played to a 1.60 goals against average. His save percentage during this 10-game span is .940. He has been not only the Sharks season MVP to date, but the leading candidate for league MVP through the first quarter of the season.
However, all is not well with the Sharks, despite their current streak. Last season the Sharks were the fourth highest scoring team in the league. This season, the Sharks have scored only 60 goals in 25 games, 2.40 goals per game. This places them 25th in the league.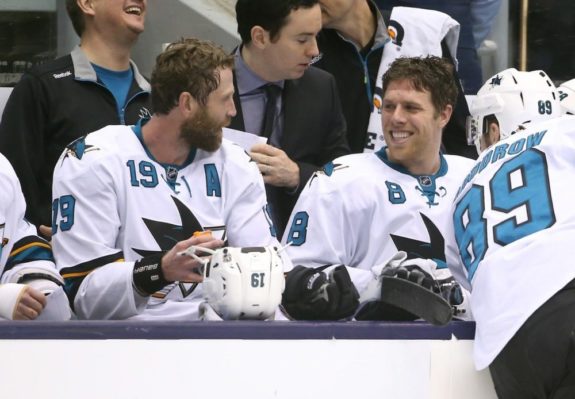 Power Play Not Powerful
The Sharks power play is anaemic. Last season the power play percentage was 22.5 and the Sharks had 275 power play opportunities. While the 2016-17 power play it is tied for twelfth in the league, its success rate is only 18.7%. What's more, the Sharks are tied for 20th in the number of power play opportunities with only 75. They are getting fewer opportunities and scoring at a significantly lower rate than last season.
Of the 14 power play goals, 11 have been scored by the team's first power play unit of Logan Couture (5 power play goals), Brett Burns (3), Joe Pavelski (2), and Patrick Marleau (1). This group, plus Joe Thornton, have 31 of the Sharks' 41 total power play points. The other three power play goals have come from Tomas Hertl, who will not be scoring anymore for quite a while, Jonas Donskoi, and Mark-Edward Vlasic.
Even Strength Scoring Lacks Depth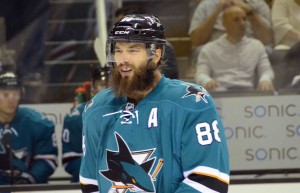 The Sharks leading goal scorer is a defenseman, Brett Burns. Burns has 10 goals, seven at even strength, which also leads the team. The leading forward scorer plays on the team's second line, Logan Couture. But Couture only has four even strength goals. This means a bulk of his scoring takes place with the first power play unit, not with his linemates. Pavelski and Marleau are third and fourth in goals with eight and six respectively.
The team continues to be scoring at a pace that is one-half a goal less than their last season performance. The question is how much longer can Martin Jones carry the team. While most teams are trying to provide their number one goalie with more rest than previous seasons, the Sharks have started Jones 22 of 25 games this season. Only Cam Talbot of the Edmonton Oilers, 25 appearances and Peter Budaj of the Los Angeles Kings, 23 appearances have played more than Jones. While Aaron Dell has played well during his limited opportunities, the Sharks likely do not want to rely on a player in his first NHL season should Jones go down with an injury.
The best cure for the offense and overreliance on Jones is to start scoring more to take the pressure off Jones. Where the goals will come from is a challenge, especially with Tomas Hertl out through February or longer, and the players currently on the roster and coming up from the AHL only providing very limited offense.
San Jose need to add scoring depth. Additionally, they need to find an experienced quality backup before Jones gets hurt, not after. Doug Wilson, similar to last season, the ball is in your court to address these problems if the Sharks are to have another strong playoff run.
Michael Miller
My name is Michael Miller. I am a native New Yorker and a semi-retired attorney who has been in the SF Bay Area for over 20 years. I am an avid sports fan and still play competitive baseball in what my kids call the OFMBL (Old Fat Man's Baseball League). I am also an assistant varsity baseball coach at the local high school. Hockey is a passion and always has been for me. As a kid I played street hockey year-round and still wonder why I never tried ice hockey. I hope to bring that passion to my contributions on THW.