To the pass the time during the NHL Lockout, many players are turning to other leagues and countries to play their beloved sport of hockey. Others have taken the time to relax or take part in the negotiation sessions.
So let's take a look at each player on the San Jose Sharks and see what they're up to:
Forwards
Adam Burish
Burish, a hard-nosed fourth-liner who signed with the Sharks as a free agent, was among the players who attended the NHL's most recent proposal a few weeks ago.
He will also take place in a charity game on December 8th in Windsor, Ontario which will support Sparkles From Above, a foundation that assists children with cancer. As many as 30 NHL players are expected to participate in the game, which also includes former Shark Kyle Wellwood and current Shark-killer Steve Ott.
Ryane Clowe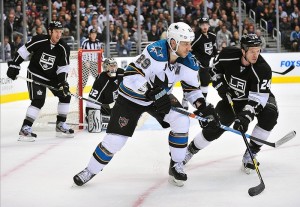 Clowe has used the lockout to share his knowledge with younger players – as an assistant coach of the San Francisco Bulls of the ECHL. He signed with them early in November and has been behind the bench, teaching minor leaguers the tricks of the trade.
"It's been making something good of a bad situation," Clowe told ESPN in an interview.
Head coach and owner Pat Curcio has put Clowe in charge of the defense, and helps out with the power play and penalty kill.
"There's a lot to it," he acknowledged. "Now I understand what the coaches are going through."
Logan Couture
Couture recently returned home from playing in the Swiss league, citing "family reasons." He had seven goals and 16 assists in 22 games with Genve-Servette.
Here is one of those goals, a sweet between-the-legs score against HC Davos:
He also told CSN the following: "I'm in game shape now. So if the season starts, I'm ready. If it's cancelled, I don't think I will play anywhere."
TJ Galiardi
Galiardi had been playing overseas in Germany during the lockout, but returned home last week due to a nagging knee injury. He had three goals and three assists in seven games with Bietigheim-Bissingen SC in the second Bundesliga.
According to the Calgary Herald, Galiardi is staying home in Calgary and will rehab his knee, which he will have plenty of time to do given the shape of the lockout.
Michal Handzus
Handzus is currently playing in Slovakia with his hometown team HC Banska Bystrica. The most recent report said that he has netted five goals in six games with the club.
Martin Havlat
Havlat returned home from the Czech Republic to get his newborn child some routine shots. Havlat and his wife, Tereza, welcomed a new baby girl into the world on July 6.
Like most others, he is simply resting and "waiting for the call."
Patrick Marleau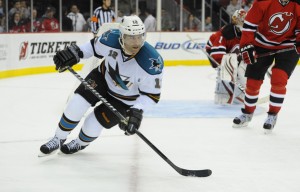 Out of all the Sharks, Marleau has been in the spotlight the most during the lockout, thanks to Jeremy Roenick's comments in his memoir, J.R.: My Life as the Most Outspoken, Fearless and Hard-Hitting Man in Hockey. 
As I chronicled in a recent piece here on The Hockey Writers, Roenick ranked Marleau number three on his list of the "5 Players I Hated During My Playing Career" then proceeded to blast him for his lack of effort, emotion, and not living up to his contract.
Marleau responded by saying, "There's different ways to skin a cat…there's going to be critics – they have to pick at something and they'll pick at that."
Joe Pavelski
The fan favorite "Big Pavelski" has been playing in the KHL, where Fear the Fin reports that he suffered a leg injury a few months ago.
"It hasn't been bad; it's been fun in a lot of ways," he said referring to his time with Dinamo Minsk. "It's been really nice having Pekka Rinne and Tim Stapleton here, gotten along good with them. There's enough English-speaking players on the team to get by, joke around enough and feel comfortable."
Joe Thornton
The Sharks' captain has recorded six goals and 20 assists with HC Davos in Switzerland, where he also spent the duration of the 2004-2005 NHL lockout. Once again, he is teammates with Rick Nash.
For your entertainment, here is an own-goal off the stick of Thornton:
Defensemen
Dan Boyle
Boyle has not been afraid to voice his opinions regarding the lockout, telling CSN that he is worried about the long-term damage:
"It's not the checks that Im missing. My biggest concern is the fans," Boyle said. "I'm so grateful and thankful to be playing this game, but if there's nobody in the stands to play in front of, that's the worst part. And that's my biggest concern, is we're hurting the game."
"We had some good steam coming in here. That's what I worry about every day, and thats what I talk to my wife about. I just dont want to damage the fans, and the game."
As far as I know, Boyle has not been playing in any other hockey league during the lockout.
Justin Braun
The young defenseman inked a deal with Tappara in SM-liiga (Finland) in late November. Braun has two assists in four games.
Jason Demers
Demers is also in Finland, and in fact is playing in the same league as Braun.
He has three goals and 14 assists in 26 games with Karpat.
Douglas Murray
The hard-hitting defenseman is reportedly back from playing in Sweden. He played 14 games in Sweden's second-tier league, and even scored a game-winning goal last month.
Murray did not score in 60 games with the Sharks last season.
Marc-Edouard Vlasic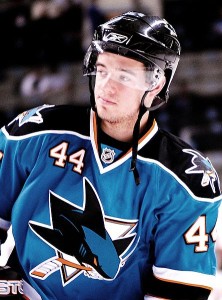 "Pickles" has not been up to much during the lockout, but I did find an article in French stating that he was against federal mediation in negotiations.
This article was published on November 27, and here is the quote from Vlasic (via Google Translate):
"I'll be honest. I think it will not do anything. It is not them others [sic] who will make the decision. It remains between owners and players. No matter what they say, I do not think the National League will move [to an agreement]," suggested Vlasic.
Goaltenders
Thomas Greiss
The backup goalie signed with the Hannover Scorpions of Germany's top-tier league last month, and won his only start thus far.
Antti Niemi
Niemi is playing in SM-liiga in Finland and is 1-0 in ten games played for the Lahti Pelicans.