On Mar. 9, 2017, the San Jose Sharks played their 66th game of the season when they hosted the Washington Capitals. The Caps would go on to win the Presidents' Trophy as the team with the best regular season record. But, on this night, the game was controlled by the Sharks.
Eventual Norris Trophy winner Brent Burns was dominant, playing like a man among boys, and the Sharks looked like a major threat to return to the Stanley Cup Final. The Sharks looked like a team on their way to a 105+ point season with an easy road to the playoffs.
And then the rest of the season happened.
After the win over the Caps, the Sharks finished the regular season going 6-10-0, including a six game losing streak which began on Mar. 16. They were ushered out of the playoffs in the opening round by Edmonton. Much of this was due to a confluence of injuries, but the Sharks had also tempted fate.
By pushing some of their top players, the Sharks set themselves up for a late season fade. Instead of building up towards the playoffs, the Sharks were winding down. They might not have known it then, but they were done over a month before it became official.
The Sharks: One Year Later
Mar. 9, 2018 is an off day for the Sharks — it's also the day Burns turns 33. The next day, they'll again host the Washington Capitals, this time for their 68th game of the season. The question is, will the Sharks rise this season in the final month, or will they fade again?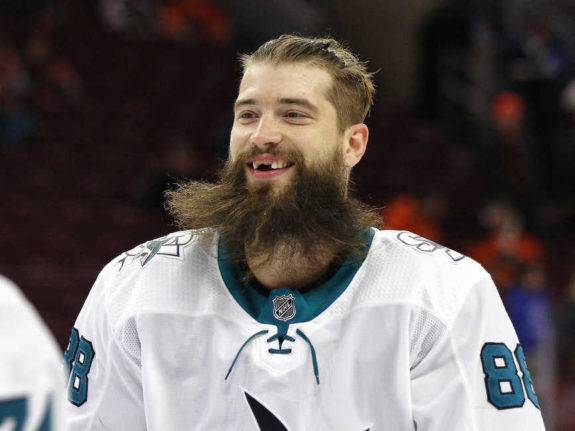 No two seasons are identical, so its folly to assume things will play out the same way. One major difference is the Sharks playoff status. Unlike last season where they had room to fade and still make the playoffs, no such wiggle room exists this season. The Sharks are not looking at 105+ points for this season — they are projecting between 96-98 points, which is very much on the playoff bubble. A collapse akin to last season and they'll certainly miss the playoffs, but even a modest fade is likely to leave them on the outside looking in.
Are they are setting themselves up for a similar outcome? Joe Pavelski is a year older (33) and his ice time is up two seconds per game over his ice time last season. Pavelski had just one goal in his last dozen games last season. Burns performance fell off cliff after the Capitals game last season. His ice time is also up from last season, nearly a half-minute per game.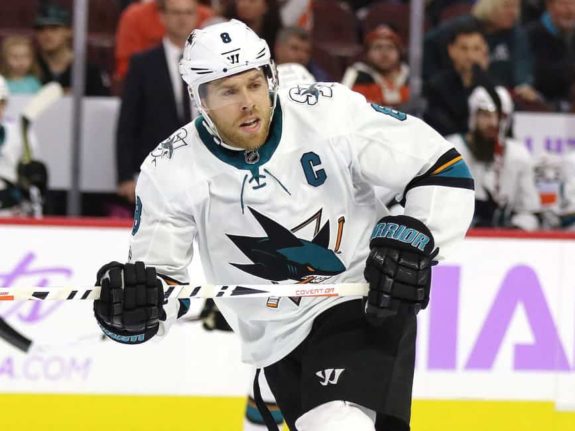 The Sharks can't afford to burn out as they did last season, but these two critical players are being asked to do every bit as much. Pavelski leads the team in points with 53, Burns is second with 52. A third major piece (and fourth leading scorer), Joe Thornton, remains absent as he works to recover from knee surgery.
A Different Sharks Team
There are important positive differences in the team. Goalie Martin Jones, who faded last season, is playing well. He's also playing less, which leaves him fresher for this critical run.
Up front, the addition of Evander Kane brings speed, physicality and scoring, all things the Sharks need. The addition of Eric Fehr brings experience in big games.
At this point, it really is a team scenario. Team scoring is more balanced — eleven Sharks (including Kane) have double-digit goals on the season.
Good stories are emerging all over the Sharks line-up. Defenseman Joakim Ryan is one of the league's best rookies and his plus-10 rating leads the team. Timo Meier might not be having the blazing season Mathew Barzal is having (Barzal having been drafted after Meier), but he is living up to the billing of a ninth overall draft pick. Meier is up to 17 goals, and importantly, he is often controlling play.
Justin Braun might be mostly known as Marc-Edouard Vlasic's sidekick on the Sharks shutdown defensive pairing, but his 27 points (3 goals and 24 assists) have all come at even strength. Which is more even-strength points than many high-scoring elite defensemen, including Victor Hedman, Ryan Suter and Roman Josi.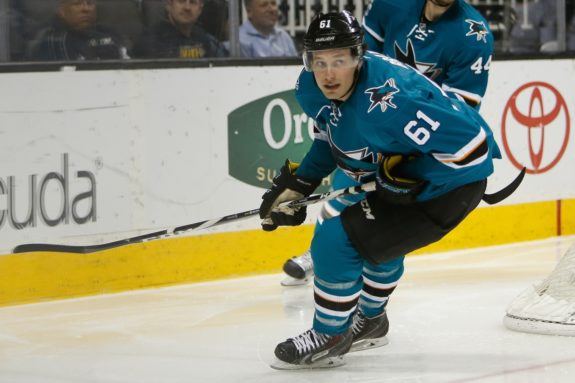 Mikkel Boedker, after disappointing for the first season and a half in teal, seems to have found ways to contribute, with nine goals in the 2018 part of the season. Chris Tierney, a solid fourth line center last season, has developed into a solid third line center this season. The Sharks fourth line of Barclay Goodrow, Melker Karlsson and recent acquisition Fehr is among the league's most promising fourth lines. Though they've only had a few games together, this unit is showing signs of blending, while also providing a physical presence.
The Sharks Path
If the Sharks are to make the playoffs, it will take everyone. Their key players can not afford to fade as they did last season at this time, when DeBoer remarked the team ran out of gas. It is DeBoer's job to make sure this does not recur. It's too late to undo what has been done with the ice time for Burns and Pavelski. But the remaining line-up is filled with players who can grow during this period. For Kane, it is his first chance to get to the postseason. For players including Tierney, Goodrow, Ryan and Meier, it is their first chance to play critical roles in an NHL playoff drive. It is their time to shine.
This team needs all elements to succeed. If all goes right, and a healthy Joe Thornton returns for the playoffs, this is a dangerous team. But before a playoff run can happen, the Sharks must put together a final four weeks which are far better than the same stretch from last season.
Zeke's Notes
• Much has been made of the Sharks missing power play. The team is in the midst of a rare 'light' section of the schedule. Two full days off preceded their Sunday game against the Columbus Blue Jackets. The team has three full days off before their Thursday game against St. Louis. It's a good time to work on things which aren't working. The power play is a key part of the Sharks success, but has gone cold over the last dozen games (0 for 28). The good news, it hasn't looked nearly as bad as the numbers suggest.
• To my surprise, backup goaltender Aaron Dell decided to re-sign with the Sharks, with a two-year deal. Dell has definitely earned the pay raise (over $1 million more per season). But the Sharks are set to enter the offseason with the potential of adding major new contracts with pending free agents. Evander Kane is one and John Tavares is another. Kane is well within reach, but no team can bid for Tavares without challenging their cap space and Dell's deal squeezes the Sharks cap space a big more.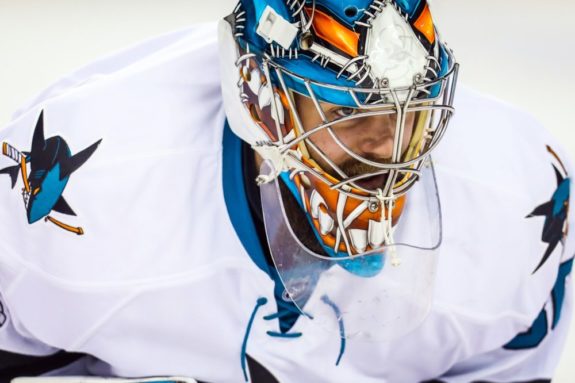 So why did Dell stay? Free agency can be particularly dicey for backup goalies hoping to become a starter. In the meantime, Dell has an excellent platform to showcase his play – along with a healthy raise. It would not surprise me if Dell received a promise from general manager Doug Wilson with the deal. Dell no doubt wants an NHL starting job and if one opens up, I suspect Wilson has committed to give Dell this opportunity. Which means trading Dell if the appropriate scenario develops. Which I suspect is the more likely scenario at some point during the next two seasons.
• On Tuesday, Jonathan Cheechoo announced his retirement from professional hockey. Cheechoo left the scene a long time ago, ending his Sharks tenure in 2009 and the NHL in 2010. He's played in the AHL and KHL since. Cheechoo holds a fond place in the hearts of Sharks fans and holds notable place in Sharks history. He'll be honored by the team in their Mar. 24 tilt against the Calgary Flames.