It was one of the most memorable debuts in Boston Bruins history. With multiple defenders injured heading into the Bruins second-round matchup against the New York Rangers in 2013, the team was forced to turn to 21-year-old blueliner Torey Krug to step in and hopefully fill a role despite only playing in three NHL games to that point in his career.
In the five-game series against New York, Krug immediately showed what he could do as an offensive-minded defenseman, scoring four goals in five games (failing to record a goal in only Game 3 of that series) and helping catapult the Bruins to the series win.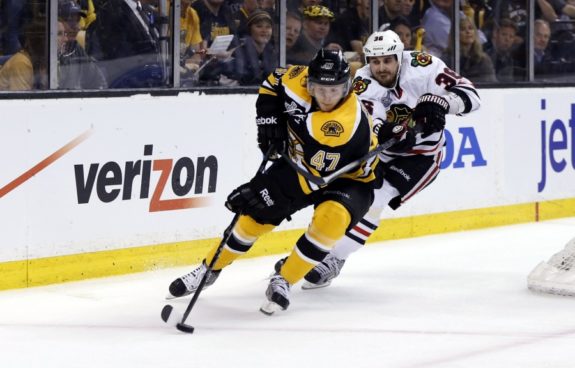 It set the tone for what Bruins fans could expect from the 5-foot-9 defender as he went on to score 14 goals and 12 goals in his first two seasons in Boston respectively. Though he may not have had the same defensive awareness that he does now, his ability in the offensive zone was evident to anyone who watched him play. Unfortunately, nothing lasts forever.
In the 2015-16 and 2016-17 seasons, Krug would go on to score only 12 total goals. Though his defensive awareness was gradually improving, his goal-scoring prowess vanished seemingly out of nowhere.
In all fairness to Krug, his point totals did increase to 44 points and 51 points respectively in 2015-16 and 2016-17 despite the significant drop in goals. That said, Krug's inability to hit the net with his slapshot was becoming more and more apparent. A far cry from the laser shot he displayed early in his career.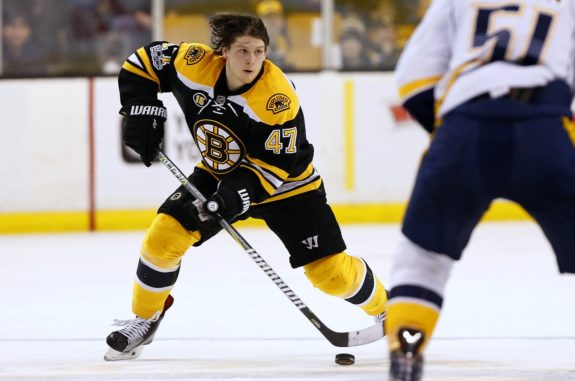 Things have seemingly changed this season, however, as Krug is now up to 13 goals 47 points in 60 games in Boston. Being utilized in a way that doesn't require him to play tough minutes against top competition as often as he did before the emergence of Charlie McAvoy and Brandon Carlo, Krug's ability to focus on his offense has benefited him greatly.
Krug's Dominant Detroit Matchup
It didn't take long for Krug to make an impact against his hometown Red Wings. Just 37 seconds into the game against Detroit, Krug scored his 12th goal of the year on a slap shot from the point. While his accuracy still might not be fully recovered to where it was in his first two seasons, his ability to hit the net more consistently has been obvious this season.
Krug's ability on the power play has always been his bread and butter. It makes sense then that he was able to score a power-play marker to give the Bruins their second lead of the night. What's interesting about the goal was the fact that Krug didn't score from the point, but rather, he scored from within a few feet of the net – a testament to his range and offensive instincts.
He finished the night with two goals and two assists in 20:18 of ice time Tuesday to continue his unreal play as of late that's seen him score seven goals and 25 points in his last 22 games.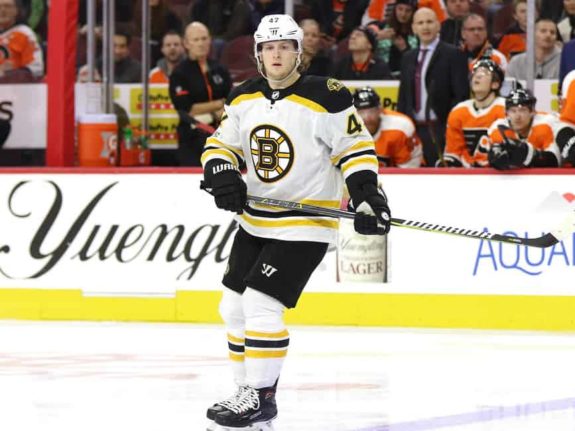 It's been an impressive year for Krug who has not only re-found his scoring touch this season, but he's actually on pace to crush his previous career-high of 14 goals in 79 games in his rookie season. With 13 goals and 45 points through 60 games this season, Krug is on pace to record career-highs in goals with 17 and points with 61.
His production is often underappreciated given his inability to play a defensive game as well as some might hope. Still, there's no denying Krug's ability to make his presence known on the offensive side of the puck – an important asset to have for the Bruins. Especially when it's coming in at a cap hit of only $5.25 million per season for the next two seasons beyond this one.
Krug's Value Moving Forward
As good as Krug has been for the Bruins, the club could find themselves in an awkward situation with future contracts and defensive depth on the left side. One of the best ways to create a competitive hockey team in the modern NHL is through the draft and making good use of entry-level contracts.
While teams want all of their players to produce, a player who produces well in his first contract will likely command a costly pay-raise sooner than later. For the Bruins, a team with a plethora of impactful rookies, the wins have racked up but the expected contracts in the near future should also prove to be expensive at the same time.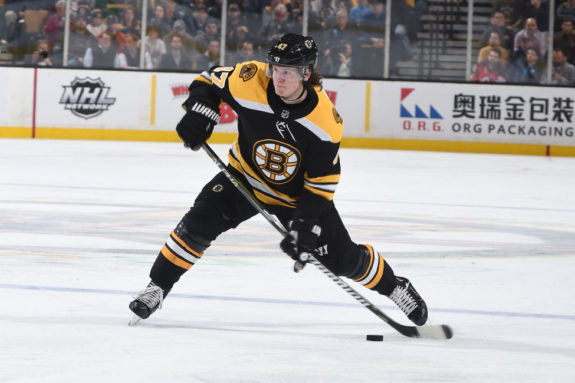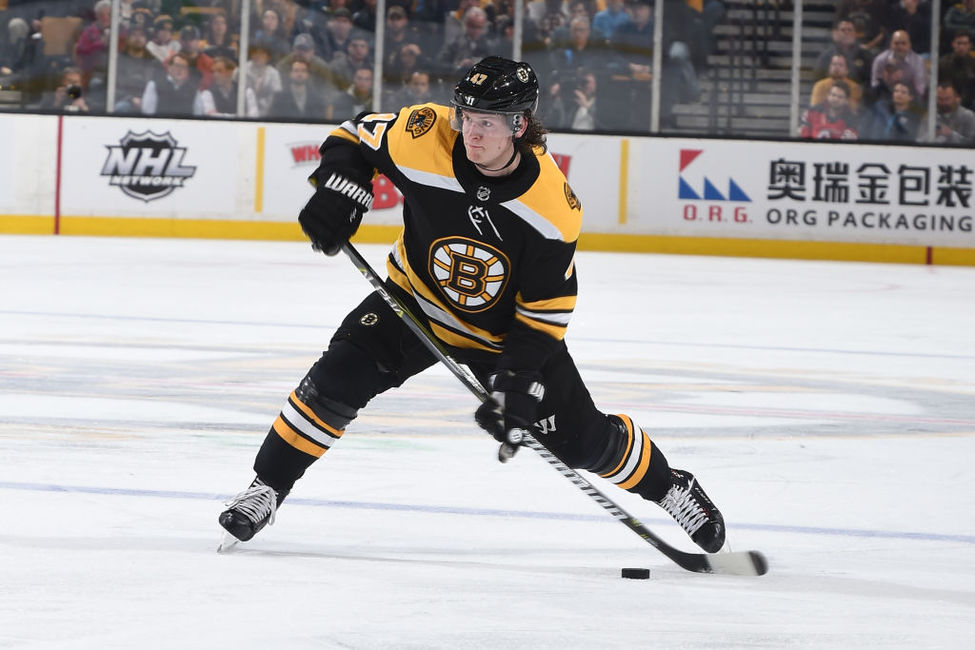 Ideally, the Bruins don't move on from a defender like Krug in the middle of their current Stanley Cup window with players like Patrice Bergeron, Zdeno Chara, David Krejci, Tuukka Rask, David Backes and even Brad Marchand not getting any younger. At the same time, if the Bruins find themselves in a situation where they have to move Krug, the potential return for a player of his nature could be a big one for Boston.
A trade involving Krug will only happen if the Bruins determine that one or two of their young blueliners are ready to take on a top-four role and contribute similarly to the way Krug does now. If nobody is ready to take on that type of role, the team will have to keep Krug as offensive-minded defenders who contribute well in the possession game simply don't grow on trees.
It'll be a tricky situation to manage, but Krug's goal-scoring returning to form this season does nothing but help the Bruins one way or another as he's not playing for a contract anytime soon.